As an Amazon Associate I earn from qualifying purchases. Some of the links on this website may link to vendors which are "affiliate links". If you click on a link I may receive a commission.
As a hiker on a limited budget I always am looking for a good deal and good value, when I heard about the Ice Flame from AliExpress it sounded like a absolutely perfect match for me and my needs as well as being the best backpacking quilt for the money.
This quilt is made in China so you need to know up front that it does take like 3 weeks to be delivered. The model I ordered is the IF516 model that isn't sewn through so it has good heat retention and no cold spot due to seams in my opinion.
If you want to look at a more exhaustive list of quilts check out our quilt compendium here.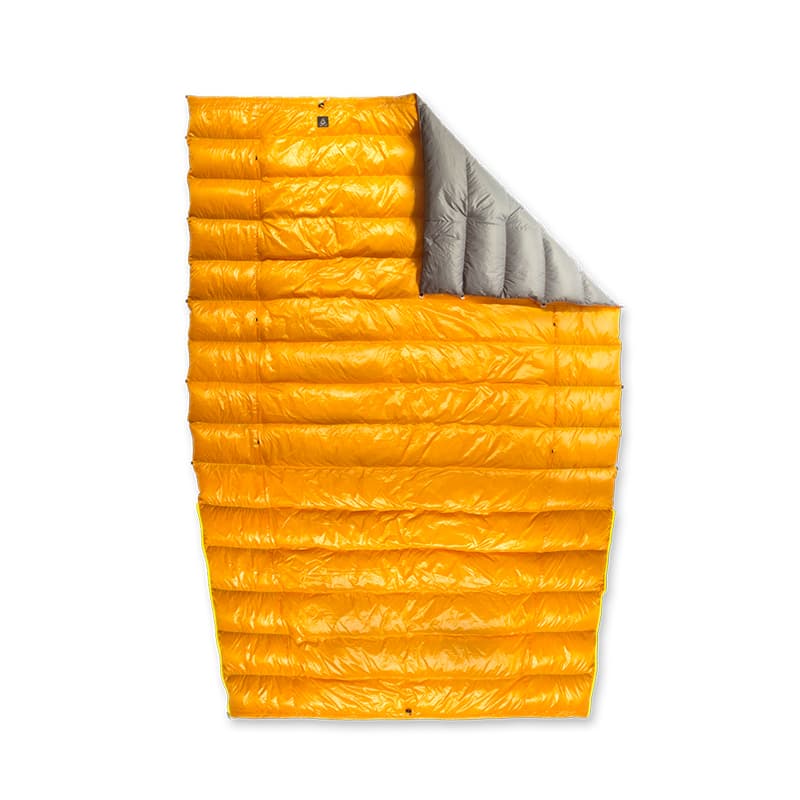 Approx Cost: $100 – $165
This amazing 20 denier 3 season quilt comes from Ice Flame and it is a tremendous value for those budget-conscious shoppers.
* I earn a commission if you should click on this link and make a purchase at no additional cost to you.
Here's a rundown of what we'll provide in this Ice Flame Down Quilt review:
First we'll share the features and benefits that you'll find useful in this economy backpacking quilt
Next, we'll take a look at the drawbacks you might need to know about
Then, we'll tell you a bit about the Ice Flame and AliExpress companies
And finally we'll provide a sampling of actual customer and Independent reviews to give you better insight into the product.

Sound good? Let's get started!
Features and Benefits of the Ice Flame Quilt
Fill Weight: 360g Down
Fill Down Makeup: 90% White Duck Down 700TFFP
Exterior Color: Orange
Interior Color: Grey
Fabric Size: 204cm*140cm
Shrink Size: 184*130cm
Outer Fabric: 20D Nylon
Inner Fabric: 20D Nylon
Net Weight: 615g
Comfort Temperature: 41°F – 59°F (5°C – 15°C)
Lower Limit: 32°F / 0°C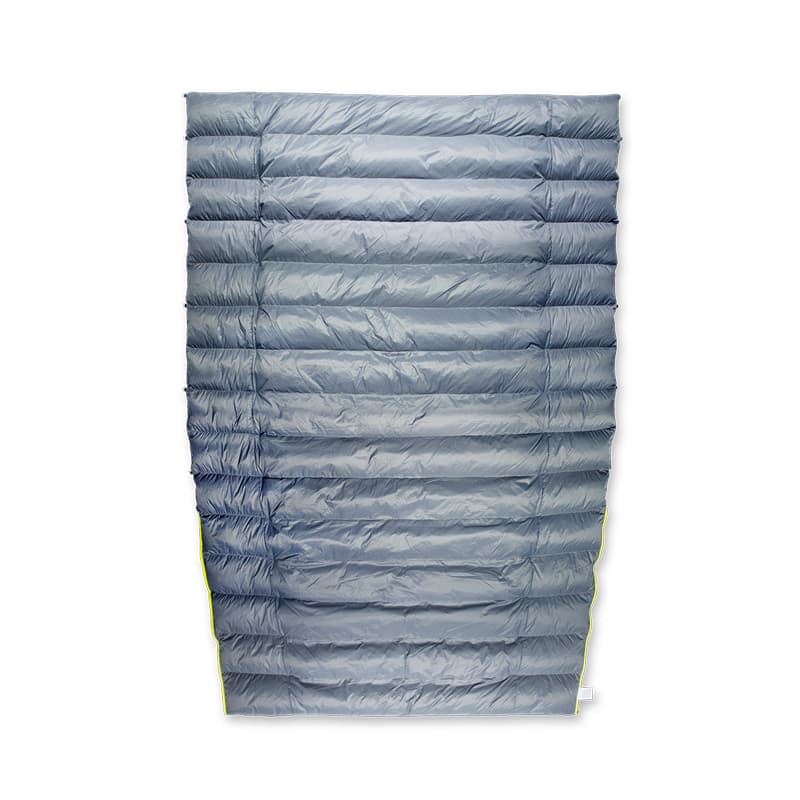 Special Features (Pros) of the Ice Flame Quilt
The Ice Flame budget backpacking quilt has a lot of upsides to help those on a budget get maximum performance on their purchase. I have assembled all the ones I believe to be the most valuable below as I believe it to be the best budget top quilt.
Lightweight While Warm
Quilts are generally much lighter than a similar sleeping bag due to removal of the extra fabric and excess zipper pull. While many may wonder how this would help you keep warm, compressing a sleeping bag below you causes a similar loss in heat through the ground.
Zippered Footbox Area
Normally I will always use the quilt opened up like a blanket as I move a lot and don't sit still. This quilt though offers you the chance to zipper and then pull a cinch cord to turn the bottom into a very "sleeping bag" style closed footbox which works well for those who suffer from cold feet often!
Stuff Sack and Storage Sack Included
For those who haven't used down based gear before you may not understand this but the Ice Flame comes with a stuff sack and storage sack to properly allow you to carry and store for maximizing life expectancy.
The stuff sack allows you to compress and shrink the space needed for your quilt in your backpack where the storage sack is large and intended to allow long storage without compressing the duck down inside which will extend the life.
Drawbacks (Cons) for the Ice Flame Quilt
While there are a tremendous amount of benefits to this quilt for many hikers, we have to make sure we also understand the drawbacks to it as you always want to gear properly to your intended trail and weather.
Comfort Limit
As with many of the budget gear you will find online the comfort limit will be at a higher temperature than the more expensive cottage industry gear. Comfort temperature is where you are happy and able to enjoy without cold, shivers, and similar.
For the Ice Flame quilt this comes in at 41°F – 59°F, for may people this could be fine for three season use but if you are dipping down lower than you would really want to have thoroughly tested it yourself as some people sleep warmer than others.
Learning How To Use
This may sound crazy but using a quilt can take some time, especially when you are a colder sleeper. When you move you may create gaps between the quilt and the ground and potentially let in cooler air that could disturb your sleep.
Video: Ice Flame Quilt
---
About the Ice Flame and AliExpress Companies
Ice Flame is a maker of quilts that are then resold on AliExpress, typically at various prices depending on the vendor. These also can be seen on dropshipping sites.
AliExpress is a website that has a wide variety of goods from Chinese manufacturers, many look to sometimes be minor variations on an actual product from another vendor.
Ice Flame Quilt Reviews
Looking at the features and benefits is great, but taking a look at what real-and-actual customers have to say about a product offers a deeper dive of insight.
Here we've curated reviews that reflect the Ice Flame Quilt, providing feedback from product users and reviewers on independent review sites as well as online from customers.
Independent Reviews and Recommendations for the Ice Flame Quilt
I couldn't find websites doing actual reviews on this quilt as it appears most are just trying to sell them, this may be because it is from China or could be due to a lack of exposure similar to the one the Lanshan experienced at first until the word got out.
What Online Customers Have to Say About the Ice Flame Quilt
Quilt is nice and warm after placing in dryer on no heat to break up the clumps from shipping. Stitches look consistent through the product, and no down leaking within first days of owning and using the quilt.

Ali Express Customer Review
---
Came quickly, was in a compression bag, not in a storage bag. I hope it didn't affect him much. Otherwise, everything is fine.

Ali Express Customer Review
---
Excellent product for the money! Came in stuff sack + storage bag. Very light weight. Good loft. The stitching is very good – no feathers pop out.

Im still waiting for quilt straps to come in order to try to connect the quilt to my sleeping pad. I spent one night in the tent in mild climate.

I felt nice and toasty. Temperature rating however is very individual thing.

Ali Express Customer Review
---
Hi. I have used this quilt several times since its reception. Night at 8 ° with high and low garment, no feeling of cold. Windy night at-2 ° with top and bottom garment + down jacket and hat, not cold.

I used it with 2 straps that are fixed around the inflatable mattress, I was a little tight (I measure 1,85). I intend to use it with even lower temperatures. I'll make it back. Overall, I am satisfied with this quilt.

Ali Express Customer Review
---
Ice Flame Quilt Review Final Thoughts
For most doing three season backpacking and section hikes this may be the best budget quilt for backpacking when weighing in cost, usefulness, and weight. For me it is about perfect for I run really hot and love being able to shift and let cool air in which is why I gravitated to quilts.
For ANY quilt though I would ensure to pair with a high R-Value sleeping pad, I personally currently use the Paria Recharge XL as it is a high quality budget option that helps me as a side sleeper. R-Value helps you not lose your body heat to the ground, very important!
If you are looking for a quilt for the triple crown trails you would want to avoid this down quilt and instead look at the down quilts from places like Enlightened Equipment or Hammock Gear that can take very cold temperatures to maintain your safety don't get a quilt under 0°F comfort rating, not survival rating.
Quilt Options Available from Amazon
Image
Title
Price
Prime
Buy

Top

Sierra Designs Nitro Quilt 20 Degree Ultralight Sleeping Bag - 800 Fill Camping & Backpacking Sleeping Bag

Prime

Eligible

Buy Now

Top

Therm-a-Rest Corus Down Backpacking and Camping Quilt, 20-Degree, Long, Spring

Prime

Buy Now

Top

Sea to Summit Ember Down Quilt, 20 Degrees F, Regular

Prime

Eligible

Buy Now
Therm-a-Rest Vesper 20-Degree Sleeping Bag with Mattress Connector, Regular (0040818107034)

Prime

Buy Now
Paria Outdoor Products Thermodown 15 Degree Down Sleeping Quilt - Ultralight Cold Weather, 3 Season Quilt - Perfect for Backcountry Camping, Backpacking and Hammocks (Regular)

Prime

Eligible

Buy Now
Featherstone Moondance 25 850 Fill Power Down Top Quilt Mummy Sleeping Bag Alternative for Ultralight Backpacking Camping and Thru-Hiking

Prime

Eligible

Buy Now
Product prices and availability are accurate as of the date/time indicated and are subject to change. Any price and availability information displayed on [relevant Amazon Site(s), as applicable] at the time of purchase will apply to the purchase of this product.
Prices pulled from the Amazon Product Advertising API on: