As an Amazon Associate I earn from qualifying purchases. Some of the links on this website may link to vendors which are "affiliate links". If you click on a link I may receive a commission.
Are you looking for something a bit more customizable than the pure budget quilts from AliExpress and Amazon? Well this is the perfect fit for those looking to better their gear but not at the cost of their fortune.
The Hammock Gear Economy Burrow is the perfect way to get a more custom gear item for your backpacking without busting your bankroll. They offer many ways to customize and make a quilt perfect for YOU and not generically built.
If you want to look at a more exhaustive list of quilts check out our quilt compendium here.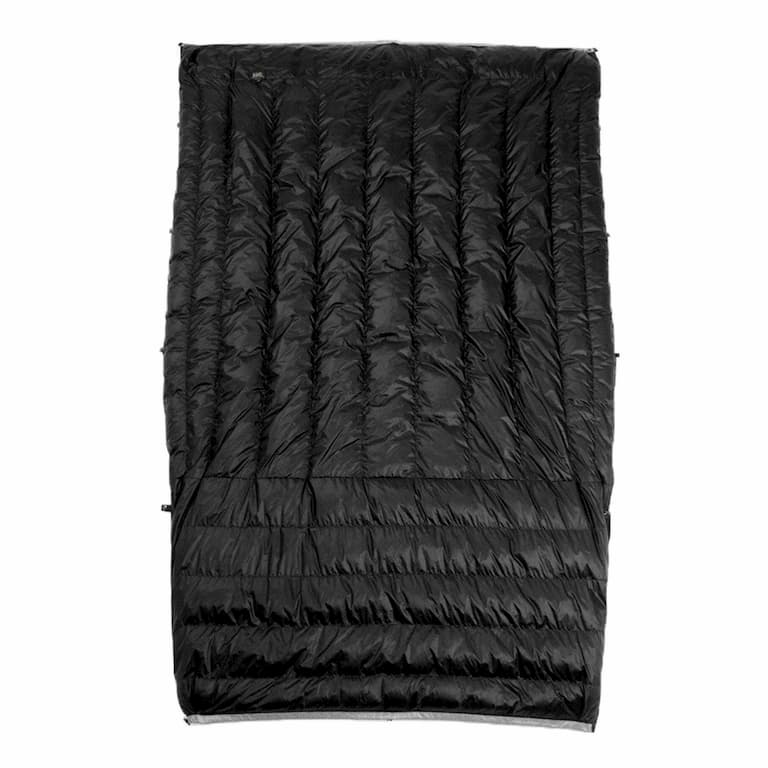 Hammock Gear Economy Burrow Quilt
Cost: From $140
This quilt from Hammock Gear provides you a vast array of customizable options for a very budget conscious price while giving more top end options for your comfort.
* I earn a commission if you should click on this link and make a purchase at no additional cost to you.
Here's a rundown of what we'll provide in this Hammock Gear Economy Burrow Quilt review:
First we'll share the features and benefits that you'll find useful in this economy backpacking quilt
Next, we'll take a look at the drawbacks you might need to know about
Then, we'll tell you a bit about the Hammock Gear company
And finally we'll provide a sampling of actual customer and Independent reviews to give you better insight into the product.

Sound good? Let's get started!
Features and Benefits of the Hammock Gear Economy Burrow Quilt
Fill Weight: 8.82oz to 20.36oz
Fill Down Makeup: RDS Certified, 800 fill power, DWR treated duck down
Exterior Color: Multiple Options
Interior Color: Multiple Options
Outer Fabric: 20 denier nylon taffeta fabric that features a DWR
Inner Fabric: 20 denier nylon
Net Weight: Starts at 17.57 Oz
Comfort Temperature: 0° F – 40° F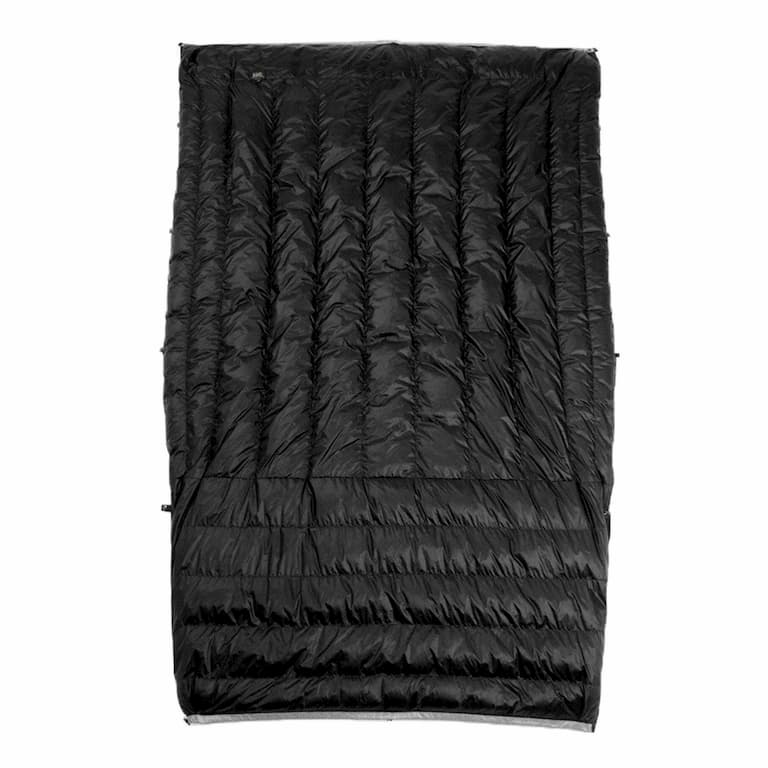 Special Features (Pros) of the Hammock Gear Economy Burrow Quilt
The Hammock Gear Economy Burrow Quilt is a mid-level budget backpacking quilt that provides a lot of upside to help those on a budget get better performance with their purchase. I have assembled all the ones I believe to be the most valuable below as I believe it to be the best budget top quilt.
Comfort for Side Sleepers
For those who aren't able to lay comfortably on their back this quilt has numerous people reporting that they loved laying at night with it and that it was the nicest quilt they had used that stayed on them overnight while giving them leg freedom to shift.
Very Warm
Everyone reports that their quilt stays well lofted while also providing high quality warmth while they sleep, not finding any cold spots and in many cases reports of removing more clothing to not become overly sweaty.
Customizability Options
You have a vast array of choices to build the perfect quilt for YOU and this can't be said enough, if you are a cold sleeper you can add more fill to help, you can get the footbox zippered or not, and so much more!
Drawbacks (Cons) for the Hammock Gear Economy Burrow Quilt
While there are a tremendous amount of benefits to this quilt for many hikers, we have to make sure we also understand the drawbacks to it as you always want to gear properly to your intended trail and weather.
Ship Time
Since these are created based on your order this will give longer lead times until the quilt will be created and shipped, this isn't the best option for you if you are looking to leave on a trip in a week or two.
Learning How To Use
This may sound crazy but using a quilt can take some time, especially when you are a colder sleeper. When you move you may create gaps between the quilt and the ground and potentially let in cooler air that could disturb your sleep.
Video: Hammock Gear Economy Burrow Quilt
---
About the Hammock Gear Company
Established in 2009, Hammock Gear is a small manufacturing company based just outside of Columbus Ohio.
They pride themselves on using the highest quality materials available on the market, to produce their line of ultralight backpacking products.
Many of their craftspeople have been active in their respective fields for decades.
Hammock Gear Economy Burrow Quilt Reviews
Looking at the features and benefits is great, but taking a look at what real-and-actual customers have to say about a product offers a deeper dive of insight.
Here we've curated reviews that reflect the Hammock Gear Economy Burrow Quilt, providing feedback from product users and reviewers on independent review sites as well as online from customers.
Independent Reviews and Recommendations for the Hammock Gear Economy Burrow Quilt
The Econ Burrow is a great choice if you're looking for an affordable, packable, full-featured quilt for hammock or ground sleeping on the warm side of three-season conditions. We were really impressed with how well it worked, especially given how much cheaper it is compared to very similar products.

Outdoor Gear Lab
---
Quality backpacking quilts are usually expensive, but Hammock Gear has found a way to use their premium construction techniques with lower-cost but still high-quality materials to make a quilt that performs well above its price point. Often, budget quilts are a placeholder until one can afford a better option, but the Econ line will provide long-lasting value

Section Hiker
---
I found the Burrow Top Quilt from Hammock Gear to be very comfortable and warm. The 20 degree quilt kept me cozy and was super comfortable. It is a great price if you compare it to purchasing down sleeping bags at the same temp rating. And I feel like it is made with nice quality materials too.

The Good Ride
---
What Online Customers Have to Say About the Hammock Gear Economy Burrow Quilt
I have gone out with this quilt once so far and it worked really well. I was able to move around and sleep comfortably without being twisted up like you may be in a mummy bag.

I have the 20 degree and I was completely fine down to 35 last weekend. Would definitely recommend for people early in their backpacking career. It is a very good, affordable option.

Hammock Gear User Reviews
---
I ordered this as a replacement for another quilt that was destroyed – knowing that there was a lead time of 8 to 9 weeks. So I asked if there were any "off the shelf" ready for delivery earlier to purchase in addition.

Instead, they expedited my order at no charge and I got my custom quilt much faster than expected. And it is a quality product. Very happy!

Hammock Gear User Reviews
---
After researching for quite a while and seeing all the positive things others had to say about Hammock Gear, I finally purchased my first quilt!

I was thrilled to use the quilt on my trip! It was extremely comfortable. The 30 degree rating was perfect when the night chill settled in and the zippered footbox made it easy to stick my feet out during the warmer evenings. The length was great and the zipper worked well without snagging.

Hammock Gear User Reviews
---
Hammock Gear Economy Burrow Quilt Review Final Thoughts
For most doing three season backpacking and section hikes this may be the best quilt for a mid-range budget purchase when you weigh the cost, performance, and weight. For me it is about perfect for I run really hot and love being able to shift and let cool air in which is why I gravitated to quilts.
For ANY quilt though I would ensure to pair with a high R-Value sleeping pad, I personally currently use the Paria Recharge XL as it is a high quality budget option that helps me as a side sleeper. R-Value helps you not lose your body heat to the ground, very important!
If you are looking for a quilt for the triple crown trails you would want to avoid this down quilt and instead look at the down quilts from places like Enlightened Equipment that can take very cold temperatures to maintain your safety don't get a quilt under 0°F comfort rating, not survival rating.
Quilt Options Available from Amazon
Image
Title
Price
Prime
Buy

Top

Sierra Designs Nitro Quilt 20 Degree Ultralight Sleeping Bag - 800 Fill Camping & Backpacking Sleeping Bag

Prime

Eligible

Buy Now

Top

Therm-a-Rest Corus Down Backpacking and Camping Quilt, 20-Degree, Long, Spring

Prime

Buy Now

Top

Sea to Summit Ember Down Quilt, 20 Degrees F, Regular

Prime

Eligible

Buy Now
Therm-a-Rest Vesper 20-Degree Sleeping Bag with Mattress Connector, Regular (0040818107034)

Prime

Buy Now
Paria Outdoor Products Thermodown 15 Degree Down Sleeping Quilt - Ultralight Cold Weather, 3 Season Quilt - Perfect for Backcountry Camping, Backpacking and Hammocks (Regular)

Prime

Eligible

Buy Now
Featherstone Moondance 25 850 Fill Power Down Top Quilt Mummy Sleeping Bag Alternative for Ultralight Backpacking Camping and Thru-Hiking

Prime

Eligible

Buy Now
Product prices and availability are accurate as of the date/time indicated and are subject to change. Any price and availability information displayed on [relevant Amazon Site(s), as applicable] at the time of purchase will apply to the purchase of this product.
Prices pulled from the Amazon Product Advertising API on: