As an Amazon Associate I earn from qualifying purchases. Some of the links on this website may link to vendors which are "affiliate links". If you click on a link I may receive a commission.
Backpacking quilts are becoming increasingly popular. But, if you've never used one before, you might be wondering, how does a backpacking quilt work? Also, you might be curious whether backpacking quilts are actually helpful for you or if they are just a fad. Don't worry. This article will help you get rid of all your curiosities.
Backpacking quilts are constructed to contain body heat, helping you to stay warm while dropping a large amount of weight. Quilts remove the zipper and back material along with the insulation, help to make the quilt take less space in a backpack also making it a perfect partner on long hikes.
Backpacking quilts are an excellent option for you as they offer you portability, versatility, and comfort. In addition, they are easy to use and perfect for giving you a good night's sleep.
However, as you have the option to choose sleeping bags rather than a quilt, you might be confused about what you should go for.
Besides, you must be aware of the benefits and drawbacks of backpacking quilts and whether they are worthwhile despite the flaws.
Therefore, I'll go over everything in greater detail in the article to have all of your questions answered, if you want to look at a more exhaustive list check out our quilt compendium here.
How Do Backpacking Quilts Work?
Backpacking quilts are basically stripped-down versions of mummy bags. They do not have a hood or a chain to close up. A backpacking quilt is like a large blanket you can wrap yourself around in when sleeping.
Due to having less material than sleeping bags or mummy bags they usually weigh a lot less and are very compact when folded. That is why many hikers prefer them over the alternatives.
Not having a proper back support, they do require you to carry a sleeping pad. These pads further enhance the insulating capabilities of your quilts and also provide extended comfort.

But' that's basically it for backpacking quilts. They are simple and there's not much rocket science behind their function. And that is exactly what makes them so popular among the new generation of hikers.
Benefits of Backpacking Quilts
From breathability to versatility, there are tons of benefits of backpacking quilts. They are portable, lightweight and you can use them for various purposes.  Let's discuss a few benefits of backpacking quilts-
1. LightWeight and Compact
A significant advantage of a backpacking quilt is the reduction in overall weight for the same level of warmth as a sleeping bag. The sleeping pad reduces the total weight of your pack by removing the zipper, fabric, and insulation from the bottom.
As quilts are designed to cover your body and not underneath your body, they cut down on the quantity of insulation and fabric required. The lack of a hood and a long zipper also helps to lighten the garment.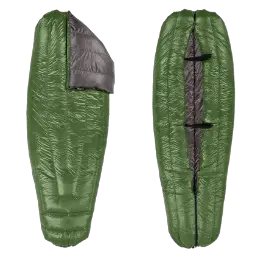 EE Revelation Stock
Regular / Regular – 0ºF (-17ºC)
A favorite of long distance hikers, the Revelation Quilt is known for its amazing versatility, thoughtful design, and ultralight weight.
Product Benefits:
Moreover, the quilt takes up considerably less volume in your bag due to the lack of a zipper and additional fabric, allowing you to fit into smaller backpacks and carry lighter loads. That's why you can store them in a less compressed state easily since they compress down smaller.
Thus, backpacking quilts are not only lightweight but are also more compact since they use less material in their manufacturing.
Another advantage is that they loft more quickly when you're ready to sleep. So, no more hassles and fighting with your blanket when you are feeling sleepy.
2. Breathability
If you are used to traveling, you already know how important a good night's sleep is. No wonder being cold at camp is terrible enough, but being overheated all night is even worse.
Breathability refers to the material's ability to keep you dry. As backpacking quilts are made of breathable materials and won't cause you suffocation, this can be the perfect travel companion for you.
When your body becomes overheated, it instantly begins to cool down via sweating. The issue is that once your body has finished sweating, the moisture stays and, in colder conditions, can swiftly cool.
Unfortunately, this cold fluid can make you shiver, constricting your muscles in an attempt to warm up, potentially causing you to overheat again.
When it becomes cold, the last thing you want is to be damp and chilly at the same time, which can be deadly! So, whether you go camping in a hot area or a cold area, using backpacking quilts will offer you more breathability and, thus, rescue you from overheating.
3. Versatile Design
When you add a quilt to your sleep system quiver, you can go camping all year. Many quilts can be flattened or shaped and sealed around you, depending on the style.
The best thing about backpacking quilts is they come in various shapes, features, and colors. You even have the option to customize your quilt according to your requirements.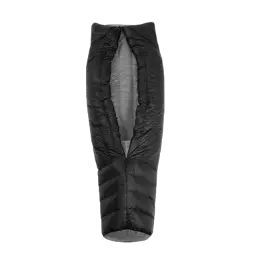 Economy Burrow
Regular / Regular – 0ºF (-17ºC)
Whether accompanied by a sleeping pad or underquilt, The Economy Burrow will keep you comfortably warm down to its temperature rating with any sleep system.
Product Benefits:
Adding features like wings, loops, and side straps, as well as velcro strips or elastics to form a foot box, drawcords, and draft stoppers, allows you to customize it to your own needs and situations.
For example, if it grows colder, some quilts contain a foot box to keep your feet warm. Besides, you can order a slim quilt to use in hot weather.
4. Freedom of Movement
From my point of view, the best advantage of a backpacking quilt is freedom of movement. So, if you are used to moving a lot and shift your sleeping position from time to time like me, this can be the best deal for you as well.
Quilts are more comfortable for many people who sleep on their sides or stomachs. You are free to move around as much as you want under it. Sleeping in a quilt will be much more comfortable for you if you despise sleeping in bags since they are too tight and uncomfortable for you.
Furthermore, many quilts include a strap that you can use to attach the quilt to your sleeping pad, which is fantastic for reducing drafts, but it also keeps you in your place.
Many of us have been startled awake in the middle of the night after slipping off our sleeping pad. You won't have to face the problem as you can attach your quilt to your sleeping pad, which is an added benefit.
5. Multi-purpose usage
You can use your backpacking quilt as a top quilt, under your body, or even as a coat. For household use, anticipate saving a lot of money on heating!
You can use the quilt in the summer as a lightweight item of insulation on its own. You can also use your quilt, combining it with a sleeping bag if it is too cold outside. These layering options instantly broaden the range of situations that your gear can tolerate.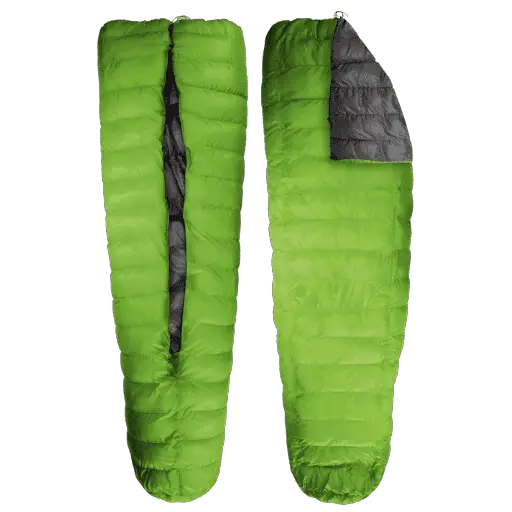 LoftTek™ Hybrid TopQuilt
Regular / Regular – 0ºF (-17ºC) to 30ºF (-1ºC)
LoftTek Hybrid insulation utilizes cutting edge science to give you the benefits of down, without the downsides! This means you'll sleep warm and comfortably even if your gear gets wet!
Product Benefits:
So, you can fold quilts into a regular mummy sleeping bag for cold evenings. And, when the weather gets warmer, open up the quilt to allow for the necessary airflow to keep you cool and comfortable.
You can even modify your comfort as the weather changes during a hiking trip. Finally, when you're outside your tent, you can use it as a simple blanket.
Sleeping Bags Vs. Backpacking Quilts
Though people use both sleeping bags and backpacking quilts for sleeping purposes during traveling, they have many differences. The following table shows the differences between sleeping bags and backpacking quilts-
| | | |
| --- | --- | --- |
|   | Sleeping Bags | Backpacking Quilts |
| Design | The sleeping bag is more bulky, heavy, and versatile. | Backpacking quilts are lightweight, compact, and simple. |
| Warmth | Sleeping bags are warmer. | Backpacking quilts are less warm. |
| Weight | Sleeping bags are heavy. | Backpacking quilts are 1-2 pounds lighter than sleeping bags. |
| Comfort | Less comfortable. | More comfortable. |
| Price | More affordable (50$-200$) | Comparatively expensive (75$-200$) |
Are Backpacking Quilts Worth It?
Backpacking quilts are no doubt worth it, comparing their advantages and disadvantages.
As mentioned earlier, quilts are lighter than sleeping bags. So, you can easily carry them on your trip. However, as backpacking quilts are relatively niche products, their prices are higher.
Besides, as backpacking quilts are less warm, you might feel cold using them. However, you can wear an extra layer to keep yourself warm. So, warmth is not a big issue here.
Also, you are getting tons of benefits like portability, customization, the comfort of sleeping, and so on. So, even if backpacking quilts have a few drawbacks, the pros are enough to outweigh the cons. As a result, you can consider backpacking quilts worthwhile for sure.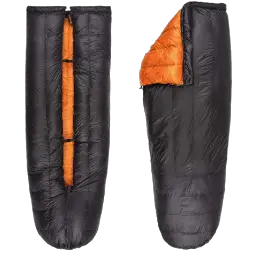 Moondance 25
Regular / Regular – 36°F (2°C)
The Moondance is a versatile sleeping bag alternative that eliminates the hood and back to lighten your pack while maintaining the integrity of warmth and comfort.
Product Benefits:
Conclusion
Traveling becomes a lot more fun with the right equipment. By now, you've learned the benefits to a backpacking quilt and how it works to make your trip far more enjoyable and fun.
So, if you aren't a current owner of a hiking quilt I would suggest that you choose to try using a quilt on your next overnighter or longer trip, we actually list out some cheap hiking quilts here.
Trust me; you are going to fall in love and your back will thank me later for less weight on it. Thanks for reading through. Hopefully, you've found this article helpful. Good luck.