As an Amazon Associate I earn from qualifying purchases. Some of the links on this website may link to vendors which are "affiliate links". If you click on a link I may receive a commission.
I have always been a lover of camping, hiking, and the great outdoors. Most of my favorite childhood memories include tents, camping, lakeshores, and mountains. However, it wasn't until I was in my early twenties when I first discovered primitive camping and fell in love with the truly wild parts of nature, so what does primitive camping mean anyway?
Primitive camping is campsite-less, reservation-less, amenity-less camping. Usually, campers hike to their destination – away from neighbors, electricity, running water, bathroom facilities, or cell service – with all their necessities carried on their backs. When the desired location has been reached, time to set up camp!
If you're a lover of the great outdoors but are on the fence about primitive camping, or are looking to learn more about how to primitive camp, continue reading to discover why primitive camping can be an amazing experience!
Why Should I Try Primitive Camping?
While primitive camping may sound unbearable to some, for those of us who love the great outdoors, being able to dwell in untouched places and breathe in unlimited amounts of fresh air is a dream come true!
Primitive camping is an ideal way to disconnect from the stresses of life, enjoy more peace and quiet, and avoid the noise, distractions, and general commotion and fees that come with busy camp-grounds.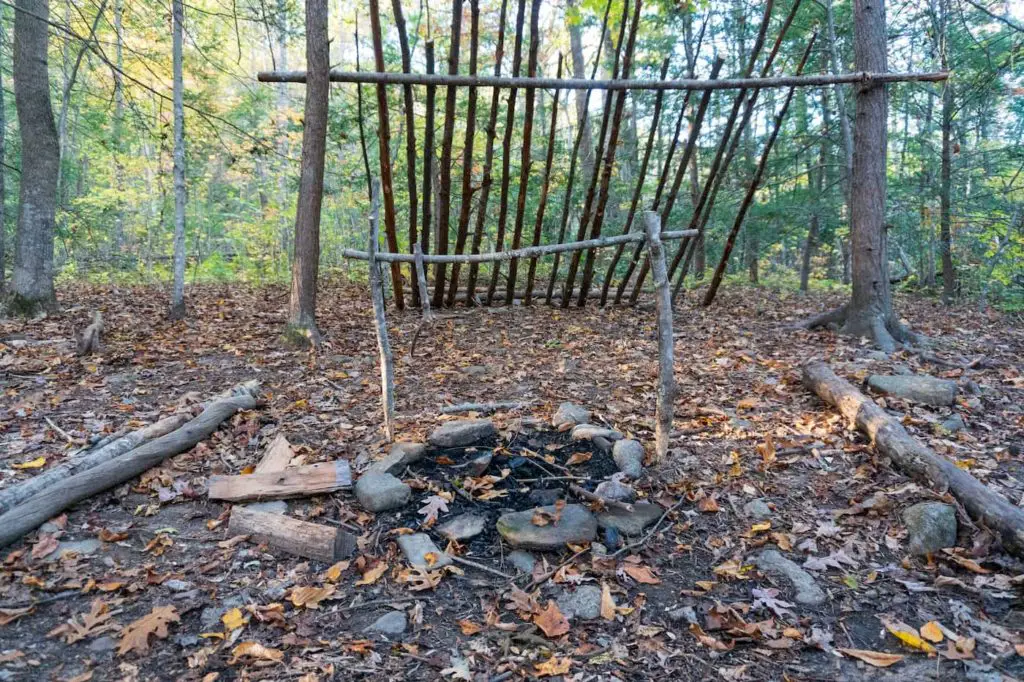 Connect to Nature with No Distractions
If you are already accustomed to tent camping and hiking and enjoy the solitude and cleansing aspects of nature, primitive camping will profoundly deepen your connection with nature and yourself, and refresh your mind and body from the stresses of life.
Imagine being engulfed by wildlife, breathing clean, fresh air, taking in gorgeous views, and sleeping under the most brilliant starry sky you've ever seen. Imagine experiencing moments of real darkness and real silence – completely unpolluted by city lights and sounds.
Being able to briefly escape my normal life and be untethered in the wilderness is a huge allure when it comes to primitive camping. Every time I go overnight backpacking, my feeling and experience with nature are best described as my finite being feeling wholly intertwined with something infinite. This feeling (along with a few other factors) continues to pull me back to new, secluded spaces in nature.
Cost
Is Primitive Camping Free?
That is, there are no campground fees when you find your own site! However, be aware that small fees or passes may be required for some State and National Park use.

Also, don't forget to factor in the cost of any gear and supplies you may need to purchase before your trip!
De-Stress
Primitive camping and overnight backpacking are very effective in relieving acute and chronic stress and tension which build up in today's society applying pressures non-stop.
There's no better feeling than to unplug from our screens, schedules, and stressors than by truly relaxing and decompressing in the great outdoors.

Josh
Studies show that being in nature reduces feelings of anger, fear, and stress while helping promote pleasant feelings, and maybe effective in lowering blood pressure, heart rate, muscle tension, and decreasing the production of stress hormones.
Further research conducted by Mind demonstrated that 95% of interviewed participants reported that their mood improved noticeably after spending time in nature – changing from a depressed, stressed, and anxious mental-state, to feeling more calm and balanced.

(University of Minnesota)
For me, personally, the benefits gained from an overnighter or longer in the woods will last long after I've washed the smell of campfire from my body. As my peaceful mental state, a heightened sense of awareness, and a de-stressed attitude helps me tackle another busy work-week, post camping trip.
Considerations and Challenges For Primitive Camping
I believe primitive camping is always worth the experience and is worth learning how to do for anyone who loves uninterrupted time in the great outdoors.
However, there are always difficulties that accompany learning new skills, and there are considerations that the novice outdoors(wo)man need to make when deciding to embark on a new adventure.
Lack of Amenities
While the lack of amenities is an alluring factor for some, be aware that you will not have access to bathrooms, electricity, running water, and potentially cell service while primitive camping.
If you have any health concerns that would be affected by the lack of amenities, or other concerns regarding this, primitive camping or overnight backpacking may not be the right outdoor adventure for you.
Knowledge and Experience
Primitive camping or overnight backpacking is something that is best learned from an experienced individual. If you aren't able to bring a knowledgeable individual with you for the first time, educate yourself on what you'll possibly need to know – especially to be ready to handle worst-case scenarios.
If classes are your thing, I would say that REI and other outdoor stores and companies offer classes and training for novice campers that help prepare individuals for their first outdoor excursion.

Josh
These trainings include information from gear how-to's and general tips and tricks, to what to do if you encounter dangerous wildlife or are injured, etc.
Safety and Preparation
The biggest concern for anyone primitive camping for the first time is safety.
Safety coincides greatly with knowledge and experience level, as the more knowledgeable and prepared an individual is, the safer they will be off-grid. Unfortunately, there are many safety concerns to consider when primitive camping.
Depending on location, wildlife may pose a threat not only to your belongings but potentially to your life. Knowing how to handle an encounter with a potentially dangerous animal is crucial when primitive camping.
Additionally, there is always the threat of becoming lost, running out of food and water, digesting harmful bacteria from mistreated water, injuries, and spontaneous natural phenomena or disasters.
Having the right equipment, and knowing when and how to properly take action in any of these situations could save your life, or the lives of friends or family who are on the journey with you.
REMEMBER: Depending on your location or final destination, you may not have service to call 911 or forest services in an emergency or be able to access your GPS. This is why it's imperative we take our safety and preparations seriously when setting out to camp in the wilderness. We suggest purchasing a Garmin inReach Mini as it can call emergency services to your position which has been used by hikers to allow them to text when out of cell range also.
I Want To Try Primitive Camping – How Do I Start?
The best way to primitive camp for the first time is with a person you trust who has experience in primitive camping, and/or doing so in a State or National Park.
These areas are good beginner locations because they are patrolled by park rangers, offer guidelines for best camping practices for the area, and often have check-in logs, so officials know when individuals are in the wilderness, and roughly where they are or where they intend to be.
For the novice camper or backpacker, these areas may have remote sites just off forest service roads, so getting to your primitive campsite may be as easy as driving there – little to no hiking or backpacking required!
However, the best rule of thumb before any camping or outdoor adventure is to do your research. Be well acquainted with where you're going, what you'll need, the weather forecast, and what to do in an emergency situation.
For more information on primitive (also called 'dispersed') camping, check out this article from TheDyrt and this page of how-to's from REI's expert advice column – two of my go-to resources for all things camping and outdoors.
What Do You Need for Primitive Camping?
Adequate gear and supplies can make or break the primitive camping experience, and depending on whether you plan to hike-in or drive to your destination will determine what you need, and how long you can stay.
Driving In
If you're driving to your destination, plan to bring (at minimum):
A shelter

A good tent (with a ground cloth ['footprint'], stakes, rain sheet, etc.) or hammock with a covering (don't forget hammock straps)

Sleeping Bag, Or Quilt

Make sure it's adequate for the temperature of the season – freezing while sleeping is never fun!

Food and potable water/ water treatment system

Plan out how much sustenance and water you will need – if the potential site has a known fresh-water stream or river nearby, you may be able to save room and weight by treating the water.

Check out this article from National Parks Service on when, and how to do so.

A map (you may not have service for GPS)
Campstove (with fuel) & eating utensil
Campfire materials

Lighter, a small container of lighter fluid, untreated cotton for an easy spark

Check to see if fires are allowed in the area, and check for possible burn-bans

Headlamp (10/10 recommend Nitecore) or Flashlight

Extra set of batteries (Or battery pack for Nitecore)

First-Aid Kit
Multi-tool (If you like to have a good support tool)
Biodegradable toilet paper or wet wipes (depends on the person)
Bear mace (This is fought by both sides, be safe!)
Bug repellant (I use anything with a high DEET concentration)
An extra layer of clothing
A good audiobook, I prefer and use Audible myself
This simple list of things may not seem like much for those of us who choose to drive to our destination, but for backpackers, these items get heavy I aim to be close to ultralight.
For those of us who enjoy the backpacking life – this is why it's so important to thoroughly plan our trips and only bring the essentials, so we can sustainably and realistically make it through our off-grid stay.
What is a "Hike In" Primitive Campsite?
This site doesn't have a method for cars to get close to the camp site and may require some trekking to reach. If you choose to hike to your primitive camping location, you will inevitably need more gear. In addition to what is listed above, you'll also need:
To check out the gear I believe are very useful and high-quality that you can use for overnight backpacking/ primitive camping, follow the links to items listed above, or check out my Lighterpack for my current gear! (Note: Gear is not one-size-fits-all, do your research to find gear best suited for you, your lifestyle/needs, and your budget!)
Remember, when it comes to primitive camping, the more prepared you are, the safer you'll be, which will allow you to enjoy the fullness of the experience without stress or fear.
Leave No Trace
One of the most important principles to remember while primitive camping (or doing any outdoor activity) is to leave no trace.
The responsibility of leaving the land you use in the same condition you found it is one that every camper and outdoors(wo)men should take seriously.
Pack out all of your garbage and belongings, and be mindful not to cause any unnecessary damage to the surrounding vegetation.
"Please – take nothing but photographs, leave nothing but footprints, and hold-on only to memories." -Unknown
Final Thoughts on What Does Primitive Camping Mean
Primitive camping is quite enjoyable if you love the outdoors and aren't addicted to having electricity and the modern day comforts like showers and toilets available in a few hundred feet.
When I hike I enjoy stopping at the primitive sites to camp on trail as they allow for better peace and relaxation than busy campsites do with the cars driving in and out at all hours and people yelling and partying!