As an Amazon Associate I earn from qualifying purchases. Some of the links on this website may link to vendors which are "affiliate links". If you click on a link I may receive a commission.
Backpacking across the country is an excellent form of travel and recreation. If you are an avid backpacker then you must have noticed the recent trend among backpackers converting to quilts from sleeping bags. But, why are people trading their sleeping bags for backpacking quilts?
Backpacking quilts are very affordable and lightweight, which you can fit very easily in your backpack. Additionally, it's very comfortable for backpackers who consider themselves minimalists. And that is why many backpackers are using backpacking quilts instead of sleeping bags.
There are several reasons why backpackers find backpacking quilts more convenient. In this article, I'll talk about those reasons and will also teach you how to use a backpacking quilt. To learn more, stick around till the end.
If you want to look at a more exhaustive list of quilts check out our quilt compendium here.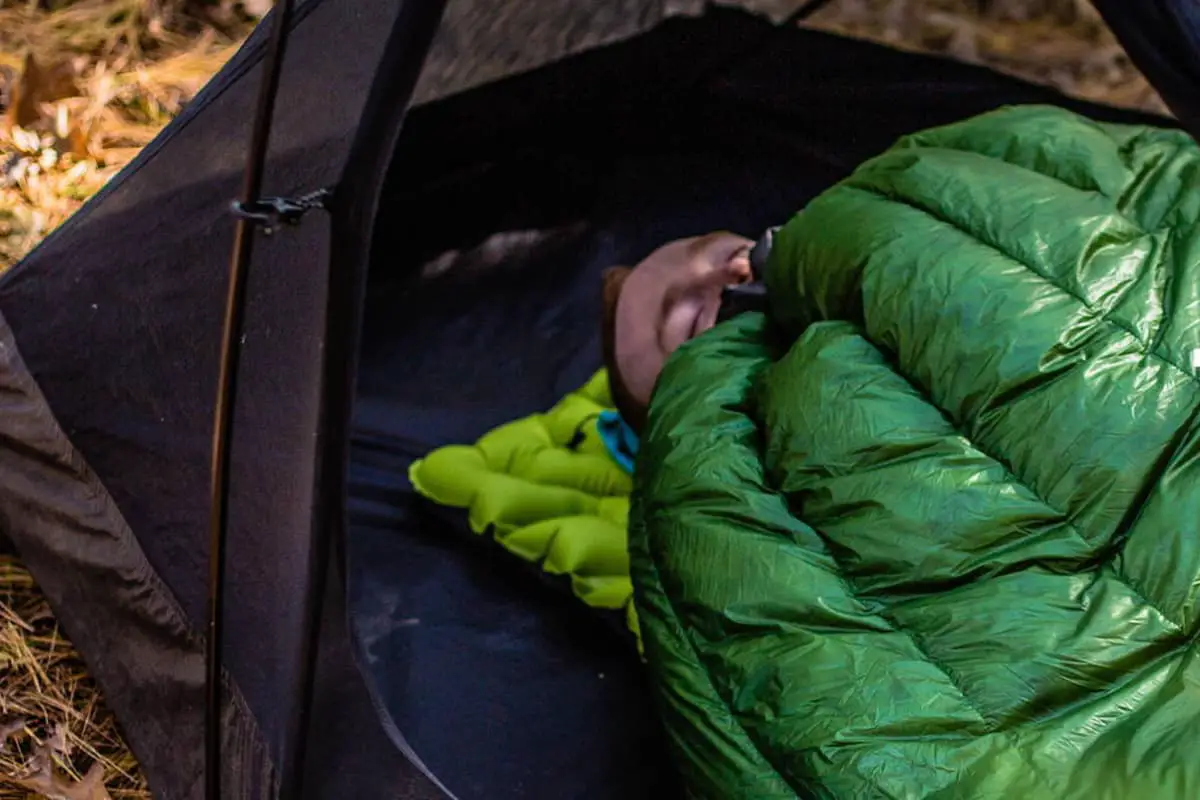 What Are Backpacking Quilts?
Backpacking quilts are ultra-lightweight sleeping systems that you can fit easily inside tight spaces.
While the sleeping bags take on a mummy-style appearance with narrow feet, expansive space for the shoulders, and a hood, backpacking quilts don't have any of these components. These are nearly half of sleeping bags with no hood or zippers.
There can be top quilts or down quilts, depending on the style. Down quilts are perfect for those who love sleeping on hammocks.
Top quilts function like your regular blankets and drape your body. It has an open system, unlike sleeping bags, and is less restrictive.
How Does a Backpacking Quilt Work?
Backpacking quilts are not very different from sleeping bags. You can drape the quilt with a sleeping pad, which will insulate you and won't let the cold from the ground reach you.

You can also use some extra straps with your quilt so that you can secure the quilt and keep any draft from creating.
While using a backpacking quilt, make sure that you aren't over insulating yourself or buy fill materials. Besides, you'll want to keep a close eye on the temperature rating of the quilt you are considering buying.
You don't need to worry about the breeze creating drafts if you're sleeping inside a double-walled tent.
What Are the Advantages of a Backpacking Quilt Over A Sleeping Bag?
There is no big secret as to why hikers love sleeping quilts more than sleeping bags. Here are six reasons why most campers don't go for sleeping bags anymore.
Lightweight
As I've already mentioned, quilts are half the size of a sleeping bag. So, they're about 20-30% lighter than sleeping bags. As hoods are absent in quilts, ultralight enthusiasts prefer these even more.
Quilts have all the necessary features to keep you warm and be super lightweight at the same time.
Almost as Warm
The best way to know about the efficiency of a backpacking quilt to a sleeping bag is to make a warmth comparison.
The sleeping bag and the backpacking quilt boils down to an ultimate tie, meaning a sleeping bag will keep you just as warm as a backpacking quilt.
These didn't use to be as warm in the past. In recent years, gear manufacturing companies have upped their game and made the quilts function the same as sleeping bags.
The premium-quality quilts have neck collars with better attachment systems. These neck collars can be done on many quilts available on cottage sites like Enlightened Equipment.
The backpacking quilts keep the trapped inside as you compress it with your weight. You can easily use your jacket hoods and use extra layers if you want more warmth.
If you're hiking at a place where the weather isn't too cold, like winter camping, sleeping quilts are near perfection to help drop weight while maintaining warmth.
More Compact
A quilt is the best option for the minimalist backpackers as it takes much lesser space than sleeping bags.
You can use a quilt as the outliner for the things you keep inside instead of stuffing it at the bottom. It has fewer materials on it and cuts a few ounces off your backpack.
Besides, if you don't compress the quilt, you'll be extending and improving your quilt's shelf life. It doesn't take very long to re-loft, which is an issue relatively common with sleeping bags.
No Issues with the Zipper
As I've already mentioned, a quilt is a zipper-free sleeping bag alternative so that nothing will snag or come off. Sleeping bag users often complain about not having the sturdiest zippers, and these also come off very quickly.
You might need a hot minute for you to free the material from the zipper. Additionally, having zippers may also frustrate you and urge you to give your sleeping bag a firm yank and damage the whole thing.
Luckily, these issues are in the past now, as backpacking quilts are more straightforward to use, and you won't be facing these irritating issues with zippers.
More Affordable
Backpacking quilts cut off additional costs without the zippers and less material. So, these quilts are very affordable and readily available.
However, I should mention that the backpacking quilts that offer you premium features and additional warmth may cost more than average quilts and equal sleeping bags in some cases. The process may be a bit longer for purchasing quilts because their nature is made-to-order.
You won't also necessarily find these quilts on local store shelves. But as they have a considerable customizability advantage and an affordable price, they're prevalent among backpackers.
More Room for Movement
Sleeping bags have a mummy-style that makes movements very restrictive at the lower end of your body. In general, sleeping bags don't allow room for movement. But with quilts, you don't have to worry about movement restrictions.
If you love sleeping to your side, sleeping bags must make you feel very uncomfortable while you sleep. Quilts are the best option for the side sleepers because they will allow them more unrestricted movements.
I should also mention that an open sleeping bag will also provide you with the same functionality. But you'll face some problems when you turn over in your sleep as your sleeping bag will not have an attachment system below you. 
Besides everything I've mentioned here, backpacking quilts also reduce moisture build-up as it does with sleeping bags. As your head is not inside the quilt, it will not soak moisture from respiration.
If you are a fidgety sleeper who always tosses and turns at night, you might find your hood on your face with sleeping bags, which isn't an issue with quilts.
Sleeping bags may be warmer, but in case of weight and packability, quilts are the best in the show. The temperature regulation also depends on which model backpacking quilt you're going to buy, but typically, quilts will do an excellent job of keeping you warm at night.
But like every other piece of equipment, backpacking quilts do have their sober share of cons, which only seems fair to address here.
Firstly, quilts don't do much to cover your head as they don't have any hoods. Sleeping with extra layers of clothing may also seem uncomfortable to you, which you don't have to do with sleeping bags.
However, hikers who want to cut off a few extra ounces from their backpacks and also don't mind being less warm love to go for backpacking quilts.
Final Thoughts on What is a Backpacking Quilt
Backpacking quilts are perfect for people who prioritize ultralight gear over everything else. Hikers who backpack in mild temperature locations prefer to use backpacking quilts as well.
Also, backpackers are converting to quilts because of their comfort and unrestricted mobility.
So, now you know what a backpacking quilt is along with how to use a backpacking quilt, and why backpackers have come to love them.
Quality Quilt Options on Amazon
Image
Title
Price
Prime
Buy

Top

Sierra Designs Nitro Quilt 20 Degree Ultralight Sleeping Bag - 800 Fill Camping & Backpacking Sleeping Bag

Prime

Eligible

Buy Now

Top

Therm-a-Rest Corus Down Backpacking and Camping Quilt, 20-Degree, Long, Spring

Prime

Buy Now

Top

Sea to Summit Ember Down Quilt, 20 Degrees F, Regular

Prime

Eligible

Buy Now
Therm-a-Rest Vesper 20-Degree Sleeping Bag with Mattress Connector, Regular (0040818107034)

Prime

Buy Now
Paria Outdoor Products Thermodown 15 Degree Down Sleeping Quilt - Ultralight Cold Weather, 3 Season Quilt - Perfect for Backcountry Camping, Backpacking and Hammocks (Regular)

Prime

Eligible

Buy Now
Featherstone Moondance 25 850 Fill Power Down Top Quilt Mummy Sleeping Bag Alternative for Ultralight Backpacking Camping and Thru-Hiking

Prime

Eligible

Buy Now
Product prices and availability are accurate as of the date/time indicated and are subject to change. Any price and availability information displayed on [relevant Amazon Site(s), as applicable] at the time of purchase will apply to the purchase of this product.
Prices pulled from the Amazon Product Advertising API on: