As an Amazon Associate I earn from qualifying purchases. Some of the links on this website may link to vendors which are "affiliate links". If you click on a link I may receive a commission.
There are a LOT of tents available that will be inexpensive but the real cost is in the weight of the tent. When you are intending to travel miles over multiple days, weeks, or even months weight is a large factor you want to cut.
How much should a backpacking tent weigh? For most backpackers and hikers you are looking to have a max tent weight of 2.5 lbs per person. This can be broken up between hikers allowing for an overall heavier tent or two individual tents depending on the needs of the trip and of the backpackers.
One big reason to work on the tent and lessen its weight is it is one of the big three, it is much easier to cut weight from this area for a very small cost increase for pounds and ounces of cut weight.
What is the Lightest Tent for Backpacking?
While most standard tents will come in around 4 to 5 pounds there is many options available from the smaller cottage companies that produce amazingly ultralight backpacking tents, frequently using advanced fabrics to reach these numbers, so what is the lightest tent for backpacking possible?
The lightest tent is made out of DCF, or Dyneema Composite Fabrics, and when using trekking poles instead of fixed poles you can get a tent like the Hexamid Solo Tent which weighs in at just just 10.4 ounces! Also, for a two person space tent, you can choose some that will be around only 16 ounces.
Choosing the lightest tent will come at a cost of real money, as with most clothing and other items the higher the quality of materials and the less weight involved makes the price tag increase pretty dramatically so find your balance.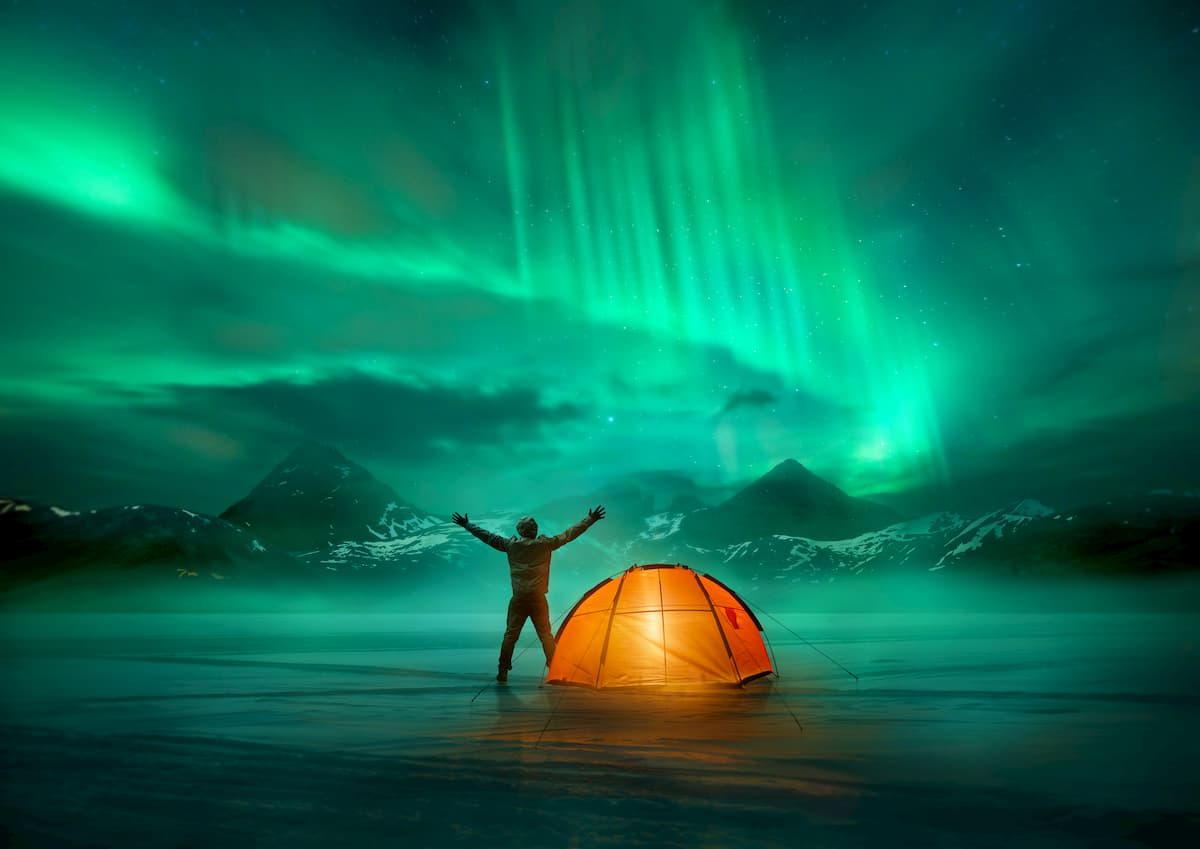 How Much Should a 2 Person Backpacking Tent Weigh?
What if you are looking for a little more space for yourself on a longer trail. For the hiking world it is known that a 2 person tent is really a 1 person plus space for gear, so how much should a 2 person backpacking tent weight?
The average 2 people backpacking tent should weigh no more than 5 pounds, there are a large number of options available that are under 2 pounds which makes carrying them for long periods much more comfortable.
As I mentioned above, unless you are on a shorter hike in many cases you will want a 2 person tent for just yourself and your gear. In doing this you allow yourself more room to spread out you and your gear to stretch and relax after a long arduous day.
Are Expensive Tents Worth It?

With the large number of tents that are available for $50+ why would invest in a more expensive version and are expensive tents worth it in the long run for backpackers?
For someone looking to do long section hikes or complete a long-distance trail like the Appalachian Trail or Pacific Crest Trail then it is definitely worth the investment. Cutting your weight down on your shelter helps to dramatically lower your overall pack weight which has been shown to lead towards success more frequently.
Definitely take the time to know your overall budget and make sure to allot enough money towards your tent purchase to allow a huge drop in weight as this will pay off over the long haul for your back and your feet.
Backpacking Tent Weight Comparison
Now we can take a look at some of the most interesting purchases for use on the trail from a strict tent look and maybe you can find the match for you and your trip from our backpacking weight chart.
How to Choose Your Backpacking Tent
While choosing a tent may seem pretty easy there are some things you will want to think about before making your purchase to ensure you make the right purchase for your trip needs.
Capacity Need
Capacity comes down to the number of people who will need to be inside the tent together, for example, if you are hiking as a family you may want a bigger tent that all would share.
The most common capacity for a backpacker and hiker would be a 2 person tent which allows greater space inside for you and your gear without being tight.
When it comes to backpacking tents you want to think about adding an extra person for your gear, hence a 3 person tent for 2 people to share allows space for gear storage inside.
Seasonal Need
The season of the trip comes in when looking at tents as a 3 season tent will typically allow for more airflow through an internal mesh and rest higher up from the ground.
3 Season: Tents which are built for Spring, Summer, and Fall.
4 Season: Tents which are built for all seasons including winter use at extreme temperatures.
Some tents have additional add-on options that will allow for a tent to work as a 3 season backpacking tent or 4 season backpacking tent.
This can be a good way to maximize your value by finding a tent that can be used in multiple seasons.
Living Space
This is a big personal preference issue more than a need but living space is the area inside the tent that allows you to be able to actually live and move around in.
A lot of this will do more with a "cramped" feeling that will change depending on the person inside the tent, some have no issues with a smaller 1 person tent with close walls, for others, this will cause them stress.
Many times to help cut down on the weight a tent has sloped in walls which can cause claustrophobia style issues for some backpackers, in this case, you would want to make a different choice in your tent to avoid this.
Weight
When looking online to purchase a tent you will see multiple weights listed sometimes in the technical specs which can lead to confusion as to what the final weight of the tent will be that you will have to carry.
Packaged Weight: This is the heaviest weight, and includes everything that comes with the tent: stuff sacks, guy lines, packaging, etc.
Trail Weight: Generally this is the lightest full set up. It will include the tent, fly, and poles. It usually does not include guy lines, stakes, or stuff sacks.
Fast Pitch: This is the weight of the fly, footprint, and poles.
I am always looking at the trail weight so that I can make sure I understand what the impact to the backpack overall base weight will be when I add in a new tent.
Materials
There is a wide variety of fabrics that can be used in backpacking tents and we will just cover the three most common materials for better quality tents that tend to last years when properly cared for.
Dyneema: This is the fabric used for many cottage tents as it is AMAZINGLY lightweight and since it was designed for sails it is also waterproof which means it keeps you dry.
Sil-Nylon: Amazingly lightweight fabric that can be purchased and used for making tents that can help keep the budget down. Not waterproof and requires thread taping or seam sealing to stop water intruding. Also tends to stretch when wet so a tight pitch can become loose over time.
Sil-Poly: Another lightweight fabric that is very similar to the Sil-Nylon but has a benefit of not stretching when wet which allows it to keep its shape even while in heavy downpours.
I would love to have a Dyneema tent but they are about 2-3x the cost of any Sil-Nylon or Sil-Poly tent, though the life of a Dyneema tent has been shown, with proper care to last you through multiple big three triple crown hikes.
Cost
The end all be all for many people will be the ultimate cost of ownership, for people with bigger budgets this may not be a huge concern as you will choose based on need.
For those on a tighter budget though stretching the money out for the value, it can provide as it will mean a lot. For me, the tent gets the second-highest budget and the sleeping quilt got the max budget as I want warmth.
Final Thoughts on How Much Should a Backpacking Tent Weigh
You should carefully choose the amount you can pay to drop the weight on your shelter as it is one of the easiest pieces of gear where you can drop pounds fast and not ounces.
I would suggest you look to making the shelter and sleep system the two biggest purchases for your full gear load out, these will help you know what backpack to purchase and help you minimize your overall base weight.