One thing I found out fast when I started looking into ultralight packing was that it would more than likely center on getting gear made out of Dyneema and/or Cuben Fiber.
I had never heard of this material before I started looking into hiking as light as possible, I even found out it is lighter and stronger than Kevlar, so what is dyneema composite fabric (DCF)?
Dyneema Composite Fabric in hiking gear has to do with its high-performance non-woven composite material. The reason hiking gear gets made out of this fabric is due to its high-strength and low-weight. This makes it an ideal fabric for people looking to carry durable long-lasting, light equipment.
Let's dig in a bit and learn more about this amazing fabric. I think it is quite an impressive fabric that has more use and application than only hiking gear.
This tent from HMG has piqued my interest and may work for you, if not I hope that you find this informative and that it helps you in decision making when purchasing hiking gear which we offer on our recommended gear page!
How Did It Get The Name Cuben Fiber?
I was confused with the name and felt that I had to understand why you would end up with a product called " Cuben fiber". I found that the name Cuben Fiber was created in the press in reference to America³ (pronounced America Cubed), who was the winner of the 1992 America's Cup.
It is told that in the 1992 Cup their yacht used sails made from the precursor fiber which was the first step to the currently available commercial product. 
How Is Cuben Fiber Made?
Dyneema Composite Fabrics, or DCF, is a fabric that was previously known as Cuben Fiber. It is constructed out of a grid of white Dyneema threads, which are then laminated to a thin transparent polyester membrane.
The Dyneema fiber is used as it is up to 15 times stronger than steel on a weight for weight basis. The fabric also can float on water and is extremely durable and resistant to moisture, UV light, and chemicals.
Dyneema has a very high tensile strength while also having a very low stretch amount. This makes it exceedingly ideal for hiking purposes like tents, tarps, and backpacks.
Is Cuben Fiber Waterproof?
The Dyneema fabric itself doesn't absorb any water, though any stitching, seams, or breaks in the material can allow water to seep in. The Cuben Fiber Fabric has a PU coating which helps make sure it's waterproof at least until that coating wears off.
Be aware though that water can enter through breaks and seams unless you properly take the time to seal them. When brand new the Dyneema fabric will seem very water-resistant, take care of this material and it will take care of you, on a thru-hike you may want to reapply.
The fabric body will eventually grow less and less water-resistant after abrasion and wear. Over time the fabric will begin to absorb water and essentially "wet-out".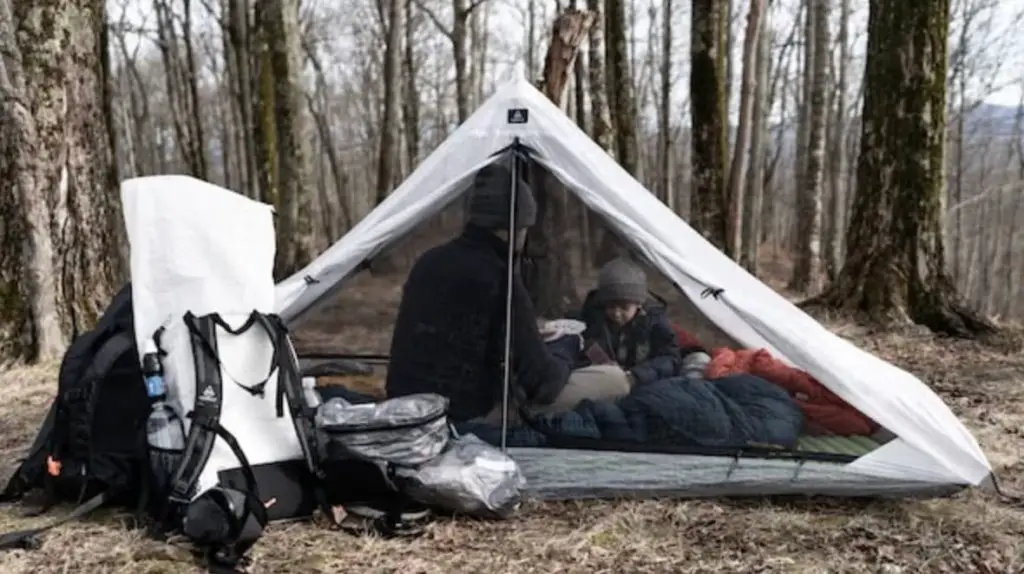 Is Cuben Fiber Durable?
In reading up on Cuben fiber I have found that it is not as durable as some other typical materials used in the construction of backpacking gear. In the backpacking world, lighter will frequently mean decreased durability.
This generally holds true for cuben fiber gear as well. A cuben fiber backpack will typically hold up to your 2000 miles hike, similar in length to a single thru-hike, but not very much else.
Is Cuben Fiber Breathable?
The typical fabric is a three layer laminate with high strength Dyneema fibers in the middle. In my research, I have found that the breathability has been proven to be very good.
Many examples point to the sale of jackets for an example as they are breathable enough to sleep in or hike in, depending on the weather, without that getting a clammy feeling.
What Makes Cuben Fiber So Expensive?
It isn't mass-produced which means that smaller companies, many within the US, make them to order. Since it is made in the US, and to order overall, is why the cost is very high and has stayed high.
What Gear Is Typically Made With Cuben Fiber?
While most people are used to hearing about cuben fiber and its use in yachting, it has taken off in use with hiking goods. Though it hasn't been picked up by the large players in tent manufacturing, it is amazingly nice material.
Since no big manufacturers are creating tents this allows you to find and select the best small shop and support them instead. Some of my favorites would include ZPacks and Hyperlite Mountain Gear.
Tents
The most lightweight tents for hiking are all built on Dyneema and this allows them to take up very little space. Check out this large 2 person tent from HMG, the Dirigo 2 which weighs only 1.75lbs!
Your main trade-off is going to be in cost and sometimes the overall life of the tent, Cuben Fiber is very durable but is easily punctured.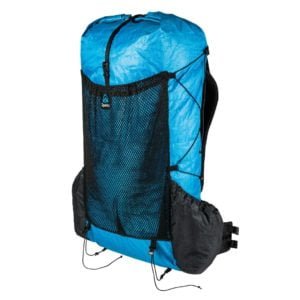 Backpacks
There is no way to beat the backpacks, like the HMG SouthWest 3400, produced from Dyneema or Cuben Fiber as they are able to carry a significant load while being incredibly comfortable on your back.
Like tents though you will pay for the benefit of lesser overall weight.
Jackets
These can server a dual purpose as a windbreak, rain defense and as a pillow in many cases. The material is breathable and comfortable and well worth the little extra cost just for the ability to have this perform multiple roles in your pack.
Is Dyneema Gear Worth The Money?
This depends on your overall income and where weight ranks for you. There are other options which work very well, but will weigh more and the little incremental weight adds up over time.
For me to minimize my overall pack weight I love the gear, I believe it is well worth the cost and I promise after days of hiking you will agree with me.
Final Thoughts on What Is Dyneema Composite Fabric
Dyneema is an amazing fabric that has been used for years in many different ways. I am still amazed at the lack of support from larger companies as I feel it could help move the price point down.
I also am a very pro-small business person and love the fact that they are the only ones really providing this type of gear and to me, it is worth the extra bit to support someone who sinks love into what they do.
I hope this was informative and helpful to you and gave you a better understanding of Cuben Fiber. Please leave me a comment below if you found this useful, found it factually incorrect, or if I missed something you believe to be valuable to add!