As an Amazon Associate I earn from qualifying purchases. Some of the links on this website may link to vendors which are "affiliate links". If you click on a link I may receive a commission.
For many who want to get a freestanding tent trying to locate the right one can be dizzying due to the sheer volume of options available. Nemo offers tents that frequently survive 2000+ mile thru hikes and is near perfection.
The Nemo Dragonfly is nearly flawless in the durability and simplicity for use on the trail, adding in that is it very light weight is just a cherry on top of this tent!
Nemo Dragonfly
1P, 2P & 3P Options Available
Dragonfly™ fills the void for most backpackers with an ideal balance of weight and livability in a freestanding tent. The large trapezoidal vestibules are designed to fit gear without obstructing entry and have multiple roll-back points to customize visibility and coverage.
* As an affiliate we earn from qualifying purchases, thanks for supporting our work!
Here's a rundown of what we'll provide in this Nemo Dragonfly 2P Tent review:
First we'll share the features and benefits that you'll find useful
Next, we'll take a look at the drawbacks you might need to know about
Then, we'll tell you a bit about the Nemo company
And finally we'll provide a sampling of actual customer and Independent reviews to give you better insight into the product.
Sound good? Let's get started!
Features and Benefits of the Nemo Dragonfly 2P Tent
Large doors and trapezoidal vestibuleswith multiple roll-back points for customizable storage and ease of entry
Hubbed, pre-bent DAC Featherlite poleswith high-arching main pole significantly increase volume at the head, peak, and foot ends.
Color-coded anodized poles and matched webbing for an intuitive set up.
White No-See-Um Mesh on side panels adds privacy while a black mesh top offers clear stargazing at night.
Integrated 20D Nylon tub provides an ultralight, waterproof floor, and premium 15D Nylon Ripstop fly is coated in a durable silicone repellent for reliable and durable weather protection.
Single-seam tub construction and silicone-impregnated fabric ensure increased longevity and greater sustainability.
Overhead Light Pockets™ use special light-diffusing fabric to cast an even glow with a headlamp and Gear Pockets™offer storage for personal items.
Divvy™ Sack dual-stage stuff sack allows you to split the load with a hiking partner.
Protected strut vents at the top of each zipper flap ensure greater ventilation, especially during a storm.
Protected by the NEMO Lifetime Warranty.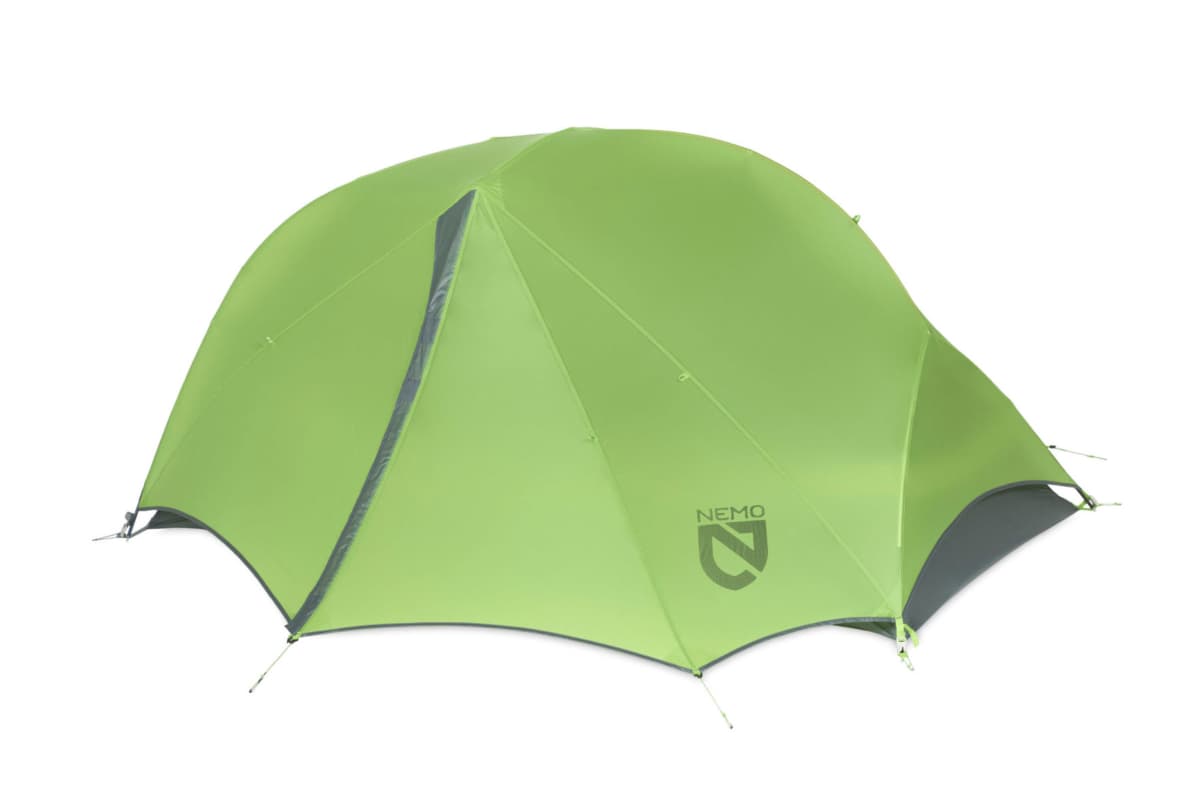 Special Features (Pros) of the Nemo Dragonfly 2P Tent

Excellent Stability – The Dragonfly stands well and strong in the wind which is due to design options that provide good angles on the vestibules along with the overall tapered geometry.
Vast Interior Space – Large open area provided inside will help a single person have plenty of space to lay out gear on a thru hike, or for 2 hikers to lay side by side without issue with gear placed outside in the vestibules.
High Amount on Loft Storage – The tent interior canopy has two gear pockets along with a large gear loft at its peak. In addition you get two light diffusing pockets for you to place headlamps in to get lighting hands free inside.
Double Wall Setup – This helps to dramatically lessen condensation issues for anyone camping where it is humid and can ensure better overall rest.
Drawbacks (Cons) for the Nemo Dragonfly 2P Tent
Price – For many the price may be larger than they expected but the costs are worth it in the quality manufacturing and the lifetime of use you can get out of a single gear purchase.
Weight – There are tents out there that weight less but mainly this is down to the use of trekking poles which can help cut main tent weight down by a pound or more in some cases but does remove freestanding.
Thinner Materials and Flooring – The light weight comes at the cost of thinner materials and while not an issue for many one chunk of gravel or well placed twig could cause issues. If worried I suggest checking out the footprint here.
Video: Nemo Dragonfly 2P Tent
---
Nemo Specs and Construction
About the Nemo Dragonfly 2P Tent Company
NEMO is founded on a commitment to adventure – to the fearless pursuit of uncharted paths, in everything from the equipment we build to the way we run our business.
Bravely exploring new directions opens our minds, brings us closer to the people we depend on, sharpens our wits, and lifts our spirits.
Nemo Dragonfly 2P Tent Review
Looking at the features and benefits is great, but taking a look at what real-and-actual customers have to say about a product offers a deeper dive of insight.
Here we've curated reviews that reflect the Nemo Dragonfly 2P Tent, providing feedback from product users and reviewers on independent review sites as well as on Amazon.
Independent Reviews and Recommendations for the Nemo Dragonfly 2P Tent
We think that the Dragonfly takes the cake. This is a tent that most anyone could take anywhere. If you regularly spend nights in the backcountry but want a single tent to do it all, the Dragonfly is an excellent choice.

It's light enough for extended backpacking trips and roomy enough for car camping. In many cases, tents try to do too much, but in this case, the Dragonfly gets it just right.

It has a superb design combined with an excellent feature set. It balances comfort and storage space with a reasonable overall weight.

Outdoor Gear Lab
---
The NEMO Equipment Dragonfly 2P tent is an excellent choice for a quiver of one for a lightweight, three-season backpacking tent. The combination of physical attributes and features creates a tent that is good at everything without standing out in one area.

The Dragonfly boasts great weather resistance, and I appreciated the large doors, vestibules, and interior storage features. The only shortfall was the limited venting of the fly. Otherwise, the tent provided a light shelter that left me wanting for nothing.

Gear Junkie
---
Arguably one of the two best, most comfortable, freestanding, two-person, ultralight backpacking tents on the market—and the cheaper of the two—the Nemo Dragonfly 2P's excellent weight-to-space ratio strikes an ideal balance between livability, low weight, and protection from the elements, with impressive attention to details.

The Big Outside
---
After multiple trips, I haven't found a negative other than the price being $10 more than its nearest competitor. That's a small price to pay for a well-designed quality tent.

If you are using it by yourself, I would suggest the 2-person tent. The weight penalty of 6 ounces is minimal, and the extra space is worth it. Would I recommend the Nemo Equipment Dragonfly Ultralight tent? You know it!

The Outbound
---
What Online Customers Have to Say About the Nemo Dragonfly 2P Tent
The Dragonfly is the perfect combination between an ultralight and a robust tent. The freestanding form at only 2lbs allows for a wind resistant structure but doesn't compromise on weight.

The fabric is still solid and you don't have to be scared manipulating it around. Great space inside for a 1P compared to the Hornet with a luxurious vestibule for gear.

It has now become my tent of choice for my solo expeditions around the world!

Nemo Reviews
---
 I wanted a lightweight tent that was comfortable for two people and had two doors and vestibules. This tent was perfect. It performed well in the wind, the vestibules are really generous, and the double doors are fantastic.

I love that it has some inside pockets so I don't loose my headlamp and glasses but that it is a fantastic lightweight tent for two people. 

Nemo Reviews
---
As far as it's usage for backpacking, it's very light and packs down quite small. I'm a larger guy (6'3″) but I was able to use it as a 2 person tent somewhat easily.

The "attic" storage space is fantastic, as are the side pockets and the headlamp spots. The vestibule was large enough for my 70L bag and boots to be covered overnight.

Overall I am very happy with this tent and I am confident it will hold up in a variety of situations.

Nemo Reviews
---
Final Thoughts on the Nemo Dragonfly 2P Tent
When you are looking for a high quality tent that isn't constructed from Dyneema and costing $600+ there are a vast array of options, Nemo has always been a strong performer and has amazing support should problems occur.
If you are looking for a tent to last you years of overnight use or a tent for a thru hike where you will be living in it for 6+ months then this is quite possibly the exact tent you have been searching for.
Nemo Tents on Amazon
Image
Name
Description
Price
Prime
Buy

Top

Nemo Hornet
Nemo Hornet Ultralight Backpacking Tent, 1 Person

Prime

Buy Now

Top

Nemo Dagger
Nemo Dagger Ultralight Backpacking Tent, 2 Person

Prime

Eligible

Buy Now

Top

Top

Nemo Hornet Elite
Nemo Hornet Elite Ultralight Backpacking Tent, 2 Person

Prime

Buy Now

Top

Nemo Dragonfly
Nemo Dragonfly Ultralight Backpacking Tent, 1 Person

Prime

Buy Now

Top

Nemo Aurora
Nemo Aurora 2P (Nova Green) & Footprint

Prime

Eligible

Buy Now

Top

Nemo Kunai
Nemo Kunai 2P Tent

Prime

Buy Now
Product prices and availability are accurate as of the date/time indicated and are subject to change. Any price and availability information displayed on [relevant Amazon Site(s), as applicable] at the time of purchase will apply to the purchase of this product.
Prices pulled from the Amazon Product Advertising API on: