One thing you want to pay some good money for to have an enjoyable outdoor trip is on your sleeping gear, as part of the big four for thru-hikes I definitely would agree! The Sea to Summit Spark is a perfect bag for those who need cold defense but also would like to cut back as much pounds on their back as possible for a good cost.
The Spark™ Ultralight Mummy Sleeping Bag Series spans everything from an ultralight down-filled liner to a mid-winter fast-and-light sleeping bag. Each model uses premium materials and no-frills design to provide cutting-edge performance for the designed end-use.
Ultralight does not mean ultra-tight: The Spark mummy sleeping bags are snug but still have adequate girth for the performance-oriented backcountry user.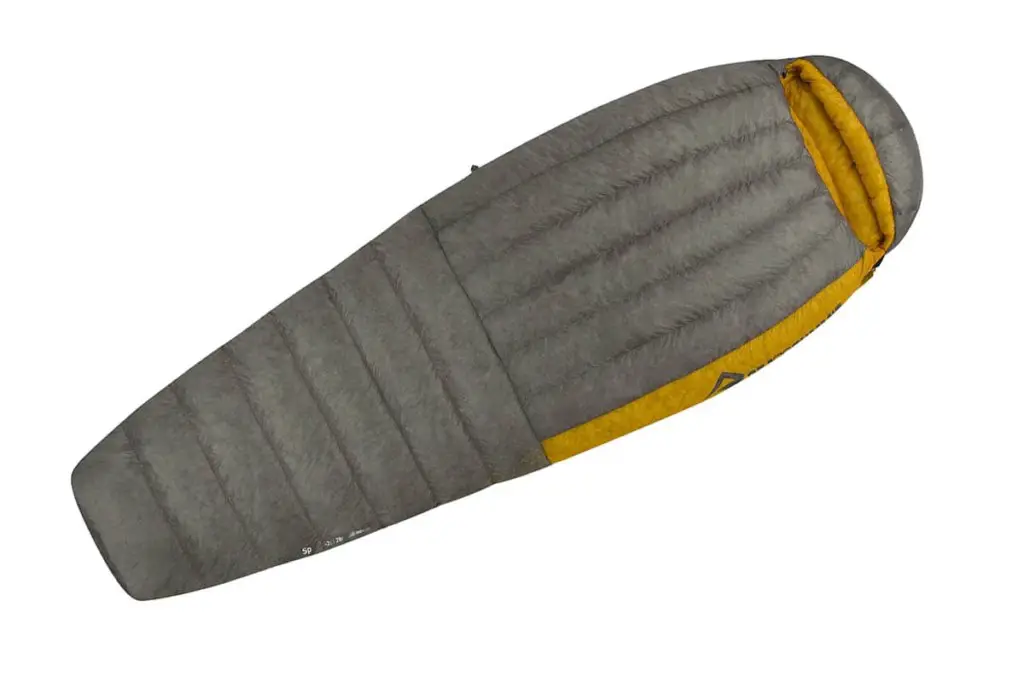 High Quality Sleeping Bag

Spark™ Ultralight Mummy Sleeping Bag
Weight: 490g
The Spark™ Ultralight Mummy Sleeping Bag Series spans everything from an ultralight down-filled liner to a mid-winter fast-and-light sleeping bag.
* I earn a commission if you should click on this link and make a purchase at no additional cost to you.
Special Features (Pros) of the Sea to Summit Spark Sleeping Bag
Packs Super Small in Compression Sack - The sleeping bag is able to compress down very well with the provided sack and allows you to save on backpack space required for your sleeping gear.
Large Variety Of Temp Options - There is 5 series within this model to allow you to find a perfect size for your needs from a 50 degree bag for summer to 0 degree super cold nights you can find your perfect match to the need.
Drawbacks (Cons) for the Sea to Summit Spark Sleeping Bag
Not Overly Spacey or Roomy - The sleeping bag is a more form fitting overall shape with less as gap space inside, this can lead to some people feeling claustrophobic.
Interior Lining is Thin - Not that it is cheap but that there was concerns over lifetime of the materials, but adding in a liner would cut down on this concern dramatically.
Video: 
---
About the Sea to Summit Company
The origins of the company began in 1983 in Perth, Western Australia - a time when lightweight, outdoor products were hard to find in Australia. Roland Tyson, a keen climber and adventurer, began making his own gear on an antique sewing machine in his bedroom.
Decades later, this is still what makes them who they are: a company driven by design perfectionism that allows them to develop ingenious, functionally beautiful products with a "no worries" Australian attitude. Their original ethos 'to equip and inspire' continues to drive research and development of new techniques, materials, technologies and production methods.
Sea to Summit Spark Sleeping Bag Review
Looking at the features and benefits is great, but taking a look at what real-and-actual customers have to say about a product offers a deeper dive of insight. Here we've curated reviews that reflect the Sea to Summit Spark Sleeping Bag, providing feedback from product users and reviewers on independent review sites as well as online.
Independent Reviews and Recommendations for the Sea to Summit Spark Sleeping Bag
Overall the Sea to Summit Spark SP II is a great sleeping bag to own. It's super lightweight and packs down very small while still providing you with adequate warmth on your 3 season backpacking trips

Read More...
---
If you're on the hunt for a bag that is lightweight and packs down to an impressive size, look no further. This high performer excels across the board in all metrics and is an excellent model to bring along when going fast and light.

Read More...
---
If you are in the market for an ultralight sleeping bag, take a look at the Spark sleeping bag series. It would be tough to find one lighter this that still lives up to its temperature ratings. Not too snug, but snug enough to be very thermally efficient. Highly compressible, warm, and light as a feather.

Read More...
---
With light weight, great packability, and quality construction, the Sea to Summit Spark SP series sleeping bag is the ultralighter's dream! However, you do need to be realistic with yourself when you choose the temperature of your bag.

Read More...
---
What Online Customers Have to Say About the Sea to Summit Spark Sleeping Bag
I can't believe how light and packable this thing is. Bought it for bikepacking and can't wait to use it. Also amazing how the compression sack is LITERALLY just big enough to fit the sleeping bag, not a bit of room to spare!
---
I just got back from a long weekend of bike camping in PA.

The first night was 22 degree's. This sleeping bag held the heat and kept me warm all night. I definitely recommend this bag for anyone going ultra light in their backpack or bike pack kit. Looking forward to more warm night when the temps drop!
---
I used the spark 18 degree bag, on a recent trip to arches national park and capital reef national park. The four nights I stayed it dropped into the mid-twenties. I had no problems staying warm, just keep the bag zipped all the way. its a roomy bag, even for me at 6' 1" 215 pounds. I had plenty of knee room and didn't feel restricted.

I toss and turn and sleep on my side and was still comfortable. The zipper worked well for me. It seems strong even after a 2 or 3 emergency potie breaks in which I had to jerk the zipper pretty hard to get out fast. It never broke on me.

My feet always stayed warm too. I almost had to take my socks off. It is a very light bag and packs down as small as a 1-liter bottle of water. It also comes with a nice storage bag/ box.

It zips the bag up completely, not allowing it to be exposed to outside elements as traditional companies give you an exposed laundry bag allowing elements in. Overall I am extremely satisfied with the product and recommend it.
---
This is THE sleeping bag for those who want lightweight combined with excellent materials, workmanship, and quality. I purchased this bag for backpacking and have now used it on three trips and it was fantastic. The weight of the bag is incredibly light, and it packs down to nearly nothing. This bag is so good, I now have purchased two more for my family!
---
Final Thoughts on the Sea to Summit Spark Sleeping Bag
This bag is amazingly light and a perfect match for someone who is looking for solid warmth and a very lightweight bag. The Sea to Summit company has always created quality gear and they stand behind it willing to help when issues or problems happen.
I would expect that anyone who loves a sleeping bag would jump at this ultralight option to help drop significant pack weight without increasing any safety concerns. I hope this has helped you understand more if this is the right choice for you, if not then I do have more options below which are a little less expensive but may fit your needs!
Compare To Similar Sleeping Bags on Amazon
Product Image
Make / Model
Sea to Summit Spark Down Sleeping Bag, 5 Degrees F, Regular
Outdoor Vitals Summit 0 15 30 Degree F 800+ Fill Power Starting Under 2lbs Ultralight Backpacking Mummy Down Sleeping Bag for Lightweight Hiking & Camping
Sierra Designs Nitro 0 Degree DriDown Sleeping Bag Ultralight Down Sleeping Bag for Backpacking and Camping - Regular
Nemo Sonic 800-Fill Down Sleeping Bag, 0 Degree, Regular
Product Image
Make / Model
Sea to Summit Spark Down Sleeping Bag, 5 Degrees F, Regular
Product Image
Make / Model
Outdoor Vitals Summit 0 15 30 Degree F 800+ Fill Power Starting Under 2lbs Ultralight Backpacking Mummy Down Sleeping Bag for Lightweight Hiking & Camping
Product Image
Make / Model
Sierra Designs Nitro 0 Degree DriDown Sleeping Bag Ultralight Down Sleeping Bag for Backpacking and Camping - Regular