As an Amazon Associate I earn from qualifying purchases. Some of the links on this website may link to vendors which are "affiliate links". If you click on a link I may receive a commission.
If you are looking to be at the ultimate in lightweight from a quilt than look no further as you are on the bleeding edge of warmth and weight. The Enigma uses a sewn closed foot box to cut down on the need to zipper and drawstring.
The Enlightened Equipment Enigma quilt is another quilt from the amazing people who created the most popular quilt out on the trail, the Revelation. This cottage company is located in the US and this allows them to create high quality gear while keeping the price manageable.
If you want to look at a more exhaustive list of quilts check out our quilt compendium here.
Enlightened Equipment Enigma
Sub Headline
The Enigma is a quilt, not a sleeping bag, which means it's designed to be used with a sleeping pad to provide insulation underneath you, between you and the ground. The Enigma doesn't have a zipper or a built-in hood, saving weight and space in your pack.
* As an affiliate we earn from qualifying purchases, thanks for supporting our work!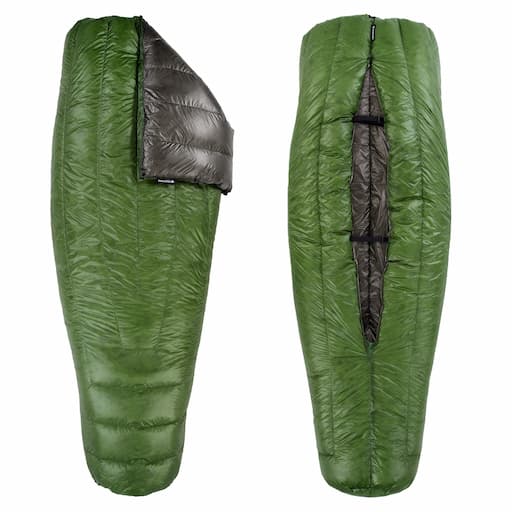 Here's a rundown of what we'll provide in this Enlightened Equipment Enigma review:
First we'll share the features and benefits that you'll find useful
Next, we'll take a look at the drawbacks you might need to know about
Then, we'll tell you a bit about the Enlightened Equipment company
And finally we'll provide a sampling of actual customer and Independent reviews to give you better insight into the product.

Sound good? Let's get started!
Features and Benefits of the Enlightened Equipment Enigma
Poofy sewn-closed footbox for a no-fuss sleeping experience
Pad attachment system uses elastic straps and clips on each side of the quilt to keep it secure on your sleeping pad and lock out drafts
Snap and drawcord neck closure lets you fine-tune draft control
Unique U-shaped continuous baffles
All of our down is ethically sourced from an RDS certified supplier
Ultralight nylon fabric has a DWR finish and has been customized for breathability and comfort
Fabric colors may appear different from images shown due to rendering and monitor differences.
Quilts available in 3 fabric options: 7D, 10D, and 20D. Read more about the differences in our Fabrics.
Selecting the custom option of "draft collar" adds a draft collar to the head of your Enigma quilt. 1 draft collar total.
Handmade in Winona, Minnesota.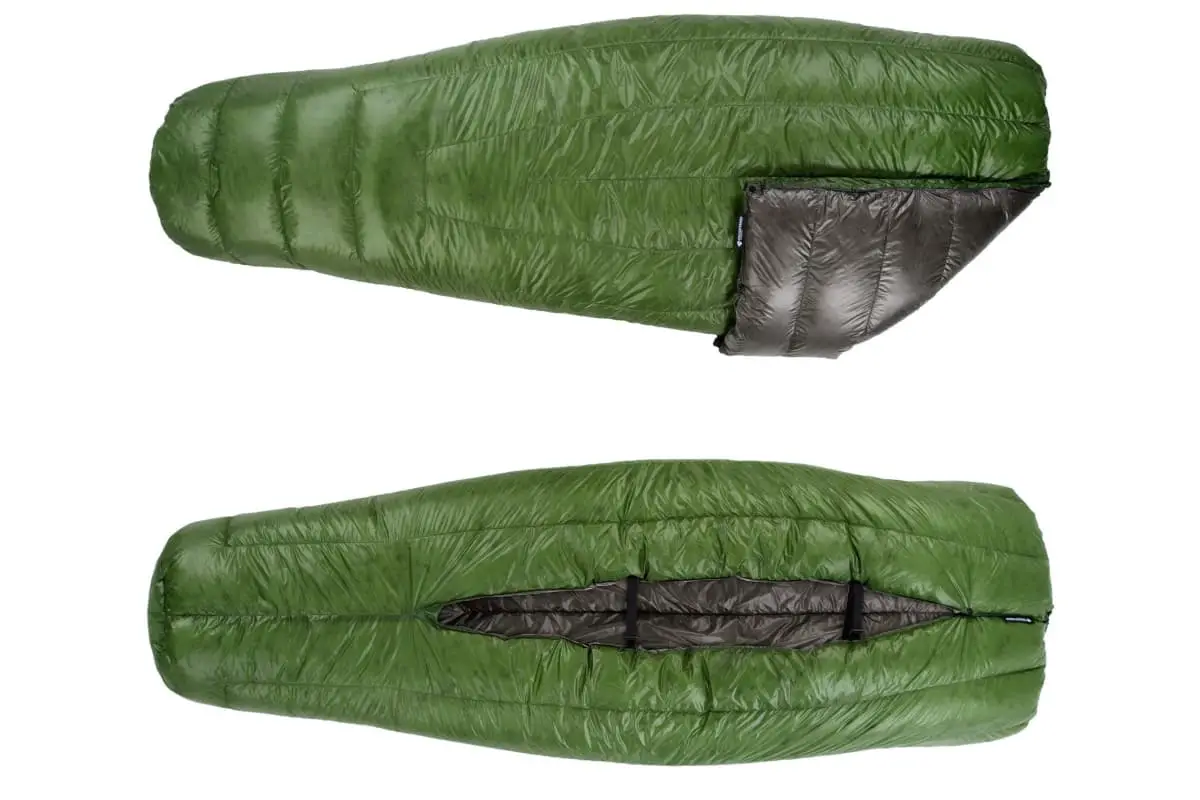 Special Features (Pros) of the Enlightened Equipment Enigma
Overall Simplicity in Design and Use – The Enigma removes additional cords in favor of sewn in features to drop the extra weight making it simple for use along with being a carefully thought-out design that is hand made in Minnesota.
Sewn In Footbox – Closed toe box helps to drop weight while providing a large increase in comfort and warmth.
Easy Attachment System to Sleeping Pad – Reliable and simple attachment system using elastic straps with clips to secure sleeping pad and prevent drafts.
Amazing Customer Service – Great customer service that helps ensure the order is right and any issues are properly supported to resolution.
Hands Down Ultimate Customization – I will say that there are very few other quilts with the ability and options to customize that EE provides you.
Storage Bag and Stuff Sack – The storage bag comes with details on how to clean your quilt and order information. The Nylon stuff sack should work well for many and needs to be replaced only to get more compression.
Drawbacks (Cons) for the Enlightened Equipment Enigma
Long Lead Times on Custom Orders – Unless you can find one off the shelf you like with their default colors then you will want a custom quilt, this comes with some longer lead times until you will get your gear.
Not Cheap to Return & Restocking Fee – Stricter return policy is enforced and custom items can be returned unused within 30 days for a  20% restocking fee (the fee is pretty standard for custom clothes and gear though).
Video: Enlightened Equipment Enigma Review
---
About the Enlightened Equipment Company
Their philosophy is to be smarter and lighter, eliminating useless extra features so you only carry what you need. Enlightened Equipment tirelessly test and update their designs to make them the best and lightest they can be.
Founder Tim Marshall started sewing quilts by himself in his basement in 2007. As demand for Enlightened Equipment products grew, so did the business.
Today, Enlightened Equipment has more than 50 employees creating quilts, clothing, accessories, and more in a 50,000 square foot building in Winona, MN.
Unsure of which quilt and like to take their quiz, click here for Enlightened Equipment's quiz to choose the perfect quilt for you!
Enlightened Equipment Enigma Reviews
Looking at the features and benefits is great, but taking a look at what real-and-actual customers have to say about a product offers a deeper understanding using user insight.
Here we've curated reviews that reflect the Enlightened Equipment Enigma, providing feedback from product users and reviewers on independent review sites as well as other online retailers.
Independent Reviews and Recommendations for the Enlightened Equipment Enigma
I think the #1 pro of the Enigma is its performance and value for the price. They are well-made, durable, and a great choice for long-distance hiking. You really pay for what you get here.

The more expensive the fill and fabric you choose, the greater weight savings. I think the Enigma is the fairest weight-to-price ratio of any on the market and it is definitely well-worth the wait time to order a custom one. 

The Trek
---
The Enigma is so simple, it's genius. Due to it's lack of features, it weighs less and compresses more than any other bag I've used.

That said, don't let the minimal design fool you, it seems to cross all of the Ts for functionality—a nice strap system, comfortably wide design, vertical baffles in the torso, and a thicker baffle at the footbox.

I am really happy with this quilt. Also, in the world of custom order ultralight gear, it's probably the most affordable quilt out there, and made in the USA.

Bikepacking.com
---
If you are in the market for an ultralight quilt, take a look at the Enlightened Equipment Enigma quilt. It would be tough to find one lighter than this that still lives up to its temperature ratings.

It's not too snug, but snug enough to be very thermally efficient, highly compressible, warm, and light as a feather.

Backwoods Pursuit
---
For the Pacific Crest Trail, Sean and I used Enlightened Equipment (EE) quilts. We both are absolutely in love with this piece of gear. No need for me to try out other brands, I 100% highly recommend Enlightened Equipment. (And no, I didn't get paid to say that).

Infinite Geography
---
What Online Customers Have to Say About the Enlightened Equipment Enigma
People have fallen in love with these quilts and they are a highly valued item largely used by people attempting thru-hikes to be comfortable and warm.
This is my second EE Enigma quilt. I have a 30 quilt for my summer trips & just got a 10F custom Enigma. Did an early Nov backpacking trip in Yosemite & was super toasty all night (while others complained they were cold).

Plus it still packs up smaller & lighter than my old 30F mummy bag!

Read More
---
I stumbled upon Enlightened Equipment while looking for a 7 foot sleeping bag. At 6'10" and 260 pounds with broad shoulders I didn't have much to choose from. I was only able to find one and it was going to cost me $850.

For half the price I was eager to give it a try!. I was hesitant to buy a quilt at first but so far I've noticed very little difference. I've spent several nights this fall using my EE and I've been very comfortable.

From early season September hunts to a mid October goat hunt at 10,000 feet, my quilt has kept me plenty warm and for the first time in a long time I have a sleeping system that actually fits me!

Light weight and warm has been a game changer and allowed me to spend several nights on the ground while being fairly comfortable. For warmth and room for larger framed guys give this a shot you won't be disappointed!

Was pleased with customer service and build times as well. Just as advertised!

Read More
---
I'm an active sleeper (read: thrasher) in a mummy bag, so I get tangled, too hot, and grumpy. I absolutely love the comfort and dynamics of the Enigma quilt.

The sewn-in footbox keeps my feet warm but allows me to easily stick a leg out if needed. The quality is so great. I'm 5'9" with an athletic build and went for the regular/regular size and I'm pleased.

Hooked on EE quilts for sure. Can't wait to take it on the PCT.

Read More
---
What a game changing product. This is my first guilt and I can say I'm hooked. The Enlightened Enigma gives me so many sleeping comfort options.

On warmer nights I'm able to just keep it open a loose around me. On cooler nights the strap system allows me to tuck it in around me for additional warmth.

Another great feature is that I can roll around in it at night and it stays with me. Being super light weight and compact just makes this the perfect all around sleeping system.

Read More
---
Final Thoughts on the Enlightened Equipment Enigma
If you are looking to drop real weight from your base weight then you really have only a few key pieces of gear that can drop POUNDS and not ounces, the big four themselves.
This quilt is impressive in helping to keep you incredibly warm while simultaneously helping you drop weight. This is what is needed to help you get to those low base weights to help with longer travel.
Can't wait to see you out on the trail, life is too short to be cooped up non-stop, instead take control and get out there!
Compare to Amazon Quilt Options
Image
Title
Price
Prime
Buy

Top

Sierra Designs Nitro Quilt 20 Degree Ultralight Sleeping Bag - 800 Fill Camping & Backpacking Sleeping Bag

Prime

Eligible

Buy Now

Top

Therm-a-Rest Corus Down Backpacking and Camping Quilt, 20-Degree, Long, Spring

Prime

Buy Now

Top

Sea to Summit Ember Down Quilt, 20 Degrees F, Regular

Prime

Eligible

Buy Now
Therm-a-Rest Vesper 20-Degree Sleeping Bag with Mattress Connector, Regular (0040818107034)

Prime

Buy Now
Paria Outdoor Products Thermodown 15 Degree Down Sleeping Quilt - Ultralight Cold Weather, 3 Season Quilt - Perfect for Backcountry Camping, Backpacking and Hammocks (Regular)

Prime

Eligible

Buy Now
Featherstone Moondance 25 850 Fill Power Down Top Quilt Mummy Sleeping Bag Alternative for Ultralight Backpacking Camping and Thru-Hiking

Prime

Eligible

Buy Now
Product prices and availability are accurate as of the date/time indicated and are subject to change. Any price and availability information displayed on [relevant Amazon Site(s), as applicable] at the time of purchase will apply to the purchase of this product.
Prices pulled from the Amazon Product Advertising API on: