As an Amazon Associate I earn from qualifying purchases. Some of the links on this website may link to vendors which are "affiliate links". If you click on a link I may receive a commission.
For many of us looking to hike more frequently we like the get higher quality gear that can keep us safe and warm through the nights after long days of hiking.
The only issue many face is to move from lower cost gear to higher quality typically means moving to down and having nearly a triple increase in the price.
For a budget conscious shopper then finding a quilt to keep you warm down to at least 20 degrees is a challenge. This is where this Enlightened Equipment Revelation APEX quilts are near perfection. Offering synthetic insulation instead of down allows for a lower price and better wet performance.
This is why I was super excited when I found out that Enlightened Equipment offered quilts in synthetic along with down as I hadn't heard of them carrying them.
If you want to look at a more exhaustive list of quilts check out our quilt compendium here.
EE Revelation APEX Quilt
Down Warmth Without the Cost
The Revelation APEX is Enlightened Equipment's Revelation quilt that uses CLIMASHIELD APEX synthetic insulation, instead of down. 

* As an affiliate we earn from qualifying purchases, thanks for supporting our work!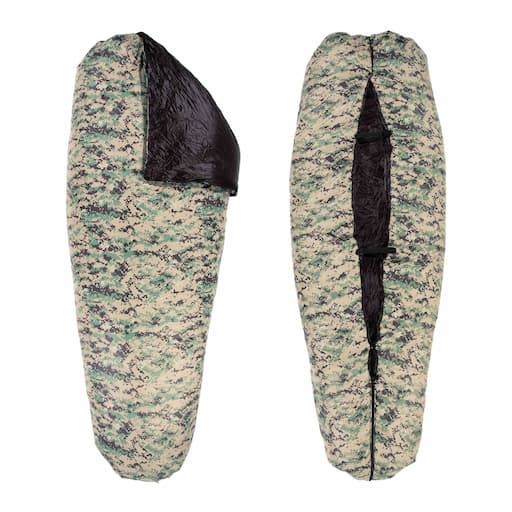 Here's a Rundown of what we'll provide in our Enlightened Equipment Revelation APEX Quilt Review:
First we'll share the features and benefits that you'll find useful
Next, we'll take a look at the drawbacks you might need to know about
Then, we'll tell you a bit about the Enlightened Equipment company
And finally we'll provide a sampling of actual customer and Independent reviews to give you better insight into the product.
Sound good? Let's get started!
Features and Benefits of the Enlightened Equipment Revelation APEX Quilt
Footbox has a 20" zipper and shock cord combination for a totally adjustable closure
Pad attachment system uses elastic straps and clips on each side of the quilt to keep it secure on a sleeping pad and lock out drafts
Snap and drawcord neck closure lets you fine-tune draft control
Climashield APEX insulation performs better than down in wet and humid conditions, dries quickly, packs small, and is easy to clean
Built with no sewn-through seams, to eliminate cold spots
Ultralight nylon fabric has a DWR finish and has been customized for comfort
Fabric colors may appear different from images shown due to rendering and monitor differences. Read more about our Fabrics.
Handmade in Winona, Minnesota.
Special Features (Pros) of the Enlightened Equipment Revelation APEX Quilt
Incredible Value – Priced lower than similar temperature rating down quilts and APEX quilts from other cottage manufacturer, and with shorter order fulfillment time and delivery.
Incredible Customization Options – Ability to customize colors, size, and temperature rating, there is a match for any want to make your quilt resemble your personality.
Keeps Warm Even When Wet – One large benefit to synthetic fabrics is that even when in bad moisture conditions.
Storage Bag and Stuff Sack – The storage bag comes with details on how to clean your quilt and order information. The Nylon stuff sack should work well for many and needs to be replaced only to get more compression.
Drawbacks (Cons) for the Enlightened Equipment Revelation APEX Quilt
Fabric and Zipper Can Get Caught – The fabric and insulation are quite puffy which can lead to issues with the fabric getting caught in the zipper and/or snaps if you are not careful.
Video: Why Synthetic Instead of Down
---
About the Enlightened Equipment Company
Their philosophy is to be smarter and lighter, eliminating useless extra features so you only carry what you need. Enlightened Equipment tirelessly test and update their designs to make them the best and lightest they can be.
Founder Tim Marshall started sewing quilts by himself in his basement in 2007. As demand for Enlightened Equipment products grew, so did the business.
Today, Enlightened Equipment has more than 50 employees creating quilts, clothing, accessories, and more in a 50,000 square foot building in Winona, MN.
Unsure of which quilt and like to take their quiz, click here for Enlightened Equipment's quiz to choose the perfect quilt for you!
Enlightened Equipment Revelation APEX Reviews
Looking at the features and benefits is great, but taking a look at what real-and-actual customers have to say about a product offers a deeper understanding of user insight. Here we've curated reviews that reflect the Enlightened Equipment Revelation APEX Synthetic Quilt, providing feedback from product users and reviewers on independent review sites.
Independent Reviews and Recommendations for the Enlightened Equipment Revelation APEX Quilt
The Enlightened Equipment Revelation Apex is my first quilt. Whether you'd expect it or not, there is a learning curve to sleeping in a quilt. However, aside from one rather chilly night attempting to figure out the best way to attach my quilt to my sleeping mat, I was warm and comfortable. Also, the freedom to roll around and kick my feet out the bottom of the quilt, proved enjoyable when I was uncomfortably warm.

Read More
---
One night it only got down to the mid-30s F and I woke up thinking I has having heat stroke—so it definitely adds warmth. My bivy sack has a non-breathable fabric in the foot box and this quilt has done a good job preventing internal condensation from reaching my sleeping bag. I also like that this quilt has a drawstring in its foot box so I can adjust how much ventilation my feet get.

Read More
---
Quilt arrived today and Im absolutely floored how nice this Quilt is. EE makes a fantastic product but this really floated my boat. Ive been hanging onto a Kifaru Center zip for a while now and can tell you I don't feel any need now with this new Apex quilt. The material for the outside is much stouter then my down EE quilt from 2013. It is very lofty and almost airtight within the Quilt. Really hard to describe but I feel like Ive found Quilt nirvana with this thing. I can tell is going to be a heck of a lot lower temp rating then the 20 degree rating.

Read More
---
What Online Customers Have to Say About the Enlightened Equipment Revelation APEX Quilt
People have fallen in love with these quilts and they are a highly valued item largely used by people attempting thru-hikes to be comfortable and warm.
Very satisfied with the quilt and with the service- it went just as advertised. My first camping quilt, and I especially like the ease of entry and exit. No zipper to hang up. The drawstring cinch around the neck works like silk, and it seals well. Excellent materials and construction.

Read More
---
Late last year I decided to try a quilt after over 30 years of adventuring with a sleeping bag, and I couldn't be happier. I've used it for almost 30 days so far, from Baja to the Sierras and it is amazingly comfortable and versatile. I was really concerned about not having a hood, but I have switched to a beanie and am as comfortable as can be!

Read More
---
The Revelation APEX is my first quilt, and is used for 3 season moto-camping. Have used it for about 15 nights so far in temps from the low 30s to about 70 and have been impressed with the wide comfort range. Had to get used to sleeping without a hood, but found it surprisingly easy to adapt and to regulate my temperature. Very happy!

Read More
---
I was preparing for a trip in the Grand Canyon and had to deal with night temps from the high 30s to the high 60s. I wanted something I could comfortably use for the entire trip. I paired it with a Nemo Tensor sleeping pad. It performed great in the cold, keeping me toasty. When we hit the sack while it was still in the 70s, it felt a bit too plastic-y and I didn't want it near me. Once temps cooled down a bit, I used it as a loose blanket and it was fine.

I was very pleased with the weight, and just let it float at the bottom of my pack without the included sack. All seemed well made, and after 4 nights the quilt looks great. I'd expect that it will continue to perform well in future trips. I'd recommend this quilt to anyone looking to pack light while still staying warm. I also love that this is made here in the USA!

Read More
Final Thoughts on the Enlightened Equipment Revelation APEX Quilt
For people who are on a more limited budget where a $3-500 quilt is not even a option the Revelation APEX quilt provides you a perfect chance to upgrade while managing your budget responsibily.
Add to this the fact that a synthetic fabric is much better at staying warm when in damp and humid conditions while also being simple to clean versus a similar Revelation down alternative.
Can't wait to see you out on the trail, life is too short to be cooped up non-stop, instead take control and get out there!
Compare to Amazon Quilt Options
Image
Title
Price
Prime
Buy

Top

Sierra Designs Nitro Quilt 20 Degree Ultralight Sleeping Bag - 800 Fill Camping & Backpacking Sleeping Bag

Prime

Eligible

Buy Now

Top

Therm-a-Rest Corus Down Backpacking and Camping Quilt, 20-Degree, Long, Spring

Prime

Buy Now

Top

Sea to Summit Ember Down Quilt, 20 Degrees F, Regular

Prime

Eligible

Buy Now
Therm-a-Rest Vesper 20-Degree Sleeping Bag with Mattress Connector, Regular (0040818107034)

Prime

Buy Now
Paria Outdoor Products Thermodown 15 Degree Down Sleeping Quilt - Ultralight Cold Weather, 3 Season Quilt - Perfect for Backcountry Camping, Backpacking and Hammocks (Regular)

Prime

Eligible

Buy Now
Featherstone Moondance 25 850 Fill Power Down Top Quilt Mummy Sleeping Bag Alternative for Ultralight Backpacking Camping and Thru-Hiking

Prime

Eligible

Buy Now
Product prices and availability are accurate as of the date/time indicated and are subject to change. Any price and availability information displayed on [relevant Amazon Site(s), as applicable] at the time of purchase will apply to the purchase of this product.
Prices pulled from the Amazon Product Advertising API on: