As an Amazon Associate I earn from qualifying purchases. Some of the links on this website may link to vendors which are "affiliate links". If you click on a link I may receive a commission.
If you've done any kind of backpacking, you've probably heard of a backpacking quilt. They're becoming very popular. You may be wondering how a backpacking quilt stacks up against the standard sleeping bag – especially when it comes to ultralight backpacking.
What is the difference between a backpacking quilt and a sleeping bag? If you're looking for the lightest possible option when it comes to ultralight backpacking, then the backpacking quilt is probably for you. That doesn't mean it's not worth considering a sleeping bag for certain situations. Here are the areas you need to consider:
Weight
Warmth
Temperature regulation
Set-up
Cost
Versatility
Movement
To help you make an informed decision when it comes to a backpacking quilt versus sleeping bag, I've done the research on the criteria we talked about. There is a solid choice of the UGQ Bandit and the Zpacks Solo for two quick favorites.
Backpacking Quilt vs. Sleeping Bag
The first step in deciding whether a backpacking quilt or sleeping bag is for you is to make sure you clearly understand the basic make-up of each. Take a look at this table to see what you get with a backpacking quilt and what you get with a sleeping bag:
Backpacking Quilt
Sleeping Bag
Open design (no zipper)
Foot box (enclosed)
No hood or back
Drapes over body
Typically works best with a sleeping pad attachment
Rear closures
Down-filled
Enclosed with zipper
Hood for head
Fits snuggly
Down-filled

Let's look at the various areas this post mentioned above to see how a backpacking quilt and sleeping bag compare. Here's a recap of the areas we're comparing:
Weight
Warmth
Temperature Regulation
Set-up
Cost 
Versatility
Weight
Since the first thing on any ultralight backpacker's mind is how to lighten their load, let's first talk about how the weight of a backpacking quilt compares to that of a sleeping bag. 
The weight is probably one of the areas where you'll find the biggest difference between the two options. A backpacking quilt is almost always going to be lighter than a sleeping bag. If you're wondering why think about all the things a sleeping bag has that a backpacking quilt doesn't:
When you get rid of these things, you cut down quite a bit on the weight. Take a look at how a backpacking quilt I found online and how it compares in weight to a sleeping bag.
While 7 ounces may not seem like much to most people, any ultralight backpacker will tell you those extra ounces are a huge deal. The weight difference between various bags varies, but generally, backpacking quilts are 20 to 30% lighter than sleeping bags.
Warmth

So, how exactly does a backpacking quilt keep you warm without that bottom layer? In all honesty, the bottom layer of a sleeping bag really does nothing for your warmth. That's because your body compresses the down on the bottom layer. Once it's compressed, it offers no insulation or warmth, and actually, if you roll over, you'll find a cold spot. 
A backpacking quilt generally comes with a sleeping pad. This sleeping pad provides comfort and insulation because it doesn't compress in the same way the down in a sleeping bag compresses. 
For extra warmth and comfort, you'll want to be sure you pick a backpacking quilt with high-quality goose and duck down. You'll know the quality by the fill power. Any quilt with a fill power of 800, 850, 900, or 950 will provide excellent insulation without adding too much extra weight.
Keeping Warm
Your other concern may be the lack of a hood on a backpacking quilt. The solution to this problem is simple; you just sleep with a beanie or hood on. The other benefit of that is that it moves with you while you sleep rather than getting a mouthful of the sleeping bag in the middle of the night. 
Because a backpacking quilt isn't as snug as a sleeping bag, you can also sleep with some extra layers or even a coat if you feel like you're going to be too cold.
Temperature Rating
Backpacking quilts come with a temperature rating just like sleeping bags do, so consider the temperature rating that works for the hiking/camping you'll do and then choose a quilt with a rating 10 degrees below that to make sure you have plenty of warmth.
Temperature Regulation
When backpacking quilts first came out, sleeping bags might have had them beat as far as temperature regulation went, but that's changed. Backpacking quilt manufacturers have seen the deficits and worked to overcome them.
Of course, a sleeping bag zips snuggly around you all the way up to your chin, and then you have the hood to keep your head warm. So, you're wrapped up as snuggly as possible, and the temperature regulation of a sleeping bag is pretty good.
Backpacking quilts, though, now frequently come with hooks and closures. These hooks and closures serve two possible purposes:
Wrap the backpacking quilt around you and attach the closures
Attach the backpacking quilt to your sleeping pad
Some backpacking quilts even come with something called a draft collar. This is a tube of insulation that's normally sewn at the top of the quilt, which you can tighten around your neck like a scarf.
Whichever route you choose, the closures allow the backpacking quilt to accomplish just about the same thing a zipped up sleeping bag does but without the hassle of a zipper. 
Now, if you do a lot of below-freezing camping and hiking, you may want to go with a sleeping bag. While a backpacking quilt and sleeping bag are almost equal when it comes to warmth and temperature regulation, the sleeping bag may have a small leg up when it comes to extreme cold. No one wants to spend a cold night trying to sleep with a long hike ahead of them.
Set-Up
The set-up of a backpacking quilt versus a sleeping bag is the other area. A sleeping bag might be slightly easier. All you have to do with a sleeping bag is unroll it for the night and roll it back up in the morning when you're ready to go.
With a backpacking quilt, depending on the weather, you might need to do up the rear closures or attach it to your sleeping pad. 
If the weather is warm or moderate, you don't need to attach it to your sleeping pad and can use it as a quilt. If it's cold, though, you'll want to take the time to attach it to your sleeping bad for help in regulating the temperature.
Cost
Backpacking quilts are almost always cheaper than sleeping bags if you're looking at the same level of quality and temperature control.
The backpacking quilts are more affordable, mainly because they use less material and parts. The hood and zipper are two of the more complicated and expensive parts of a sleeping bag. Without these two parts, manufacturers can save money and even redirect some of the money toward using more down or higher quality down.
Now, does that mean backpacking quilts are cheap? Not necessarily. Since it's a relatively newer trend, many backpacking quilts are manufactured by more boutique places rather than chains.
If you're comparing high-quality sleeping bags to high-quality backpacking quilts, though, you'll generally find the quilts to be cheaper.
The other benefit of smaller companies manufacturing backpacking quilts is that you can customize a ton of features to make your backpacking quilt exactly what you want it to be. Take a look at some of the customizable features:
Fabric
Insulation type
Insulation level
Temperature rating
Length
Width
Color
Just as you can find expensive backpacking quilts and sleeping bags, you can also find super affordable ones. Keep in mind, though, that when it comes to hiking and camping gear, you usually get what you pay for. A good night's sleep is almost always worth a few extra bucks.
Versatility
When it comes to versatility, the backpacking quilt wins hands down. With a sleeping bag, all you can do is zip it up and stay warm. If it's too warm out, you're pretty much stuck in a hot sleeping bag or just lying on top.
When it comes to the versatility of a backpacking quilt, we've already discussed how you can attach it to your sleeping pad for extra warmth. Attaching it to the sleeping pad prevents cool drafts from getting in.
The backpacking quilt also has a foot box, which means it's essentially like a sleeping bag up to your knees. So, it's enclosed below the knees then becomes like a quilt above the knees. When it's cold, you keep the foot box zipped. When it's too warm, you can open up the foot box for more circulation.
The same goes for the rest of the backpacking quilt. In warm weather, you just use it as a quilt without it being attached to your sleeping bag. This allows you to get some circulation in there or to kick your leg out to cool off.
Movement
Another positive area of versatility for a backpacking quilt is your ability to move around and be comfortable. In a sleeping bag, your movement is kind of restricted, especially if the sleeping bag is zipped.
With a backpacking quilt, you have complete freedom to move around to your heart's content. You can throw arms out, legs out, throw half the blanket off, etc. It just allows you much more comfort.
As you can see from the above comparisons, a backpacking quilt is most likely the way to go, especially for ultralight backpackers. The only time you want to plan for something else or a way to add insulation is camping in temperatures well below freezing.
Where to Buy Backpacking Quilts or Sleeping Bags
Whether you decide to go with a backpacking quilt or sleeping bag, you want to make sure your money is well spent. As we mentioned above, when it comes to a good night's sleep while camping, it's worth spending a few extra dollars to get a good quality backpacking quilt or sleeping bag.
Let's take a look at some of the best options out there for both sleeping choices.
Backpacking Quilts
You can find backpacking quilts on Amazon, but because they are a newer option, you may be better off going with one of the manufacturers that focuses specifically on backpacking quilts. 
If you want to look at a more exhaustive list of quilts check out our quilt compendium. Here are some of the top choice companies for backpackers who choose backpacking quilts and hybrids:
Let's take a look at the background on some of these companies so you can decide which one might work best for you if you're looking for a backpacking quilt. Many of them are larger names like REI and Patagonia are large and need no introduction for most people.
Enlightened Equipment
Tim Marshall started Enlightened Equipment in 2007 when he started sewing quilts by himself in his basement. As the concept of backpacking quilts caught on, the company expanded. Now, Enlightened Equipment employs more than 50 employees and operates out of a 50,000 square foot building in Minnesota.
The company offers standard backpacking quilts where you just choose the temperature rating and size and customized ones where you can customize your choices in the following areas:
Down type
Temperature rating
Length
Width
Draft collar
Outside fabric
Inside fabric
Katabatic Gear
Katabatic Gear was started in 2007 by a backpacker who took an interest in the philosophy of lightweight backpacking. He decided that sleeping bags were one area where lightweight gear was lacking and decided to tackle the need.
Katabatic Gear offers two levels of backpacking quilts to choose from flex and elite. They offer temperature ratings as low as 5 degrees with their quilts. The company prides itself on its pad attachment system, which it says keeps drafts out.
Quilt Options they Provide:
ZPacks
Founder Joe Valesko started designing ZPacks first pieces of gear in his apartment in 2005 after deciding that all the gear options available were too bulky and heavy. The company is located in Florida.
ZPacks offers a solo and twin quilt, which can fit two people. You can customize the length, width, and color of your backpacking quilt with this company.
Hammock Gear
Hammock Gear was started in 2009 and is located just outside Columbus, Ohio. The company produces quite a few ultralight backpacking products. Hammock Gear is a good option that's a bit more affordable than some of the other manufacturers without sacrificing quality.
The company offers standard backpacking quilts as well as customizable ones. With the customizable option, you can choose what you want in the following areas:
Outer shell color
Inner shell color
Temperature rating
Length
Width
Foot box style
Down fill power
Overfill
If one of the above manufacturers doesn't work for you, a few of the chain outdoor stores are starting to stock backpacking quilts as well, so you can always check out those options.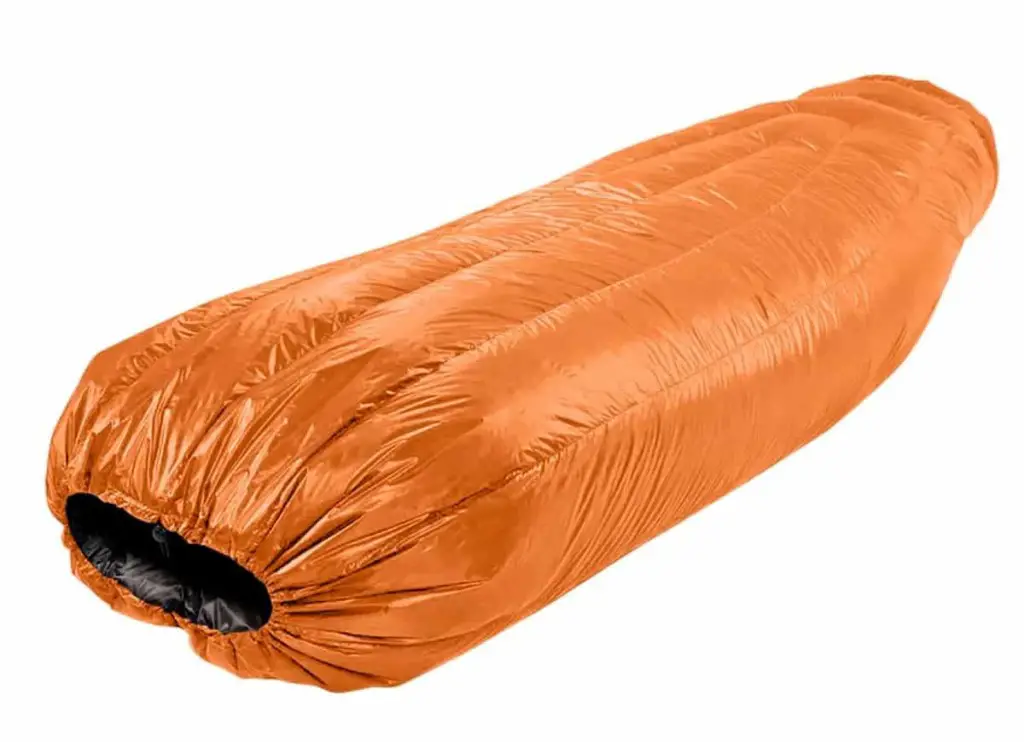 Sleeping Bags
Of course, there are a lot more options when it comes to sleeping bags since they've been the go-to option for generations. You can find a cheap one anywhere but if you really want to make sure you'll get a comfy night sleep, consider one of these top options:
Here's a brief description of these top sleeping bags.
REI Co-op Magma 15°
The REI Co-op Magma 15° is, as you can tell, carried by outdoor store REI. This sleeping bag gets rated "best overall" in a number of articles on top sleeping bags. It's a good combination of quality and affordability. It has plenty of room but is also snug enough to keep you insulated. As you can see from its name, it's rated down to 15°.
Western Mountaineering Alpinlite 20°
Western Mountaineering also has quite a few sleeping bags that rate in the top choices for backpackers. The company's Alpinlite 20° sleeping bag is one of their most popular designs. It's a super high-quality sleeping bag, which means you'll pay a pretty penny for it, but it will be worth it.
The Alpinlite is made from top of the line material, has a no-snag zipper, draft collar, sizable foot box, and hood. They're expensive, but sleeping bags by Western Mountaineering last for decades, making it well worth it.
You can find the sleeping bag on the company's website or right here on Amazon.
Kelty Cosmic Down 20°
The Kelty Cosmic Down 20° is a great starter sleeping bag for backpackers looking for a quality sleeping bag but one on the lower-end pricewise. With that said, it will be a bit heavier and bulkier than other top-of-the-line sleeping bags but still gets the job done and is comfortable.
You can find the Kelty Cosmic Down 20° at some outdoor stores or right here on Amazon.
If you do much cold weather backpacking, the NEMO Sonic should be on your list for a sleeping bag. The bag features 800-fill hydrophobic down, a body-hugging design, and is rated for 0° to keep you warm. It's designed for alpine environments. It even has "thermo gills" to allow heat to escape. 
You can find it at outdoor stores or right here on Amazon. Due to its popularity, it goes in and out of availability on Amazon.
Therm-a-Rest Hyperion 32
The Therm-a-Rest Hyperion 32 is a great option for backpackers who want to cut down on weight but still stick with a sleeping bag. It weighs less than a pound but still has a temperature rating of 32°. It also has built-in connectors that hook up to a sleeping pad for added comfort.
You can find the Therm-a-Rest Hyperion 32 at some outdoor stores or right here on Amazon.
When it comes to a backpacking quilt vs. sleeping bag, the choice is up to you, but there is plenty of top of the line choices out there for either option.
Final Thoughts on Backpacking Quilts vs Sleeping Bags
I personally love quilts now that I have found out about them, I am such a mover and unable to sit still having that open feeling and being able to adjust is just the most amazing thing ever! I will never move back to a sleeping bag after I made the swap, it is too constricting to me and being a flip-flopper in my sleep means I now sleep much better.
I would love to hear whether you are a huge flip-flopper and if you have tried a quilt yet, if not what is holding you back and what would push you over the edge to give them a try?