As an Amazon Associate I earn from qualifying purchases. Some of the links on this website may link to vendors which are "affiliate links". If you click on a link I may receive a commission.
When looking to try and cut the weight needed for backpacking, in particular thru hiking, you want every ounce to count. There must then be a sweet spot for size to weight, so is a 40l backpack big enough for backpacking?
For the ultralight backpacker the 40 liter backpack is a perfect option that allows you a lightweight pack along with enough storage room inside to carry your life with you. Both of these things is absolutely vital to someone living out of their pack for 5+ months on trail.
Let's take a look at some of the more common UL packs and look at how they can help you carry the right gear or if you may need to get a larger pack to be successful for your current gear.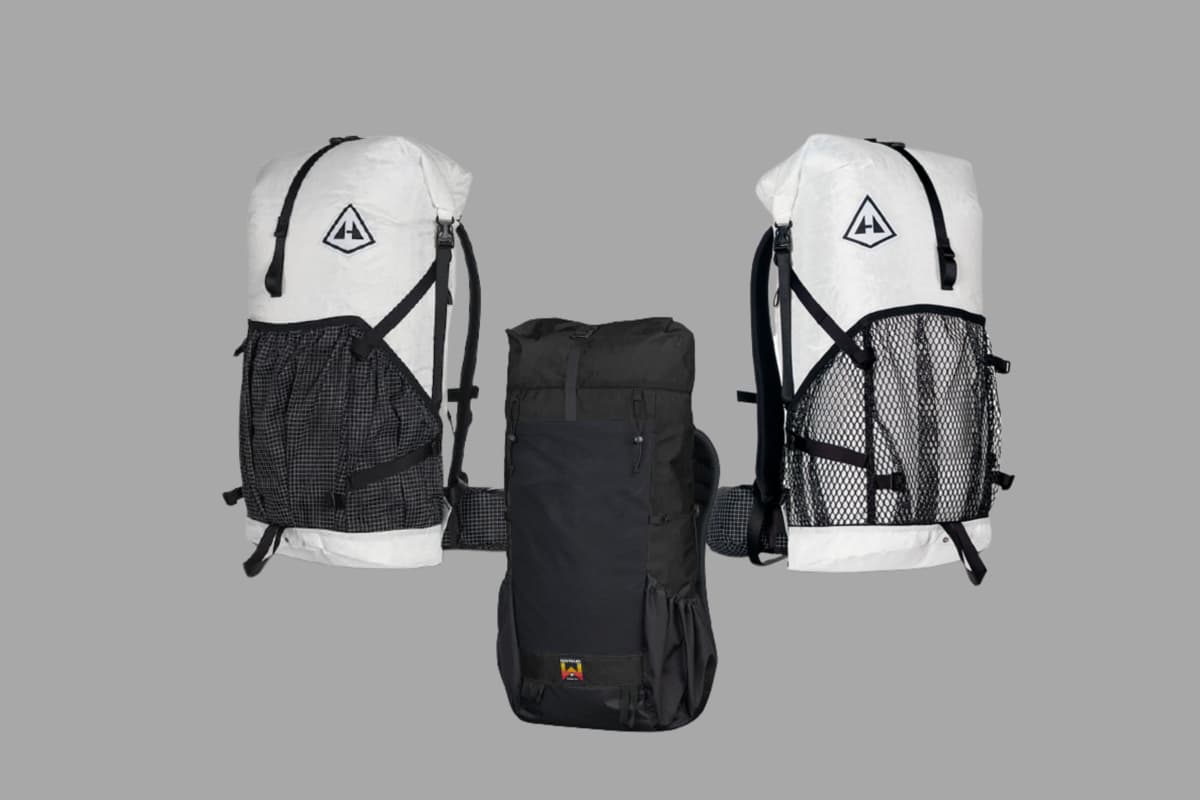 Why Focus on a 40L Sized Backpack?
For most the 40 liter size is the near perfect size for an ultralight backpacker, being exceedingly light in weight but enough volume to carry all your gear.
This is why for many it is one of their targets to know they are getting as lightweight as possible, balancing needs and weight versus volume in the perfect package.
How Much Does a Typical 40L Backpack Weigh?
When looking at a 40 liter backpack you want to find the best option that suits your needs. For many this could be the amount of pockets, for others this align more with cutting weight and those questions lead to how heavy is a 40l backpack?
Most 40 liter packs will come in below 2 pounds with many of the fabrics like DCF, XPAC, and similar coming in near or less than 1.5 pounds. This alone can help your overall base weight drop significantly.
It needs to be noted that the weight of a backpack will vary tremendously based on each type of fabric used, stitching, along with the pockets and setup used on the backpack.
The amount of straps, elastic, webbing, waist strap or similar, this is why many will alter their pack over time removing parts they never use.
How Much Space is in a 40 Liter Backpack?

When looking at 40 liters for your pack size the next questions will be around what that translates into for useable space. How big is a 40l backpack and how much can you fit in a 40l backpack?
For overall storage and capacity you are looking at a roll-top bag that would fit your sleep system, clothing, and needed dry gear inside a compactor bag. Then outside of that you would house your tent, rain gear and possibly food sack but space and organization will matter most.
The space will be limited, you will need to have gear that can get small but learning how to pack something into the cracks will help make more use of the space if not trying to fit each piece into a specific dry bag.
Can a 40L Pack Be Carry-On Luggage?
A question that will come up for people who thru hike is around the ease to carry on or bring with you since we all know how poor handling can be at airports. So, can you carry on a 40l backpack?
For most 40 liter bags you should just make the criteria for a carry on luggage, though this could fail you for things like trekking poles depending on the airline it will be whats inside thats of more concern.
Since you will be flying this probably comes as pretty good news but I would still advise you reach out to the airport and airline to get dimensions.
The dimensions will be what will allow your bag to get on with you successfully or force the need to check.
40L Pack Bear Can Options
For some areas on trails you may be required to use a bear can and not use anything else, so finding a 40L that can also carry a bear canister is vital to it being useful for multiple types of treks.
There are specific issues with getting a 40 liter pack that can fit a bear can due to their size, normally these must be mounted outside of the main pack. One of the nicest packs this would work with is the 2400 Windrider by HMG due to the Y Strap.
This will be a pack discussion with the manufacturer though as they may be able to add a custom strap for you if the trail you are planning to do requires carrying the bear can. This is one of the large benefits of having cottage gear industries as they are always open to customization.
High Quality 40L Backpacks for Thru Hiking
There are many cottage companies and gear companies in general that produce high quality gear aimed at hikers and thru hikers, I'll show some of the nicest 40 liter packs below and maybe one will be perfect for you.
Hyperlight Mountain Gear Backpacks
I read that someone was able to take their HMG Windrider 2400 (40L) pack and carry a Bearikade Expedition bear canister, barely, with the help of the Y-strap on the top.
HMG Windrider 2400
AT Thru Hiker Favorite
The 2400 Windrider is the pack that super-efficient thru hikers and backpackers graduate down to when their kits are dialed, and the calories and fuel they need along the way are never too hard to find. Product Solves Issues
Product Benefits:
WHY CHOOSE THE 2400 WINDRIDER?
ULTRALIGHT ORIGINAL – Our original backpacking pack with external mesh pockets provide ample room for gear without having to open your pack and dig
WATERPROOF MATERIALS – Pair with our Stuff Sacks for a buttoned up, nearly waterproof kit
EXTERNAL POCKETS – Three external mesh pockets — Makes it easy to see what's in your pockets and allows gear to dry faster
---
The HMG Southwest 2400 (40L) pack looks very similar to the Windrider but the mesh is the big difference and like the Windrider features the Y-strap on the top.
HMG Southwest 2400
AT Thru Hiker Favorite
The 2400 Southwest keeps you honest about packing smart and efficiently on weekend or section hikes where the supplies you may need to replace along the way are never too far out of reach.
* As an affiliate we earn from qualifying purchases, thanks for supporting our work!
WHY CHOOSE THE 2400 SOUTHWEST?
SOLID & SECURE – Three easily accessible external pockets to store and protect your gear
DURABLE ABRASION PROTECTION – External Hardline with Dyneema® side pockets keep your gear protected and free from any unwanted snags or abrasion
WATERPROOF MATERIALS – Pair with our Stuff Sacks for a buttoned up, nearly waterproof kit
---
Waymark Gear Company
All Waymark Gear is handmade here in the United States in Salt Lake City, UT. We are a small cottage company outfitting Thru Hikers, Section Hikers, Weekend adventurers and World travelers.
We don't currently outsource any of our labor, so everything is meticulously made one by one with attention to quality and detail.
40L Waymark Thru
Darwin Approved
The THRU is the Waymark Gear Companies Flagship minimal, frameless pack made for Ultralight Hikers. Built with pure simplicity in mind, the THRU pack ranges from 38-42 Liters depending on torso size and is best suited for Hikers with a base weight of 10-13 lbs.
* As an affiliate we earn from qualifying purchases, thanks for supporting our work!
Features of the Thru
Over-the-top "Y" Compression helps to pull the load tighter and also allows you to adjust the "Y" section towards the front or back of the pack for more stability if strapping a bear canister, sleeping pad or other items to the top of the pack.
Removable Hip Belt Pocket (1 included on Fully padded Hip Belt ONLY). This is a spacious 6″wide x 5″ tall x 2″ deep Xpac pocket with top oriented waterproof zipper for easiest access to your snacks, compact camera, phone, map, etc. Additional Hip pocket can be purchased in the Accessories section.
Hip Belts now come in 6 size choices which are fully padded and permanently sewn to the pack. Sizes are based on and account for standard pant/waist measurements. (You will have the opportunity to choose your hip belt size during final checkout).
---
Final Thoughts on a 40L Pack
I personally have used a 3F UL Gear 45L pack for a while now and I am looking at moving onto the HMG Windrider or Southwest as the next pack to give me a more durable pack for harsh environmental conditions.
I have to say that even with my more budget approach to my hiking gear I am able to use this 45L pack and still have a good chunk of space left while carrying nearly 7 days of food and more bulky gear.
As I buckle down more and spend wisely with a focus on weight and space constraints I should easily be able to shrink the needed liters while carrying the same or more gear.
40-45 Liter Backpacks From Amazon
Image
Title
Price
Prime
Buy
The North Face Terra Camping Backpack, Grisaille Grey/Asphalt Grey, S-M 40L

Prime

Eligible

Buy Now

Top

DROP 40L Ultralight Backpack by Dan Durston — Waterproof, Removable Internal Frame, Hipbelt Pockets, Hydration Ready, Roll-Top, for Camping, Hiking, and Backpacking (M/L), Green/Grey

Prime

Eligible

Buy Now
Xpac Black S 35l-45l Lightweight Durable Travel Camping Hiking Backpack Outdoor Ultralight Frameless Packs Xpac & Uhmwpe 3f Ul Gear

Prime

Buy Now
3F UL GEAR Ultralight Backpack Frame YUE 45+10L Outdoor Hiking Camping Lightweight Travel Trekking Rucksack Men Woman (UHMWPE Black)

Prime

Buy Now
Osprey Packs Farpoint 40 Travel Backpack, Volcanic Grey, Medium/Large

Prime

Eligible

Buy Now
N NEVO RHINO 40L Hiking Backpack Internal Frame Backpack Waterproof with Rain Cover for Hiking Camping (Green)

Prime

Eligible

Buy Now
Product prices and availability are accurate as of the date/time indicated and are subject to change. Any price and availability information displayed on [relevant Amazon Site(s), as applicable] at the time of purchase will apply to the purchase of this product.
Prices pulled from the Amazon Product Advertising API on: