If you are looking for a more comforting style sleeping pad then the Hybern8 Ultralight Sleeping Pad may be the best choice for your next trip! Unlike other flat pads, the Hybern8 is able to adapt to your curve which will help keep you comfortably placed in the middle of the pad and not sliding off the side.
Paying attention to the details can make a difference between a good night's sleep or waking on the wrong side of the tent. Don't skimp on quality by picking a sleeping pad without doing your homework.
Whether you're a back sleeper or a side sleeper, The Hybern8 Ultralight Sleeping Pad is engineered to keep you comfortable whether you're in a tent or lounging in a hammock.
ECOTEK Outdoors Hybern8 Ultralight Inflatable Sleeping Pad with Contoured FlexCell Honeycomb Design - Easy to Inflate, Comfortable, Lightweight, Durable, and Hammock Approved [Evergreen]
EASY TO USE RAPID INFLATION & DEFLATION - Whether you're setting up camp or breaking it down, the last thing you want is a sleeping pad that takes forever to blow up or pack up. Our innovative rapid one-way valve design makes both setup and stow a BREEZE (less than 10 breaths) unlike any air mattress or sleeping pad you've ever tried. We're confident that the Hybern8 in your backpack will be one of the easiest to use camping accessories you'll ever own.
COMFORTABLE IN ANY SLEEPING POSITION - Every body is designed as uniquely as the landscapes we love to explore, and the conforming sleeping pad we've developed is uniquely designed to support you however you like to catch your Z's.. whether it's sleeping on your side, back, stomach, or curled up like a lamb's back while you count sheep. With 2.5 inches of loft and an R Value of 2.2, the Hybern8 provides 3 season warmth and comfort you can count on to help get you the shuteye you deserve.
HAMMOCK APPROVED VERSATILE DESIGN - Getting a good night's rest away from your own bed shouldn't limit where you lay your head at night when you travel. Our patent-pending FlexCell honeycomb design not only contours to any sleeping position, but wherever you prefer to call it a night - whether that's in your tent in a sleeping bag, or hammock camping under the stars. Unlike the countless 'rigid' sleeping pads on the market, ours is flexible, comfortable, and supportive without compromise.
LIGHTWEIGHT, COMPACT, AND ULTRA DURABLE - Weighing in at 18 ounces and packable to less than the size of a 1 liter water bottle, the Hybern8 sleeping pad is the bee's knees when it comes to getting a great night's sleep without having to strap extra gear to your pack and haul it for miles. Just as important, the custom blend of 75 denier woven polyester is built to last with a softness you won't find in a nylon pad. Wear resistant, weatherproof, and built-to-last with zero compromise on quality.
U.S. BASED SMALL BUSINESS / LIFETIME WARRANTY / NATIONAL FOREST FOUNDATION TREE PLANTING PARTNERSHIP - Our camping gear is developed through rigorous trail testing and engineered by explorers who have logged countless hours backpacking trails and combating elements. Don't be fooled by inauthentic brands who offer bribes in exchange for 'honest' reviews of sub-par products. Our commitment to customers and Mother Nature is second to none and we refuse to play games to get your business.
Here's a rundown of what we'll provide in this ECOTEK Outdoors Hybern8 Ultralight Sleeping Pad review:
First, we'll share the features and benefits that you'll find useful
Next, we'll take a look at the drawbacks you might need to know about
Then, we'll tell you a bit about the ECOTEK company
And finally, we'll provide a sampling of the actual customer and Independent reviews to give you better insight into the product.
Sound good? Let's get started!
Features and Benefits of the ECOTEK Outdoors Hybern8 Ultralight Sleeping Pad
PATENT PENDING DESIGN - Hexagon engineered pattern provides supportive balanced surface for optimal performance to keep you off the ground.
BUILT TO LAST- Premium 70D woven polyester material is soft to the touch and provides better protection from leaks and tears than any other sleeping pad on the market!

Backed with a LIFETIME WARRANTY!

ULTRALIGHT - Weighs in at just over 1 pound, 10 inches x 3 inches packed & 22 inches x 74 inches x 2.2 inches inflated.
MULTIPLE USES - Conforming FlexCell honeycomb design is perfect for use in a hammock or chair. Designed to fit under or inside your sleeping bag for increased warmth. Woven polyester material reduces slipping and noises common with many mattresses.
RAPID INFLATION VALVE DESIGN - Inflates with 10-15 breaths, instant deflation when the time comes to pack your gear.
ENVIRONMENTALLY CONSCIOUS, PLANT A TREE - In support of our mission, EcoTek Outdoors has partnered with the National Forest Foundation in an effort to preserve and protect our lands for future generations.

Each Sleeping Pad purchased will fund the planting of one tree to restore US National Forests damaged by wildfire, insects, disease and other impacts.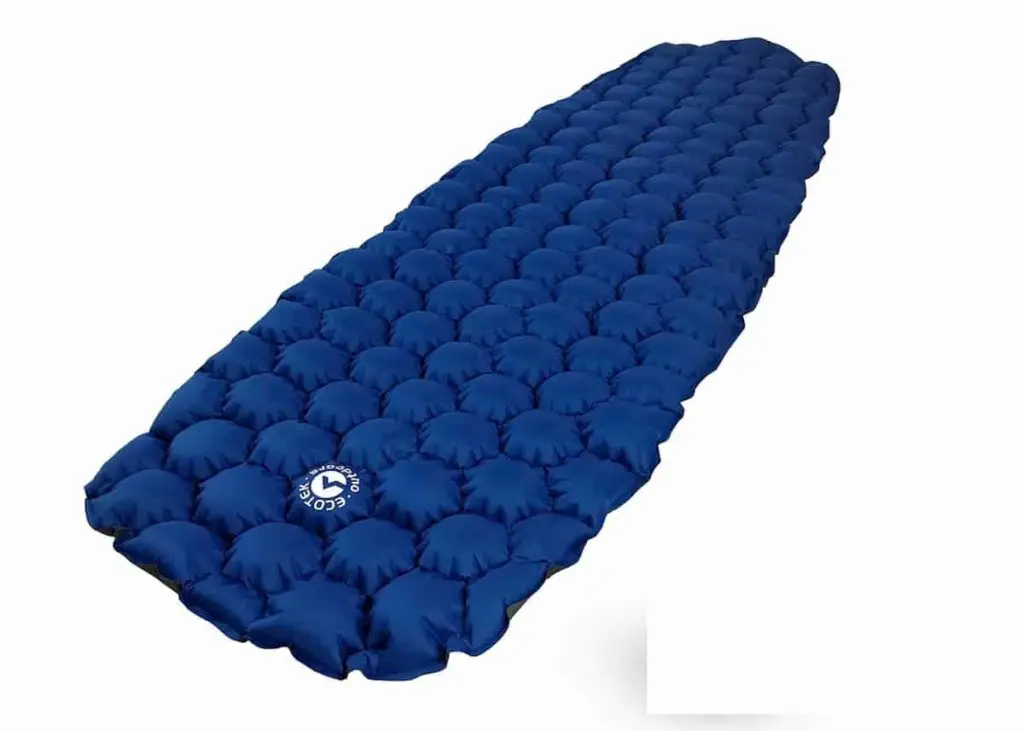 Special Features (Pros) of the ECOTEK Outdoors Hybern8 Ultralight Sleeping Pad
Quality R-Value in Price Bracket - Third-party testing is being done to validate the in shop score of 1.8 to 2.3. This means it is a solid 3 season sleeping pad with a price of under $50.
Weight - Coming in at right around a pound this pad is comfortably ultralight and at a budget
Drawbacks (Cons) for the ECOTEK Outdoors Hybern8 Ultralight Sleeping Pad
Thin Material - Make sure you distribute yourself pretty evenly on this sleeping pad so as to not to touch through to the ground. This works fine for back sleeping but is much less helpful for a side sleeper.
Noisy When Moving - This sleeping pad makes a lot of noise when adjusting on it while finding a comfortable sleeping position.
Not Insulated - While this pad has no insulation, if that is a deal-breaker they offer a Hybern8 4 season insulated pad here.
Video: ECOTEK Outdoors Hybern8 Ultralight Sleeping Pad
Video Credit: Chesapeake Hammock and Outdoors – Click Here to watch directly on YouTube
About the ECOTEK Company
EcoTek Outdoors was founded by a couple of friends with an affinity for exploring. We enjoy the beauty and adventure Mother Nature has to offer, and believe it is our duty to help protect her so that our children and grandchildren can, too.
For outdoor enthusiasts, by outdoor enthusiasts.
ECOTEK Outdoors Hybern8 Ultralight Sleeping Pad Reviews
Looking at the features and benefits is great, but taking a look at what real-and-actual customers have to say about a product offers a deeper dive of insight. Here we've curated reviews that reflect the ECOTEK Outdoors Hybern8 Ultralight Sleeping Pad, providing feedback from product users and reviewers on independent review sites as well as on Amazon.
Independent Reviews and Recommendations for the ECOTEK Outdoors Hybern8 Ultralight Sleeping Pad
The Review Index
Overall as an aggragated scoring system they got overall favorable scores for the Hybern8

Read More...
What Amazon Customers Have to Say About the ECOTEK Outdoors Hybern8 Ultralight Sleeping Pad
So many reviews seem fake for mats out there, but I figured that Amazon has a great return policy so I got this one to try. I love it. It is twice as comfortable as my bigger thicker pad. I am a side sleeper and this just cradles my shoulders.

It also fits into my mummy bag. I like this because I turn a lot in my sleep. With it in the bag, the bag stays put and the mat stays under me. I will post an update after my hiking trip.
Inflated it and left it alone for 5 days, checked for leaks, blew less than a quarter breath to max inflation. Slept on it inside 3 season mummy bag for one night on hardwood floor. It held up to 200 pound weight. Never felt the wood floor all night with my tossing and turning.

Blew into it less than one eighth breath to max inflation. Definitely ready for weekend car camping for final check before hitting trails this summer with it. It packs so small, smaller than my quart Naglene water bottle and so light.
Not only was this compact and ridiculously easy to set up, (just unbag, unroll and a few breathes to inflate it) but it kept the air all four days of the festival I just returned from and it was super comfortable!

Also, if poured on us and a little bit of water got into my tent on Sunday night but because I was on the mat, my sleeping bag and myself woke up dry with just a small bit of dampness to the underside of the mat.

I'm telling you, I've tried everything from large uncomfortable cots (they're hard and hurt your hips if your a side sleeper) to dealing with bulky air mattresses that deflate each and every night when the temperature fluctuates, to foam padding or even my moon mat. Nothing met my needs the way this product did.
Final Thoughts on the ECOTEK Outdoors Hybern8 Ultralight Sleeping Pad
If you are in the weeds looking for an ultralight sleeping pad and are running on a strict budget this pad is an excellent choice to get you through most of 3 seasons without much issue. I like the ability to quickly fill and empty as a lot of time can be spent packing up and setting up camp.
Other than that it is a smaller company and they have a nice system to help you replace a broken pad with their lifetime warranty. Grab one and start hiking this weekend!
Compare to Similar Sleeping Pads