As an Amazon Associate I earn from qualifying purchases. Some of the links on this website may link to vendors which are "affiliate links". If you click on a link I may receive a commission.
When you are looking to get a good value from your gear without totally busting your budget there are very few options that can give you the same or similar performance to the expensive quilts from places like Enlightened Equipment so today we are diving into cheap hiking quilts for all seasons.
What I wanted to do was to assemble a solid list of options based on your expected season as each has a huge variance in required temperatures to be viable for real hiking and backpacking use.
It should be noted that you HAVE to pair a quilt with an appropriate R-Value sleeping pad to contain heat appropriately as any quilt, expensive or not will fail you if the pad is bleeding your heat through to the ground.
If you want to look at a vast array and comprehensive list of sleeping quilts check out our compendium, if interested in sleeping pads check out this.
Best Budget Backpacking Quilts: Comparison Table
---
Best for Four Season Use
These hiking quilts need to be rated to reach 0 degrees at a minimum to even be listed below, as with most gear this significant drop in temperature will increase the prices dramatically but they will ensure you stay safe in the cold.
In all cases any quilt listed requires a solid R-Value pad to ensure you aren't losing your body heat to the ground, this will be at least a 5+ for 4 season use and the best of the best currently would be the Therm-a-Rest NeoAir XTherm though many report the Nemo Equipment Tensor as amazing also.
Enlightened Equipment Revelation
One of the truly hiker loved gear choices for sleeping quilts, both for long distance thru hikes and for any normal overnights, the Enlightened Equipment Revelation is able to easily compress and fit into nearly any pack while providing amazing levels of warmth.
The Revelation has become a beloved quilt due to many factors, from high quality craftsmanship to the quick close foot box design that can easily become pulled in if you need more heat allowing this to function as a blanket or with an enclosed foot box.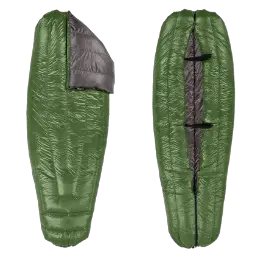 EE Revelation Stock

Regular / Regular – 0ºF (-17ºC)
A favorite of long distance hikers, the Revelation Quilt is known for its amazing versatility, thoughtful design, and ultralight weight.
Product Benefits:
Enlightened Equipment Revelation Features
Down Fill – 850FP Ethically Sourced From an RDS Certified Supplier
Outer Fabric – 3 Choices: Forest 10D, Burnt Orange 10D, or Navy 10D fabric
Inner Fabric – Charcoal 10D
Footbox – Has a 20" zipper and shock cord combination
Unique U-shaped continuous baffles
Pad attachment system uses elastic straps and clips
Pros
No Delays To Shipping with Shelf Stock
Ability to Open to a blanket
Lightweight Outer Fabric Materials
Cons
Drawstring Footbox – Hole exists at bottom with draw string enclosure
Limited to 850 Down in Stock Quilts
There is probably not a more used quilt by thru hikers on the big three trails than the EE Revelation, definitely it is propped up by many YouTubers that swear by it.
I do love this company due to being made in America, though with the product being made here it does increase the overall price you will need to pay versus a cheaper Ali Express gear.
You can see this quality though showing in the overall craftsmanship, with high quality stitching throughout and the willingness to help if they have missed a quality check.
---
UGQ Bandit
One of the most complete sites to customize a quilt to your needs, the team at UGQ builds some outstanding, high quality sleeping quilts that will work for any hiker, any time of year as they can do from 0ºF to 50ºF.
UGQ Bandit
Regular / Regular – 0ºF (-17ºC)
Using a combination of vertical and horizontal chambers the BANDIT Quilt will fit you like a glove. This unique concept Quilt provides for exceptional drape. 
Product Benefits:
UGQ Bandit Features
Down Fill – Ultima 800 fill power duck down
Outer Fabric – MRS20 ultralight 20-denier breathable micro-ripstopped, calendared downproof nylon
Inner Fabric – MRS10 ultralight 10-denier breathable micro-ripstopped, calendared downproof nylon
Footbox – The Bandit Quilt offers three foot box styles: Zipper w/Draw; Boxed Flat Sewn; or Insulated
Overstuff – The Bandit can be overstuffed with insulation should you be a cold sleeper
Pros
Most Customizable Option Available I've Found
DCT – Dynamic Tension Control allows the edges of the quilt to be pulled in helping to remove draft chances.
Unique Baffle Layout – Instead of running one direction they are aligned to best cover the areas where the baffle best affords heat.
UGQ started first as a quilt maker for the hammock based hikers and backpackers, their focus being on helping those off the ground maintain warmth.
There are some differences between the two even though they are quite similar, ground quilts need more width than their hammock counterparts which they have adapted to impressively.
Where they have a edge in in their Dynamic Tension Control which actually helps to pull in the edges of the quilt into your body, for anyone managing in the cold maintaining this enclosure is well worth the little extra cost and highly suggested by me.
---
Hammock Gear Economy Burrow Custom
Before beginning to look and choose a quilt for myself I had not heard of Hammock Gear but when you have a wife and a set budget you start to dig in and when you find a company making quilts in your price with solid customization options you take note!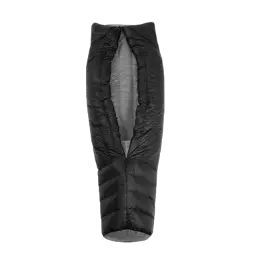 Economy Burrow
Regular / Regular – 0ºF (-17ºC)
Whether accompanied by a sleeping pad or underquilt, The Economy Burrow will keep you comfortably warm down to its temperature rating with any sleep system.
Product Benefits:
Hammock Gear Economy Burrow Custom Features
Ultralight design suitable for both ground and hammock sleep systems.

Wide width is highly recommended for adequate coverage when used in ground sleeping scenarios.  

Unique vertical and horizontal baffling system to minimize down migration

Horizontal chamber at the head end functions both as a draft collar and a barrier to vertical seams adding next to skin comfort around the user's face and neck. For added protection, we recommend a Down Hood

Customizable temperature rating built for comfort, not survival like most brands
Customizable color options for both inner and outer shells
Customizable length and width options for the perfect fit
Customizable footbox styles for a variety of ventilation and utility options

Zipper Footbox:  #3 YKK separating zipper and cinch cord bottom can be cinched tight to retain heat or laid flat like a blanket to ventilate excess body heat.
Sewn Footbox:  Completely sewn construction for better heat retention. Recommended for dedicated use below freezing temperatures.

Optional Overfill – See article for details
Optional Ground Pad Attachment Kit for connecting your ground pad to the top quilt

The Economy Burrow has (3) Center Release Buckle tabs on each side for connecting the Ground Pad Attachment Kit

Ethically sourced, 800 fill power, Nikwax® DWR treated duck down
Pros
Customization Options Include Colors, Overfill, and More
Multiple Lengths From Short to Long
Footbox Can Be Zipper or Sewn In
Cons
Long Lead Time
Only Option is 800 FP Down
I believe this will be what I will be purchasing for my wife and daughter as they need true 0 degree bags as the last couple trips out have proven they sleep very cold!
Giving them a sewn in footbox will help control lower body warmth and ensure that we can take family hiking trips out into even the coldest of nights without huge worry. Hammock Gear also have a "Premium" Burrow if you are looking for more options like 900 FP Down, more colors, and other modifications.
---
Best for Three Season Use
This is the bread and butter for most hikers, the people who start in early Spring and go late into Fall but plan to be done before the heavy cold weather sets back in.
These quilts we will be looking at being rated to 20-40 degrees as this is what the majority of temperatures encountered will be on the lower side, if you sleep cold you may want to look at a liner like the Sea-To-Summit Reactor liner which can add additional cold tolerance as needed.
Outdoor Vitals LoftTek™ Hybrid
This is one of the more interesting entries into this list, I love everything I have bought from Outdoor Vitals and I have been eyeballing this for my quilt as I live in a very humid area in Texas and this may be perfect for my needs.
Unlike the others which are almost all featuring down for insulation, this quilt features Outdoor Vitals LoftTek Hybrid insulation that fills the bag and gives you one of the best in class weight to warmth ratios using mainly synthetic insulation. 
Since this doesn't feature using down the price tag also drops it into a far more budget realm, additionally this backpacking quilt has a 0ºF option meaning it could even be a 4 season possibility!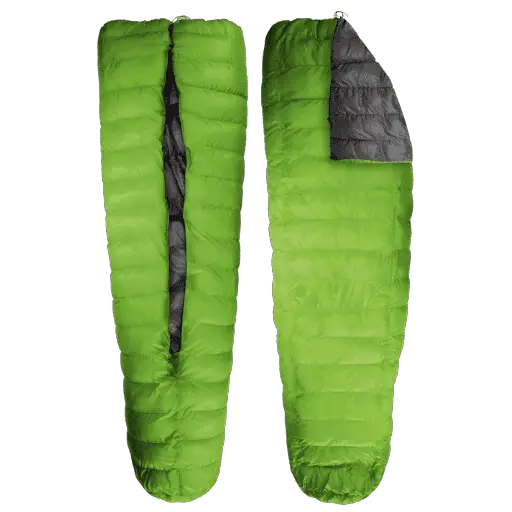 LoftTek™ Hybrid TopQuilt
Regular / Regular – 0ºF (-17ºC) to 30ºF (-1ºC)
LoftTek Hybrid insulation utilizes cutting edge science to give you the benefits of down, without the downsides! This means you'll sleep warm and comfortably even if your gear gets wet!
Product Benefits:
LoftTek™ Hybrid TopQuilt Features
Fully baffled design with sewn footbox locks the insulation into place to effectively keep you warm at night so you can get a good nights rest!
Wide design ideal for ground sleeping or in a hammock keeps you covered and warm, and enables you to be versatile with your setup!
Clips and a pad strap to secure top quilt on a sleeping pad so you can stay warm even if you move around in your sleep!
Utilizes 80% LoftTek synthetic loose-fill insulation with 20% DWR treated 800+ fill power down to make the most advanced synthetic in the world! This means you will stay warm with fully lofted insulation even if your top quilt gets wet!
Dries quickly if somehow damp, so not only will you be warm after a situation with moisture, but you'll soon be dry again!
Combined fill power of 650+ that will keep you warm and your pack light so you can more fully focus on your adventures! 
Top cinch cord to seal in heat so you can sleep warm all night long!
Pros
Price is better than most other similar temp rated quilts
Better for Humid Environments
Compresses Fairly Small Even With a Mostly Synthetic Fill
Cons
Heavier Overall Weight Vs Down
Limited Colors and No Customization
If you are a backpacker or hiker who is in very humid environments then using a synthetic insulation can give your gear longer life and more stable temperature overall.
Down gets worse the more humidity their is as it will weigh down the down and basically slowly kill the loft, and the loft is what keeps you warm, so knowing where and when you are going to backpack is vital to success.
---
Outdoor Vitals StormLoft Down TopQuilt
Newly rebuilt for 2021 the StormLoft Quilt is the one I currently own and use for my hiking trips out and into the forests of Texas and Oklahoma.
The fabric is super comfortable for me when I an getting to sleep and it doesn't feel like it sticks to my skin like some of the lower denier fabrics have done for me.
The new design was to help increase the overall native warmth while building upon what they had already done well with on the last generation, including a draft collar in this version by default is incredibly helpful!
StormLoft TopQuilt
Redesigned in 2021 – 0ºF, 15ºF, 30ºF Options
In 2021 they added a draft collar, widened the quilt, curved the shoulders to your neck, optimized the cut around your body to naturally fall around you effortlessly, include two pad straps for confidence as you toss and turn and even redesigned the footbox for added warmth
Product Benefits:
StormLoft TopQuilt Features
Box baffled draft collar seals better around your neck to prevent cold drafts and to add comfort
Curved taper seals effortlessly around you for added warmth and less unwanted drafts
Fully baffled design with sewn footbox will keep you warm and insulated on all sides
Wide design ideal for ground sleeping or adding extra versatility for hammock campers
Included clips and pad straps to secure top quilt on a sleeping pad so you stay warm and sleep well even if you move when you sleep
DWR treated 800+ fill power HyperDry down to keep your pack light and you warm and comfortable without having to worry so much about moisture
Top cinch cord to seals in heat so you don't feel cold around our shoulders and neck
Hybrid baffle design keeps down locked in where it needs to be, which means you'll have optimal warmth and will sleep better
Tapered bottom footbox is shaped to match the contours of your feet how they naturally lay while eliminating extra space to increase warmth
Pros
Better Baffle Structure to Keep Down in Place With Less Ability to Shift
Draft Collar Helps Keep Heat in at the Neck
Sewn in Footbox Feels Huge and Allows My Feet to Move Without Issue
Cons
Limited Colors and No Customization
I had been waiting for this to come out as they had eliminated the previous version from sale while this was being completed and I can't be happier with my decision to wait, for anyone interested I got the 15 degree quilt as I wanted blue, lol.
The crew at Outdoor Vitals have answered all my questions with speed and urgency, I have been beyond happy with my interactions with them while I waited on this release and will definitely order more from them this year.
---
Featherstone Moondance 25
While researching I found this very interesting option on Amazon from a smaller company that may be a very good fit for someone wanting functionality to 3 seasons but wanting to drastically cut overall costs when given the customization options.
The Featherstone Moondance 25 is a nice option available to those looking for a cheap hiking quilt as it is is either regular/regular or a long/wide and is available from Amazon which is one of the safest stores online to make a purchase from.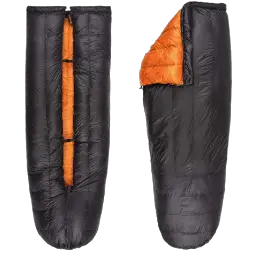 Moondance 25
Regular / Regular – 36°F (2°C)
The Moondance is a versatile sleeping bag alternative that eliminates the hood and back to lighten your pack while maintaining the integrity of warmth and comfort.
Product Benefits:
Moondance 25 Features
Technical Performance Based 10d Nylon is calendared to keep the down in while maintaining breathability, preventing a clammy-like feel that's experienced in most sleeping bags
RDS Certified DOWNTEK Duck Down
VERSATILE SLEEPING BAG ALTERNATIVE: Unlike any other outdoor blanket, this top quilt has the capability to match the warmth of a sleeping bag and doubles as a blanket or underquilt for a hammock
LIGHTWEIGHT & PACKABLE: Made with DOWNTEK PFC-FREE Water Repellent 850 Fill Power Duck Down Insulation, the quilt provides superior loft, warmth to weigh ratio, and packs small and compact–great for outdoor travel
INSULATED & COMFORTABLE: Down insulation provides superior warmth compared to synthetic insulation. The quilt has been ISO Tested with a temperature rating of 26 degrees T-Limit makes it perfect for all season camping. Silky smooth nylon provides breathability and prevents a clammy-feel during your sleep.
ACCESSORIES: Comes with a compression stuff sack and pad straps to connect with your sleeping pad. Pair this quilt with other camp gear to make the ultimate sleep system while camping in the backcountry.
Pros
1/2 the Cost of the "big name" Competition
Fantastic Loft after using and letting it breathe fully.
Lives up to Temp Ratings for People who take it out on trips.
Cons
Weight Has Been Variable By Up to 8 Ounces Heavier by Purchasers
Comes Very Compressed and Could Use Some Solid Out of Bag Lofting Time
No Customization
For someone looking at a very good option while keeping the costs under $200 there aren't many options available like this quilt, for someone braving the colder times of Spring or Fall this may be a very solid choice.
---
Paria Thermodown Sleeping Quilt
I nearly purchased this for my wife when we were looking to do a couple of day hikes on the Ouachita Trail and Lone Star Hiking Trail. The kicker is she talked me out of it because she had already ordered us quilts but not told me, actually the OneTigris Featherlite I listed below.
This is a quilt that can work for many needs and as long as you have the pack space to hold it this is a near perfect budget piece of gear!
Paria Thermodown
Regular / Regular – 15°F (-10°C)
Our Thermodown quilts offer outstanding size to heat ratio, much better than synthetic insulation and even traditional down sleeping bags. They also tend to warm up quicker and conform better to your body. 
Product Benefits:
Thermodown Sleeping Quilt Features
WARM – Stay toasty warm due to the baffled construction and 24 oz. of high-loft 700 fill-power down which provides an excellent temperature rating down to 15F (-10C).
LIGHTWEIGHT – No need to compromise on size and weight. The quilt comes in at only 2 lb. 6 oz. and the included compression sack cinches down to just 10 x 7 inches. Use the included sleeping pad strap to secure your quilt to an insulated sleeping pad for a lightweight and compact sleeping system.
DURABLE – The light, but durable, 20D ripstop nylon fabrics will ensure that the quilt performs for countless adventures.
VERSATILE – Our quilts offer incredible versatility that is unmatched by traditional sleeping bags. Open up the quilt for warm weather or close it up completely on those chilly nights. Since they're so easy to adjust, they're also perfect for hammocks.
Pros
Amazing Size to Heat Ratio
Works To Even Cooler Temps than Ratings for many purchasers
Packs Up Small in Provided Stuff Sack
Cons
No Customization
Overall Weigh Versus Other Quilts
This is an outstanding value and would definitely help anyone to get started in the quilt life, I say that because once you get your first quilt you will wonder why you didn't make the change sooner!
---
Best for Summer Only Use
During the summer you tend to have much warmer temperatures during the days along with the nights, this means changing your gear out to not carry more gear weight than actually necessary.
The backpacking quilts in here will be much thinner and looking to only need a minimum of 50 degrees for comfort as most summers will not be pushing severe temperatures that would require more warmth.
OneTigris Featherlite Ultralight Sleeping Quilt
This sleeping quilt got my wife, daughter, and I through the Texas freeze that occurred this year. Without power and heat our house was close to 35 degrees and this sleeping quilt is what helped us all to stay warm when others had limited "warm" options.
This will continue to be my summer hiking quilt since it is a synthetic fabric which can hold up better to the massive humidity encountered here in Texas when out in the forests!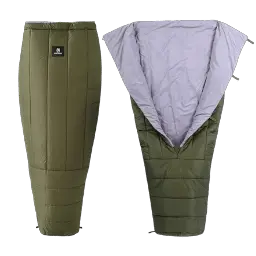 OneTigris Featherlite
Regular / Regular – 40ºF
A lighter alternative to standard mummy sleeping bags, this sleeping quilt offers quick entry and exit and with a convertible footbox which helps keep the heat in
Product Benefits:
OneTigris Featherlite Features
20D Ripstop Nylon (Outer), 380T Polyester Pongee Lining (Inner)
Comfy: 20D Ripstop Nylon Outer Shell with 380T Polyester Pongee Lining and SEE Polyester filling makes it an ultra-lightweight backpacking quilt that's soft, breathable & wind-proof
Versatile: A lighter alternative to standard mummy sleeping bags, this sleeping quilt offers quick entry and exit and with a convertible footbox which helps keep the heat in
Lightweight & Compact: Weighs only 35oz (1000g), folds up small, about the size of a gallon jug, easy to put into your backpack and travel around, and spreads out 6.5ft by 2.8ft offering plenty of sleeping space
Special Design: Hollowed back design for use with sleep mats for a perfect balance between down distribution and heat retention, a fantastic option for people who feel claustrophobic in sleeping bag
Warm: Stay toasty warm due to the baffled construction which provides a temperature rating down to 41°F (5°C), can also be used with a sleeping bag or underquilt, then you get a toasty winter sleeping system | Dimensions: 200cm *85cm (6.6ft *2.8ft)
Pros
Synthetic fill works well whether high humidity or in wet weather
Compacts Well Within a Backpack
Cons
Not Lightweight
No Options or Customizations
I will state that I got another quilt only to allow myself the ability to be in colder climates with more comfortable warmth as I want to hike the AT and PCT in the next few years.
This quilt though is an amazing starter quilt and one that will give you the warmth you seek for close to three seasons at worst only losing some ability as you get into the 30-40 degree ranges.
---
Puffer Wolf Insulated Blanket
This was the first thing I had been given as a present for Fathers Day which led me down this quilt path, I always thought a "blanket" couldn't be all that warm but this was able to go on a summer camping trip and keep me warm all night without issue.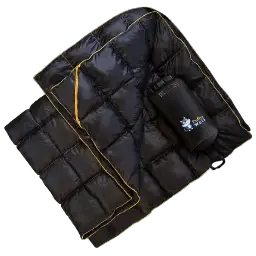 Puffer Wolf Blanket
35°F – 45°F
Puffer Wolf was created by a husband and wife team located at the base of the Sierra Nevada mountains. They recognized the need for a packable, versatile blanket.
Product Benefits:
Puffer Wolf Insulated Blanket Features
EXTRA WARM, LARGE AND PORTABLE: Perfect for travel, the Puffer Wolf is extremely warm, durable, weatherproof, lightweight, compressible, and now wearable! Our blankets are extra large, measuring in at 80" x 54" (~77" x 51" when fully lofted), yet pack down small with the included Premium Stuff Sack (~5" x 5" x 12"), making them perfect for any adventure!
THE BEST OF BOTH WORLDS! Insulated with our innovative new PW700 Featherlight Premium Insulation, which has an industry leading thin denier and unique air trapping wavelength pattern. Our blankets have a high heat-to-weight ratio similar to that of high fill power goose down or duck down, yet also have the same great wet weather performance and hypoallergenic properties of premium synthetic down. This makes our blankets oh-so-soft yet extremely tough, no matter the terrain or weather!
DOUBLE THE PUFF FOR YOUR BUCK! We over-stuff each blanket with a little over 14 oz of our quick loft PW700 puffy insulation! This creates nearly 2X the loft compared to similar products all while retaining the remarkable ability to compress down small! Don't get caught buying similar blankets that are under-filled with down, or are an under-performing synthetic. Impress your friends with one of the best pieces of camping gear you can buy!
LIGHTWEIGHT AND PACKABLE WITHOUT COMPROMISE! A high amount of insulation should make the Puffer Wolf pack large and heavy, right? Wrong! Our innovative insulation allows our large blankets to pack incredibly small with the included premium water resistant stuff sack. Great for use as a top quilt for hammocks! Throw it in a backpack, picnic basket, in your car as an emergency blanket, survival blanket, stadium blanket, you name it! All of this with a blanket that weighs under 1.5lbs!
ALL WEATHER DURABILITY: Made from the same parachute grade material as high end sleeping bags and jackets (20D Ripstop Nylon) and protected with our DWR strong water resistant shield. The Puffer Wolf is dustproof, sandproof, windproof and rainproof while also being machine washable and odor and stain resistant.
Pros
Incredibly Lightweight and Perfect for that summer get away or any car camping expeditions
Cons
Only has the ability to be buttoned together without any footbox
I really love this and it has become a staple around the house and for when we head out car camping still to this day, I am exceedingly happy with the performance on this blanket as I wouldn't have thought it could manage the warmth it does provide in such a small package!
---
Why Choose a Quilt over a Sleeping Bag?
There are many reasons why hikers and backpackers have really begun to swap out their sleeping bags to backpacking quilts. The quilts on average are far more packable, they work well for people who move around a lot at night, and they are typically around 1/4th to 1/5th less in cost.
Packability
Most quilts are able to be packed into a much smaller stuff sack due to not having the full length zipper, and removing about 20% of the sleeping bag (the underside) which is layers and fill that are all space and weight.
This leads to the ability to carry a similar temperature quilt for much less weigh on your back along with less space within your pack.
Benefits to Movers or Side Sleepers
For those who shift and like to lay on their sides the quilt can move more like a blanket on your bed, adjusting with your movements and not locked in below you causing issues with each and every movement.
Price
This is easy, since you are removing the additional hardware, the zipper, and a god 20% of the fabric you have less material and work to pay someone to assemble the whole package meaning this cost can be dramatically lowered.
Why Quilts Require a Sleeping Pad
You need a sleeping pad far more with a quilt than with a sleeping bag, what's interesting is the same issues would happen with a sleeping bag in most cases too if the weather is too cold and the ground takes your heat.
The sleeping pad is the best way to help make sure you don't lose the largest volume of your body heat to the ground itself, most heat is lost down into the ground and not into the air.
The pads re rated to help insulate you from losses to the ground which is why the right pad when paired with the quilt makes for a more perfect unison, the colder it gets the better pad you need to ensure minimal losses occur with the ground contact.