As an Amazon Associate I earn from qualifying purchases. Some of the links on this website may link to vendors which are "affiliate links". If you click on a link I may receive a commission.
For those who aren't from Texas, well and those in Texas who weren't aware the Lone Star Hiking Trail is the longest trail in Texas. It is a challenge that differs from many others in the hiking world due to the normal lack of water, heat, and humidity.
How long does it take to hike the Lone Star Trail? For most people this will be a 4 to 7 day thru-hike to complete end to end. Though the FKT, or fastest known time, is currently set at under 24 hours! Most will want to enjoy the scenery and take breaks which will require you to plan for days instead of a day.
Now that you know about the time commitment lets dig into the trail a little more and maybe this will help you to make the choice to pull your trigger for a hike! I moved to Texas in 2016 but had been working here remote and as a contractor for almost 3 years, finding this trail re-kindled my love and fascination with the outdoors and hiking in general again.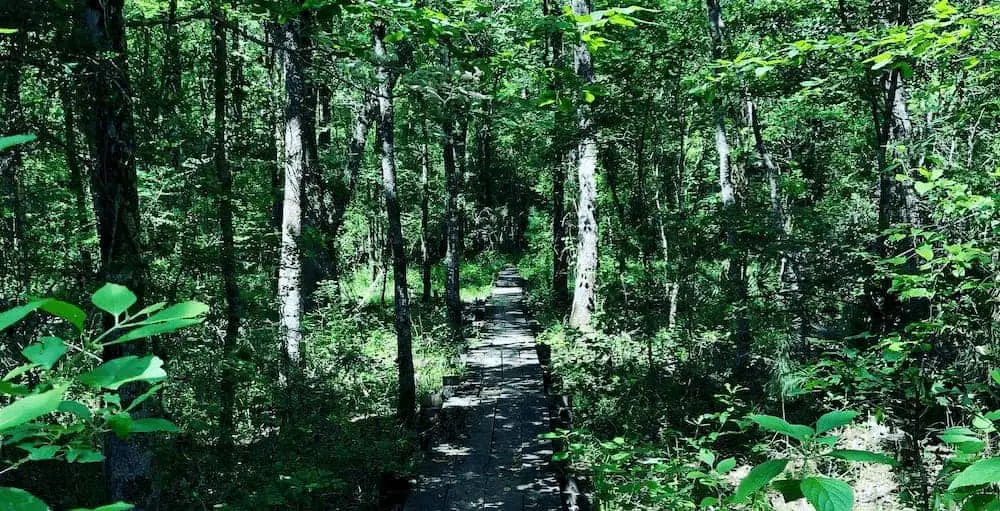 What is the Lone Star Hiking Trail?
The Lone Star Hiking Trail was devised in 1966 by the Lone Star Chapter of the national Sierra Club.
The Lone Star Hiking Trail, or LSHT for short, is a foot path only trail that doesn't allow wheeled vehicles or other styles of travel. The trail starts just south of Richards and ends northwest area of Cleveland.
The trail is the longest continuous trail in Texas which means it is a perfect place for Texas hikers who are looking to experience a long distance trail without needing to leave Texas.
Unlike the Appalachian Trail, the LSHT trail path is marked with two-inch by four-inch aluminum markers to guide hikers on the correct path. When turns occur the markers are canted to the same direction telling you to turn.
How Long is the Lone Star Hiking Trail?
The Lone Star Hiking Trail is approximately 96 miles long on the main trail from end to end, though there are numerous loops which add onto the overall distance you could travel to see the entirety of the area.
The 96 mile route takes you through the Sam Houston National Forest and has some amazing views of lakes and nature, but there is no big mountains or hills so you won't have panoramic views above the trees.
How Many Sections Does the Lone Star Hiking Trail Have?

The LSHT has 11 sections which are broken up into roughly 10 mile sections based on best stopping and starting points. Each section would be a suitable day hike with a different look and feel for the experience, Four Notch and Wilderness are my families favorites.
Now outside of those 11 sections there is a few loops that could add to your mileage and experience if you wanted to hike through those in addition to the main trail.
Video: Lone Star Hiking Trail
This video was made by the Texas Parks and Wildlife and follows a younger woman going through the trail, well most of it as they skip many road walk sections. It can give you a chance to look at the trail, many videos I find on YouTube are 3-4 years old before Harvey.
Why I Enjoy the LSHT
I am working on my own preparations to accomplish the triple crown, to do this I need to put some time in with dialing in gear and learning what is helpful or detrimental to me personally hiking.
I am lucky that I have a good 100 mile hike in my local area which allows me the prime opportunity to really put in some hiking training time, food preparation and evaluate anything which comes up.
In addition to this there are some just tremendous views within the forest of the LSHT that share that feeling of the ultra long trails. A trail like the Lone Start Hiking Trail is a perfect way to test out your gear and really shakedown what is necessary or find something you missed.
The Houston area gets a lot of heavy and hard rainfall and this adds to understanding your gear and how it will hold up for you in storms, snow, and what you need to make your gear work as a pairing without gaps.
Additionally it is a chance to take my daughter and wife out and away from society and see nature and experience peace, the people on trail show you how good we can be and help you strive to be a better human.
Final Thoughts on How Long Does it Take to Hike the Lone Star Trail
This is a trail which, while shorter than many other long distance trails, has quite a fight in it. From dealing with lack of water to storms which are prevalent and can make it a full on muddy adventure, it is a fun personal challenge.
I think everyone would benefit from attempting, and hopefully completing, the LSHT if they enjoy thru hikes, day hikes, or even camping. The trails are maintained by a lot of good people, I join them when I can, as that is the forgotten side of trails.
In the end I would just love to help motivate people to get out and start to re-explore this amazing country as we take it all for granted. Moving out in the forest allows you to let a part of you go and lets your mind open more up and for many people catch up on pent up emotion and feelings.