As an Amazon Associate I earn from qualifying purchases. Some of the links on this website may link to vendors which are "affiliate links". If you click on a link I may receive a commission.
Choosing the best tent for a thru-hike is a core decision where you are making a choice in warmth and space for you to have comfort from the outside. The options are vast between 1 person, 2 person, ultralight, ultra-expensive, and overall budget.
What is the best tent for Appalachian Trail thru-hikes? Our choice is the Duplex from Zpacks as it is ultralight but spacious and features plenty of extras to ensure an amazing thru-hike experience. In total, this tent weighs in at about 19oz in a 2 person size with 2 entrances and 2 vestibule areas!
What data and information did we use to make this decision? Well, we went through the criteria below to help build out a set of information based on needs and requirements for thru-hiking which then was applied against the tent options to give a winner.
Please note this is something which is highly variable depending on the hiker and you may disagree, add the comment below and I would love to talk about it! Each person's sleeping system use will depend on the skill of the hiker along with the pack and weight chosen to bring along.
What is the Best Tent for Appalachian Trail Thru Hike
Assembling a list of tents which are loved for thru hiking on the Appalachian Trail comes down to weight and space. The tents I have chosen are all good in weight and they all have the space to live in for a 6 month trip.
Jump To The Tent via the Links Below to Read More:
Any of the tents you choose can give you a good thru-hike as long as you take care of them and treat them well.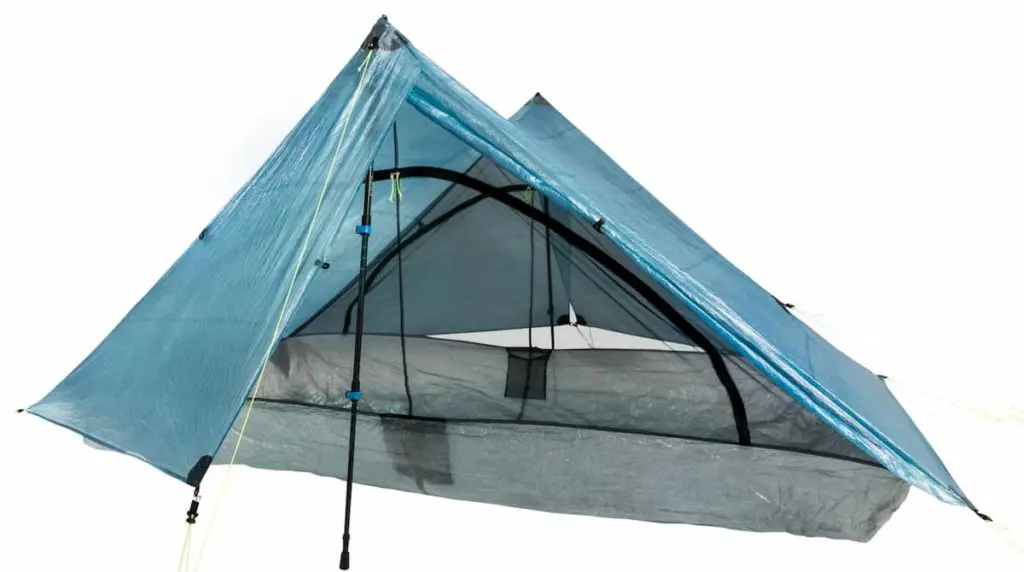 While I am sure most looking to hike the Appalachian Trail have heard of and seen the Duplex I wanted to give more details to those looking and haven't heard much about it prior. The ZPacks Duplex is a 2P tent built out of Dyneema fabrics which allows for ultralightweight and size.
This tent is built to be very roomy and well-ventilated to allow for better enjoyment on long trail nights. The Duplex packs down very small while offering a simple setup that can be done almost anywhere!
Features Of The ZPacks Duplex
Trekking Pole Tent – Sets up with two trekking poles set to around 48″. You can be slightly taller or shorter fixed length poles may also work. 

Straight Pole Option Available – If you do not use trekking poles, they do provide straight tent poles for purchase
Free Standing Option Available – You could consider their other option for a Freestanding Duplex Flex Tent Upgrade.

Four Doors For Easy Access – The Duplex features four storm doors that can be opened or closed independently as needed. This allows for you to leave all four opened for nice weather during the night allowing you to get a breeze and take in great views.

Ability to Close Independent Doors – For example, to block out the cold wind you could close the upwind doors or close all four for complete rainy day protection.

Large And Tall Bathtub – The duplex features a solid, sewn in 8 inch tall bathtub floor. This bathtub space measures in at 45 inches wide by 7.5 feet long. This space provides plenty of space for two normal size campers to stretch out along with space for gear at the ends of the floor.
Easy Access Mesh Pockets – Mesh pockets are conveniently located near each screen door so that they can be accessed from inside or outside the tent. They are a good place to store your cell phone, glasses, headlamp, the tent stuff sack, and spare seam tape (included). The pockets are about 8″ x 8″.
Made in the USA
Benefits To The ZPacks Duplex

Spacious Feeling Interior – Space internally allows for less of an "enclosed" feeling versus most tents.
Quick Setup – This tent is incredibly quick to learn how to setup and the setup itself is a fast process. (Setup Instructions PDF)
Supremely Ultralight Weight – Coming in at a super low 19.4 oz proves that making your tent small and efficient is possible.
Drawbacks To The ZPacks Duplex
Condensation Concerns – As with almost any single wall tent there is possibilities where condensation could get into the tub.
Bug Netting Crooked – Some reported that while functional the netting wasn't very pleasing to the eye as it wasn't aligned correctly.
Mesh Doors Hit Ground – When unzipped the doors can lay on the ground and aren't supported without being tied up.
---
HMG DIRIGO 2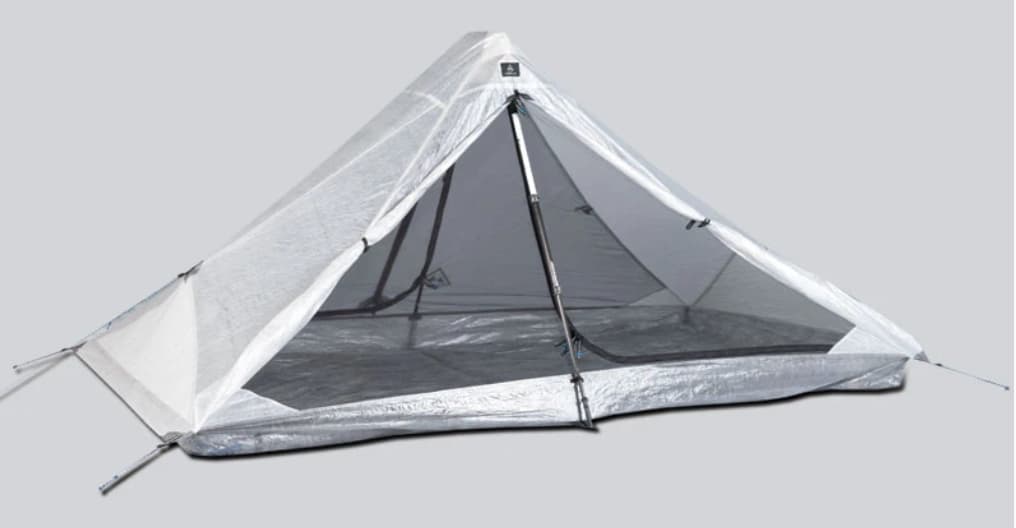 The Dirigo 2 tent is built to support a single thru-hiker providing you a large amount of indoor space while using your trekking poles to set up.
The Dirigo 2 is a three-season tent built with a blend of 5 Dyneema Fabrics which helps with the weight, waterproofness, breathability, and long-term durability of the tent.
The Dirigo 2 comes in at an ultralight weight of 28 oz. It offers protection against unwanted moisture and doesn't have a crazy amount of setup steps and separate pieces.
Features Of The HMG Dirigo 2
Dual Entry – Easy entry/exit for two or one with a pack with doors on opposite sides of the tent this allows for easy exit without issue from either side depending on needs or placement.
Breathable Panels – Located at the head and foot to combat condensation
Multi-Vestibule – Two vestibules for exterior gear storage with #5 YKK Aquaguard® Zippers
Ventilation Is Not An Afterthought – Two large mesh walls for maximum ventilation
Limited Equipment Needed – Pitches with two trekking poles and eight stakes
Guy-Outs – Reflective guy-out points
Movie Pocket – Internal mesh hanging stow pocket
Seam Sealed From Shipment – Fully seam-sealed
Benefits To The HMG Dirigo 2
100% Waterproof Fabric – This tent and Dyneema fabric eliminates the need for a separate rainfly and using the strongest man-made fibers in the world means you can pitch the Dirigo 2 without a groundsheet or footprint.
Trekking Pole Tent – Since the tent uses your hiking poles for structural support, you don't need to carry separate small diameter aluminum poles lowering your overall weight.
Hand Built In America – HMG tents are built in Biddeford, Maine by highly-skilled craftspeople, not in another country by the cheapest labor available.
Drawbacks To The HMG Dirigo 2
Missing Dual Zippers On Vestibules – Since they are only opening from bottom to top you can't use the zipper to open for more ventilation at the top.
Condensation Concerns – As with most tents of this style condensation can be an issue if you are in contact with the outer layer.
[lasso ref="hmg-dirigo-2″ id="1105″ link_id="6073″ rel="hmg-dirigo-2″]
---
3F UL Gear Lanshan 2
I found out only recently about this tent as I hadn't been looking at options from China due to the really long lead times but after watching videos on YouTube I had to grab my own.
I have fallen in love with this tent and am currently purchasing a second now for my wife to take when we both go hiking to allow plenty of space to sleep and have a separate space so we don't kill each other!
Features Of The 3F UL Gear Lanshan 2
Flysheet: 15D Nylon (Waterproof Index 5000mm),one-side silicon coated fabric with weight of 584g.
Inner tent: 20D Nylon high density mesh with weight of 480g.
Inner size: 210*110*120cm (L*W*H)
Bottom of Tent: 20D Nylon (Waterproof Index 8000mm)
Weight: 1155 grams
Benefits To The 3F UL Gear Lanshan 2
Budget Conscious – For people looking to get a good quality tent which is spacious and light in weight there are few options in the price range of the Lanshan.
Adjustability – This tent can be used as a full double walled tent, just an inner, or just an outer. They even have a 4-Season inner you can purchase separately if you camp in the winter too.
Drawbacks To The 3F UL Gear Lanshan 2
Shipping Time – Since this is shipped form China the order to delivery time is typically a month or longer from when the order is placed, even when Amazon shows "Prime" shipping.
[lasso ref="3f-ul-gear-lanshan-2-person-tent" id="1129″ link_id="4936″ rel="3f-ul-gear-lanshan-2-person-tent"]
---
Nemo Dragonfly 2P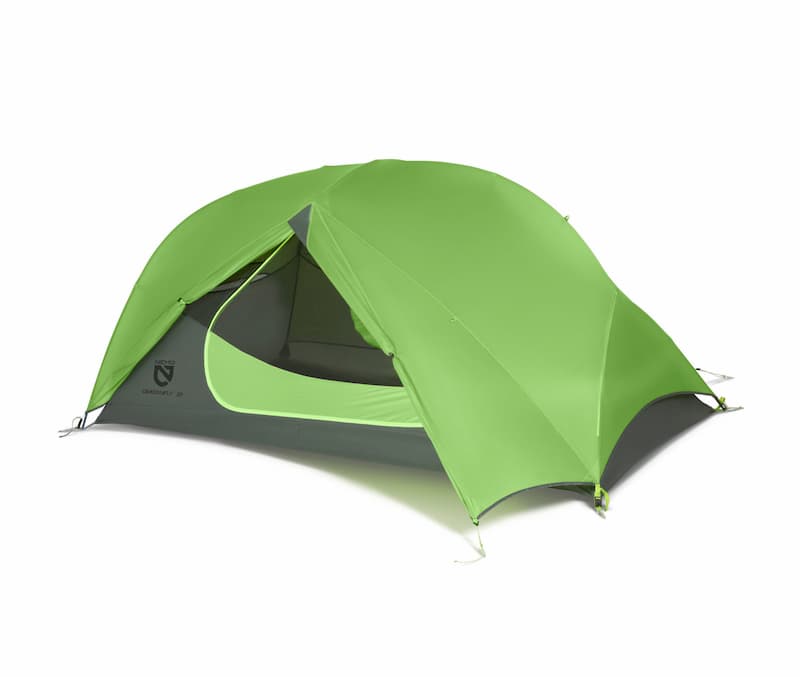 Definitely a perfect match for someone looking for a large volume of head space while also enjoying the ease and speed to setup of a non-free standing tent.
The Dragonfly fills a void for most backpackers with an balance of weight and livability while in a freestanding tent. The large trapezoidal vestibules are designed to fit gear without obstructing entry and have multiple roll-back points to customize visibility and coverage.
Features Of The Nemo Dragonfly 2P
Large doors and trapezoidal vestibules with multiple roll-back points provide customizable storage and ease of entry
Hubbed, pre-bent DAC Featherlite poles with high-arching main pole significantly increase volume at the head, peak and foot ends
Color-coded anodized poles and matched webbing make for an intuitive setup
Black no-see-um mesh sidewalls provide significant airflow for condensation and temperature control—and clear stargazing at night
Integrated 20-denier nylon tub provides an ultralight, waterproof floor; add the Dragonfly 2 footprint (not included) for additional protection
Premium 15-denier ripstop nylon fly is coated in a durable silicone repellent for reliable and durable weather protection
Overhead Light Pockets™ use special light-diffusing fabric to cast an even glow with a headlamp (headlamp not included)
Gear Pockets™ offer storage for personal items
Divvy™ Sack dual-stage stuff sack allows you to split the load with a hiking partner
Protected strut vents at the top of each zipper flap ensure greater ventilation, especially during a storm
Single-seam tub construction and silicone-impregnated fabrics offer increased longevity
Benefits To The Nemo Dragonfly 2P
Interior Storage – There are two decent sized individual storage pockets on each side of the tent along with little light holders to allow for night time lighting
Gear Loft – A very large space above you to store anything you would want to keep inside but not take up the valuable floor space. 
Drawbacks To The Nemo Dragonfly 2P
Noisy Floor – There have been people who said their air mattress and the tent floor made a noise when pared together sliding on each other.
[lasso ref="nemo-dragonfly-2-tent" id="1146″ link_id="4937″ rel="nemo-dragonfly-2-tent"]
---
Big Agnes Copper Spur HV UL 2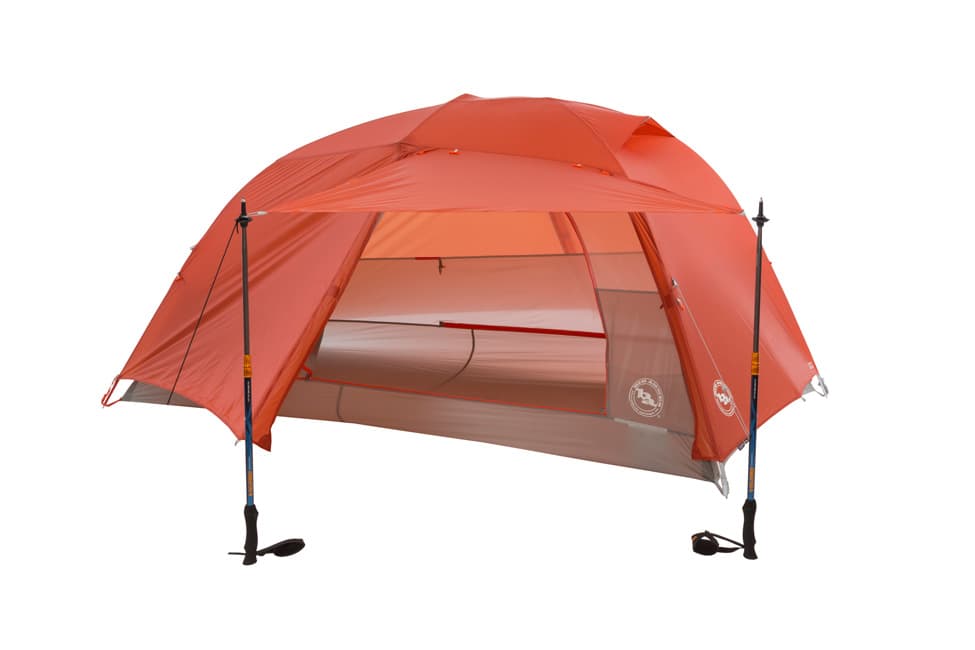 The high volume design provides ample living space in this freestanding structure. Traditional, media, and 3D bin pockets help to organize your gear without cramping your sleep space or capacity to sit up inside.
Featuring an awning-style vestibule area that can be customized to expand living space, great for both drizzle and sun protection. Your ultimate UL home away from home.
Features Of The Big Agnes Copper Spur HV UL 2
NEW awning-style vestibules with double-zippers provide multiple access options.
Features two doors and two vestibules
NEW 3-D bin 'mezzanine' at the foot provides elevated storage, oversized ceiling pocket at the head provides additional storage; media pockets provide cord-routing for electronics. 
Reduced condensation with dual low-vent vestibule doors and high fly vent to maximize active and passive airflow.
Smooth-closing, dual-zipper doors with easy-grip pulls allow for ease of entry, exit and quick, reach-through access.
Quick Stash door-keeper makes stowing unzipped doors quick and easy.
Velcro tabs connect fly to pole structure providing perfect pitch and extra stability; pre-cut guylines and tensioners attached to fly; reflective guylines and webbing on tent corners make it easy to see at night.
Vestibule zippers protected with storm flap.
The Copper Hotel HV UL2 Accessory Fly is interchangeable with the standard fly, convenient for those trips when you need the extra vestibule space – sold separately
Benefits To The Big Agnes Copper Spur HV UL 2
Two Doors – Doors split which allows a person to leave via either side or if you have two people to not have to climb over someone else to exit the tent.
Spacious Indoor Area – The pole structure makes a vast area inside the tent where you can easily sit up and use most of the floorspace as you need instead of being limited to the middle as with most non-freestanding tents.
Drawbacks To The Big Agnes Copper Spur HV UL 2
Expense – This is not a cheap tent and does require a significant purchase decision.
This Flooring (20D) – Definitely is a tent where you would want to have a tent footprint to ensure longer life and extended value.
[lasso ref="big-agnes-copper-spur-hv-ul2-tent" id="1211″ link_id="4938″ rel="big-agnes-copper-spur-hv-ul2-tent"]
---
MSR Hubba Hubba
The MSR Hubba Hubba is a well-designed, lightweight, and spacious tent that provides valuable protection from the wind and rain. It features a symmetrical layout along with near-vertical sidewalls.
Features Of The MSR Hubba Hubba
Optimized symmetrical geometry and non-tapered floor provide ample room around your head and feet
Xtreme Shield™ waterproof coating keeps you dry, resists fabric stickiness from hydrolysis and lasts up to 3 times longer than standard waterproof coatings
Easton® Syclone™ poles made from cutting-edge aerospace composite materials are ultra-durable amid challenging and windy conditions
2 large StayDry™ doors with built-in rain gutters keep the elements out; adaptable, cross-ventilating rainfly provides airflow in any weather
2 large side-entry vestibules stash your gear
Easy setup and packing, thanks to a unified hub-and-pole system and an ultra-compact compression stuff sack
Benefits To The MSR Hubba Hubba
Strong and Durable in Weather – This tent can take a beating from high winds, massive rain, and crazy storms.
Interior (Open) Space – Unlike other tents the freestanding MSR Hubba Hubba allows you to have a big open space for your end of day camp activities.
Drawbacks To MSR Hubba Hubba
Heavier – The Hubba Hubba is a bit more to carry than others on this list which can be a negative if you are aiming to lower the overall pack weight for your trip.
Tight Fit for 2 People – This tent will be very cozy should you choose to have two adults fit in the space.
[lasso ref="msr-hubba-hubba-nx-2″ id="1213″ link_id="4940″ rel="msr-hubba-hubba-nx-2″]
---
What Criteria Was Used To Reach This Tent?
In developing this set of tents we chose based on criteria around thru-hikers and their needs over the length of the trail and the viability of the tent surviving the entire way. We looked at the feedback from users about the points they cared about most which were centered around the weight and size, the internal size and capacity and overall durability.
Weight
A large and primary concern for people hiking 2000+ miles is the weight of the tent, this weight may seem inconsequential to start but it wears on you mile by mile. Needless to say, the top 3 options above are all exceptionally light and durable which will help you finish your thru-hike in style.
Size
When you are packing everything into your backpack the size of your tent when packed makes for a very important detail to help ensure the proper backpack size is chosen. The three tents above all have a very small overall form when put into their sacks allowing for easy carry and storage.
Capacity
Nothing is worse than having a tent which is too small to be comfortable inside for a long period of time. This is why the list consists of 2 person tents, these allow for one person to have a nice space of their own without adding too significant of weight to your pack.
Durability
Can the tent make it the 2000+ miles without issues or problems that are hike breakers. The budget end with the Andake has had people complete the AT and PCT without issues but out of the three, it has the least big public knowledge.
Final Thoughts on the Best Tent For Appalachian Trail Thru-Hikes
When you choose to take on the Appalachian Trail you are committing yourself to 4-6 months of consistent travel, you really want to spend some of your money making sure you have a tent that will take you end to end. Nothing is as frustrating as being in the middle of nowhere trying to rig your tent to not leak or fall apart, don't chance it!
I would love to hear from you if you have used any of these tents, I am a huge fan of my Andake tents and will continue to use them until they are falling apart, as a father my budget limit isn't like some others which is why I wanted to share them out with the general public as they are a tremendous value!
As you would expect the Zpacks and HMG side are always quality hardware which are made in the USA and this makes them good for the country!
Additional High-Quality Tents Available on Amazon
[amazon table="1095″]