As an Amazon Associate I earn from qualifying purchases. Some of the links on this website may link to vendors which are "affiliate links". If you click on a link I may receive a commission.
For a hiker, selecting the right clothing will determine a huge part of how their outdoor adventure will go. It can make your whole trip worthwhile or downright miserable. For your hiking trip, a sleeveless vest may save you some weight whereas a jacket will keep you warm overall. Let's find out vest vs jacket hiking – which is better?
Between a vest and a jacket, a vest would be more suited for hiking. You can use it in all kinds of climate conditions- be it warm, cold, or rainy. It's lighter than a jacket and more packable. You will also be allowed greater freedom in terms of movement.
But that's not all there is to it. Although I have chosen a vest over a jacket for hiking, the jacket has its own set of perks. It would be best to be aware of both of their strong suits to choose for yourself which one is better for you when you are packing for hiking. So keep on reading to read their benefits and disadvantages to come to a verdict.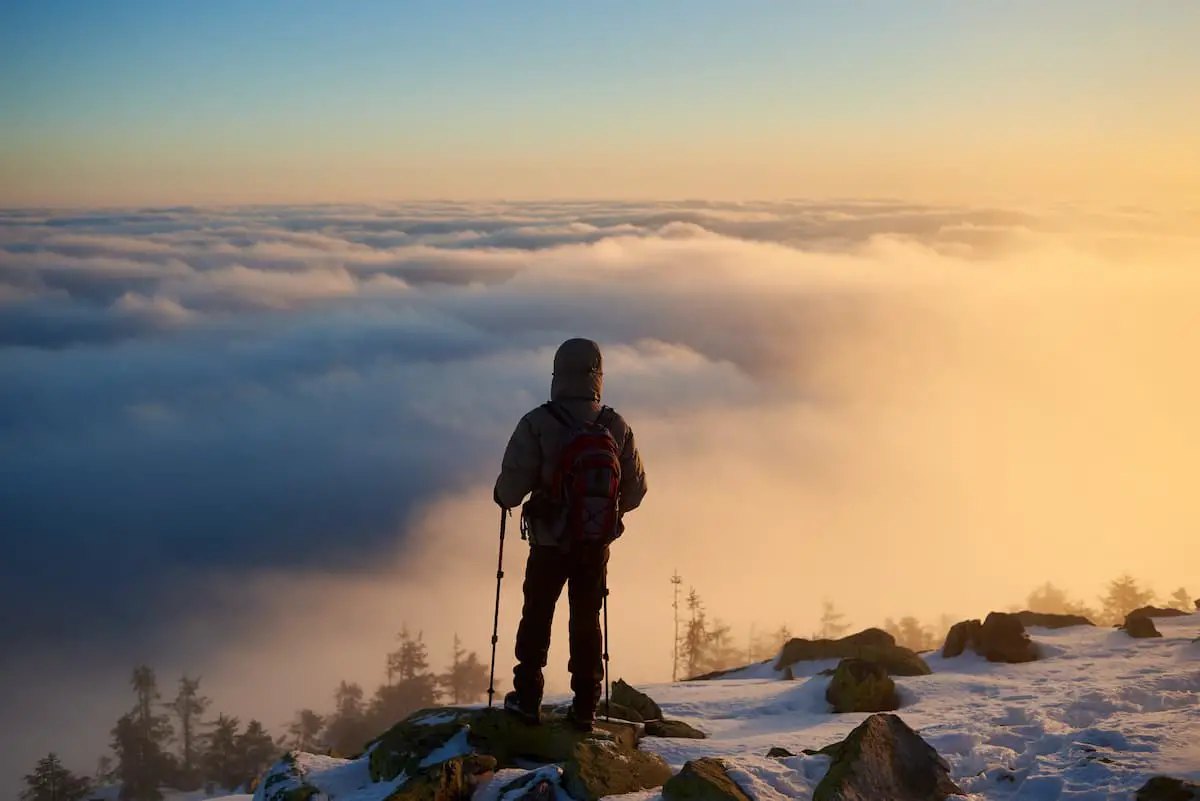 Vest vs Jacket: A Detailed Comparison
Before I talk about which should you choose, let's talk about the advantages and disadvantages of both vests and jackets. As you will see in a bit that they both have something to offer. So, you should consider their benefits and drawbacks before making your choice.
Vests
Contrary to what most believe, vests provide much more warmth than people realize. In a colder climate, a vest will increase the blood flow to your core while reducing the blood flow to the externalities. This will protect your organs as it is insulated with warm blood flow when your core temperature drops.
However, vests are more for layering or when you are doing physical activities. When you are being idle, a vest won't provide warmth for your whole body as opposed to how a jacket would. As an outer garment, your arms will get cold and thus make your core colder.
The biggest advantage of vests is that they will let you be comfortable when you are being active. So it's a great choice to keep your body temperature up as you are hiking. Since your arms will have more freedom and your core will be warm, you will be comfortable during your activities.
Moreover, Vests are extremely lightweight and flexible. So, you won't have a problem carrying them around.
Jackets
There's no denying that in terms of warmth, jackets come out on top. A jacket will cover up your upper body nicely and provide maximum warmth and wind protection. For those sensitive to the cold, a jacket is a more suitable option.

Whenever you are feeling cold during your hiking trip, a jacket can warm you up overall. As a bonus, it can double as rainwear when you are experiencing light rain or snow. So in any season, a jacket is useful for providing warmth.
On the flip side, when you are hiking, a jacket can be too warm sometimes. Since you will be walking a lot during your hike, a jacket will be more useful when you are in a colder climate.
Jackets aren't the most comfortable and breathable option when hiking in a hot environment. They are built to hold on to warth. So, if you are hiking when it's really warm outside the jacket could actually slow you down or even overheat you. 
Vest or Jacket, Which Should You Wear For Hiking?
Many are not aware of the benefits of vests and wonder are vests good for hiking. Considering how comfortable and versatile vests are, I would choose them over a jacket for hiking. Vests are a lighter option than a jacket but will keep you warm by insinuating your body's core.
You won't overheat from wearing this piece of clothing. You can layer it with necessary under or over garments if you need more warmth. Moreover, you can sweat out from your arms without worries and be allowed greater freedom of movement. So when you are hiking, vests are worth checking out.
However, even if I choose vests, jackets are an amazing option for hiking as well. If you are more sensitive to the cold, jackets will provide you total upper-body coverage with extra warmth. If you don't like layering they may be a better choice for you. And if it's snowing or even cold outside then they are a definite no brainer.
Ultimately between vest and jacket, the better one will depend on your personal needs, preference and also the climate.
Choosing the Right Clothes for Hiking
When hiking, choosing the right clothing is of utmost importance. In any season and environment, the simple trick to stay warm is to layer your clothing. The most basic and essential clothes you'll have to keep with you are:
When you're going hiking, it's best to go for polyester, merino wool, or nylon underwear. They are best for moving sweat off of your skin and drying it fast.
Comfortable and sturdy pair of pants/leggings/shorts
The pants you choose will depend on the climate you will be hiking in and your needs. It's best to be careful about the durability, fit, breathability, and most of all comfort. You could check out convertible pants and rain pants.
Merino Wool Shirt, or Other Synthetic T-Shirt
Since t-shirts will carry the weight of your backpack and rub against your skin, it won't be good to choose a material that can hold sweat. Instead of cotton, look for SPF-protected t-shirts. To keep warm, packing a long/short-sleeved t-shirt is a great idea.
Warm Puffy Jacket or Vest
Hiking in cold weather calls for a puffy jacket or a vest. The material can be merino or other wool, synthetics, and others that won't give away to the cold. A good jacket or puffy vest which is also water-resistant is a smart choice if you are hiking to a place with cold and wet conditions.
Also known as a rain jacket, these work best to protect you from the wind and rain. You should choose a high quality one that lets your skin breath. Raincoats are notorious for making the wearer sweat. So it's best to choose them carefully. You could also take note of the ones with a durable water repellent coating.
Brimmed Hat, Cap, or Beanie
Hats, caps, or beanies are essential for your hiking trip. They will be your best friend when you want to keep the sun off your face, head dry from rain, and warm in the cold. You could choose a hat with brims to protect your eyes from the sun and rain and as always NO COTTON!
Trail Runners, Hiking Shoes, or Boots
Hiking footwear is a must to give extra support and protection from the uneven surface with rocks, roots, and dry or wet surfaces. So taking extra notes of your needs, choose ones that are comfortable on your feet as well which typically means sizing up from normal shoes by at least 1/2 to a full size to allow your feet ample space.
Conclusion
For hiking, jackets and vests both have their strong sides. However, between vest vs jacket hiking, the vest can frequently come out as the winner due to how lightweight it is and the variety of situations you can use it in. But, in extra cold situations there is no replacing the trusty old puffy jacket.
Now that you are aware of the result, I hope you are satisfied with the winner of the showdown. You should be better aware of both of their benefits and able to come to a verdict yourself. Good luck with your hiking and thank you for reading till now.