As an Amazon Associate I earn from qualifying purchases. Some of the links on this website may link to vendors which are "affiliate links". If you click on a link I may receive a commission.
When you are starting out and don't have a gigantic budget you want to look at how to assemble a set of gear at the lowest price possible without endangering your safety.
For each section below I tired to provide you multiple choices within the gear to let you find what fits your personal needs and your personal budget. Since budget can be very different for each person I have limited everything as much as possible while also ensuring they are good gear.
We are going to start with your tent options as this is your "home" on the trail and when camping you will want someplace you can relax in when you are exhausted or poor weather hits.
If you want to see this on LighterPack click here.
Best Budget Backpacking Tents
For this area as part of the big three I will be looking and listing tents which are under $200 as this is where you are living from and you don't want to skimp here as it could make your trips unbearable.
Each of these tents is a perfect balance of cost, weight, and space helping you to maximize your comfort and carrying needs.
3F UL Gear Lanshan 2 (Mier on Amazon)
This is my tent as it is an amazing in value for the cost, it has 2 separate openings on either side of the tent which can both be opened to give more airflow, which is appreciated in humid areas.
It is a trekking pole tent and not freestanding but most people who are hardcore hiking will have trekking poles, I have heard that the Zpacks poles could be purchased and used with the tent without issue but I haven't tried this myself.
Weight: 2.53 lbs / 40.56 oz / 1150 g
Floor Length: 82.67 in / 210 cm
Dimensions: 82.67 in (L) x 49.2 in (H) / 210 cm (L) x 125 cm (H)
Capacity: 2 Person
Type: Non-Freestanding
Seasonal Use: 3-season compatible, 4 season inner available separately
Door Setup: Two Door and Two Vestibule
Check Price: Amazon
Naturehike Tagar 2
I was looking for a tent which was under 3 pounds and would not need trekking poles. I bought the Tagar 2 for my wife to use as she needed a tent for longer hikes to give space to sleep and have gear and she hasn't looked back.
Weight: 2.86 lbs / 45.86 oz / 1300 g
Floor Length: 210cm * 210cm
Dimensions: 
Capacity: 2 people
Type: Semi Freestanding
Seasonal Use: 3-season Compatible
Door Setup: One door + two vestibule
Six Moon Designs Skyscape Scout
The Skyscape Scout is mirrored after their other tent model, the Skyscape Trekker in its design and features. Constructing the shelter around polyurethane coated 190T Polyester reduces the price considerably while only adding a small weight and packed size penalty. The Skyscape Scout is a great option for budget hikers getting into lightweight backpacking.
Weight: 2.5 lbs / 40 oz / 1134 g
Floor Length: 100 inches
Dimensions: 
Capacity: 1 Person
Type: Non-Freestanding
Seasonal Use: 3-season compatible
Door Setup: One Door and Vestibule
Check Price: Amazon / Garage Grown Gear
---
Best Affordable Backpacking Sleeping Bags and Quilts
One of the big three that will make up your overall required gear is a bag or quilt to sleep in that can keep you warm in the cool weather. You want to get maximum warmth and minimal weight to maximize the lowest pack weight possible.
Marmot Trestles 30 Mummy Sleeping Bag
This is a warm sleeping bag that can handle almost all 3 season backpacking as long as you aren't in places with serious drops in temperature.
Weight: 3 lbs 1 oz / xx oz / xx kg
Fill: SpiraFil High Loft Insulation
Shell: 70d Polyester
Compressed Volume: 10.5 Liters
OneTigris Featherlite Ultralight Sleeping Quilt
I have always had sleeping bags but when I heard about quilts I was envious, I am a huge roller and mover and sleeping bags always meant waking multiple times each night. Now those issues are resolved as this is an amazing breath of fresh air!
Weight: xx lbs / 35 oz / xx g
Fill: 380T Polyester Pongee Lining
Shell: 20D Ripstop Nylon
Compressed Volume: Not Provided
ALPS Mountaineering Aura
An astonishingly good deal for a 20 degree bag the ALPS Aura is perfect for those who know they will be in the cold and need a good value based defense against the cold.
Weight: 3 lbs 5 oz / xx oz / xx kg
Fill: 2.5 Denier TechLoft Micro Insulation
Shell: Unlisted
Compressed Volume: Unlisted
---
Best Budget Sleeping Pads for Backpacking
There are only a few keys to looking at a budget sleeping pad for adventures out in the woods. You are either an air mattress lover or a closed cell traditionalist.
Below I covered the choices for a lower and higher R-Value on a budget from the air mattress side and one closed cell that will be perfect for your needs.
Outdoorsman Lab – Ultralight Sleeping Pad
This is the first pad I went with and the one my wife and daughter continue to use today, it is super fast to inflate along with quick to deflate and pack up to continue.
Weight: xx lbs / 14.5 oz / xx g
Sleeping Pad Type: Manual Inflation
Dimensions:
R-Value: 2.2
Check price: Amazon
ECOTEK Outdoors Insulated Hybern8
This is one of the best selling budget sleeping pads due to the high R-Value which ensures you a better chance of sleeping through the night without worrying about cold weather.
Weight: xx lbs / 24.5 oz / 695 g
Sleeping Pad Type: Manual Inflation
Dimensions:

US: 74″ * 22″ * 2.2″
Metric: 188cm * 56cm * 5.6cm

R-Value: 4.5
Check price: Amazon
Therm-a-Rest Z Lite
One of the best closed cell pads that you could take for a trip is, as expected, made by Therm-a-Rest. If you are young and can rebound from close proximity to the ground this is a winner in cost, durability, and comfort.
Weight: xx lbs / xx oz / 400 g
Sleeping Pad Type: Closed Cell Foam
Dimensions:

US: 51″ x 20″ x 0.75″
Metric:

R-Value: 1.7
Check price: Amazon / Therm-a-Rest / REI
---
Best Budget Backpacking Packs
Similar to your tent the backpack is one place where you want to get the best cost and may spend a little more as you will use the backpack to carry EVERYTHING on your backpacking trip so making this comfortable needs to be a priority to you.
3F UL GEAR QiDian Pro UL Backpack
Finding diamonds in the rough will be the best way to maximize your ability to be as light as possible at a budget. In this tier, like with the tents above, 3F UL Gear built a wonderful backpack to help you hike at a low cost!
Weight: 1.94 lbs / 31.04 oz / 880g
Gear Capacity: 40L+16L
Weight Capacity: 26.5 lbs / 12 kg
Material: UHMWPE
Osprey Rook 65 Men / Renn 65 Women
These 2 are a perfect match for a new backpacker looking for a setup that can hold gear as they work towards getting to the lower weight ranges but that can also support a decent amount of gear.
Weight: 3.52 lbs / 56 oz / 1597 g
Gear Capacity: 65L
Weight Capacity: 40 lbs
Material: Ripstop Nylon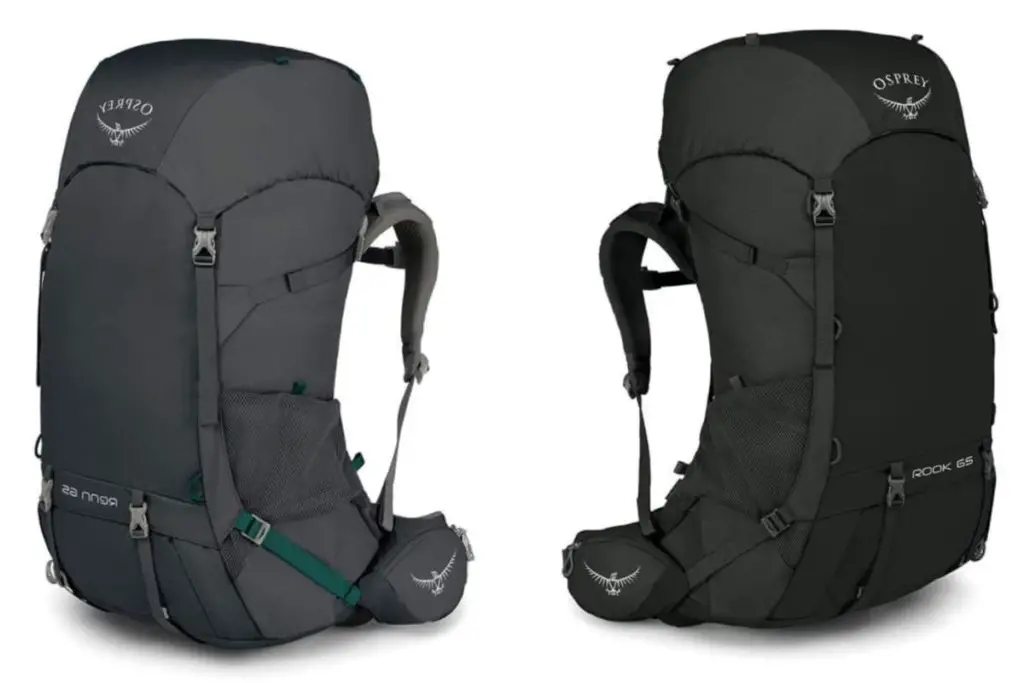 Mens Rook 65: Backcountry / REI / Amazon / Osprey
Womens Renn 65: Backcountry / REI / Moosejaw / Amazon / Osprey
Granite Gear Crown2 60L Backpack
For many, this moves out of the "budget" realm as it is much more expensive than the previous two. I added it to my list as it was my original choice and one I intended to pursue until I found the 3F UL Gear options, this is a good long term investment.
Weight: 2 lbs 3 oz / 35 oz / 907 g
Gear Capacity: 60L
Weight Capacity: 35 lbs
Material: Ripstop Nylon
Mens: Backcountry / REI / Moosejaw / Amazon
Womens: Backcountry / Amazon
---
BEST BUDGET BACKPACKING STOVES
For stoves you can get small and simple stoves or up to the complex all in one setups like a Jetboil. While those are awesome they are definitely far more pricey and not the way many hikers will go.
BRS 3000T Stove Ultralight Backpacking Stove Titanium Camping Stove
This is one of the lightest stoves available overall as it is titanium and is cut down to just the minimal needed materials to create a cooking surface. This is what I carry in a Toaks 750ml container when I choose to cook instead of cold soak.
Weight: 25 g
Fuel Type: Canister
Fuel: isobutane-propane
Fuel Consumption: 140g Per Hour
Average boil time (for 1L of water): 2 minutes 58 seconds
MSR PocketRocket
One of the most consistent performers for a very long time and you just can't go wrong with. This is the stove that started to set the bar for minimalist stoves for people looking to cut weight from their backpacks!
Weight: 2.6 oz / 73.3 g
Fuel Type: Canister
Fuel: isobutane-propane
Fuel Consumption: Couldn't find
Average boil time (for 1L of water): 3 minutes 30 seconds
---
BEST BUDGET TREKKING POLES
While many will think that they can skimp out and just skip trekking poles they can make long distance hiking much more bearable. My wife went once without them and then I ordered 2 more sets of the Cascades below, one for her and one for my daughter!
Cascade Mountain Tech Aluminum Adjustable Trekking Poles
These are the trekking poles that I have been using for about 6 months now and while not the absolute lightest by being aluminum and cork handled they have been fabulous and allow for getting out more.
Weight: xx lbs / 10.4 oz / xx kg
Material: Aluminum
Grip: Cork
Extension Range: 26″ to 54″
TREKOLOGY Collapsible Trek-Z Cork Trekking Poles
Some hikers and backpackers like to be able to fold up and stow their trekking poles and these from TREKOLOGY are a perfect fit for this need and also feature cork handles for maximum blister safety on your hands.
Weight: xx lbs / 23 oz / xx kg
Material: Aluminum
Grip: Cork
Extension Range: 110cm to 130cm
TheFitLife Carbon Fiber Trekking Poles
Carbon fiber are the best material so you end up paying a little more for them then you would for others, this can allow for a lighter pack for only a little more expenditure and may be the right choice to drop pack weight.
Weight: xx lbs / xx oz / xx kg
Material: Carbon Fiber
Grip: Cork
Extension Range: 24″ (62 cm) to 53″ (135 cm)
---
BEST BUDGET BACKPACKING WATER FILTER
While there is water options on many trails that "may" me safe I would always recommend bringing a water filter. This allows you to get water from nearly any source that you find on the trail and could save your life.
Sawyer Products Squeeze Water Filtration System
I always favor the Sawyer Squeeze as the others tend to get the filters mucked up and I haven't had this issue on the original. Sawyer does also offer a mini and a micro for those looking for something smaller.
Weight: 2 oz / 57 g
Filter Type: Squeeze
Filter Membrane: Hollow-Fiber Membrane
Katadyn BeFree 1.0L Water Filter
With a more open filter this is able to filter water faster than almost all other personal carriable filters. Unlike the Sawyer this water filter doesn't need to be backflushed to allow it to function you can just shake to clear.
Weight: 2.3 oz / 63 kg
Filter Type: Squeeze
Filter Membrane: Hollow-Fiber Membrane
---
BEST BUDGET HEADLAMP FOR BACKPACKING
For headlamps you can find cheap ones which use batteries but for me and most you are not wanting to carry extra batteries as you more than likely hold a battery pack for your phone and GPS.
The below suggestions will allow you to charge from a battery pack instead of extra batteries and keep you able to see at night in all circumstances.
Nitecore NU25 360 Lumen Triple Output
This has been a favorite choice of mine for late night hiking or if you need an emergency trip to the outdoors because nature called. Inexpensive but can produce very high lighting and is easy to recharge with my battery pack!
Weight: 1.9 oz / xx kg
Bulb Type: LED
Max Light Output: 360 Lumen
Night Mode: Red Light
USB Rechargeable: Yes
Foxelli USB Rechargeable Headlamp Flashlight
A little bit less expensive version with very similar features but is a solid buy for those who want night site and are willing to cut a cost here for a minor amount of weight.
Weight: 2.4 oz / xx kg
Bulb Type: LED
Max Light Output: 160 Lumen
Night Mode: Red Light
USB Rechargeable: Yes
---
Still Need Other Cheap Gear or Sales?
While I covered a large selection of main gear you will need more items like clothes, bags, and the other necessary little things to complete a full backpack.
If you need a place to look for more gear check out the following stores:
Important Factors to Manage Finding the Best Options for the Best Cheap Backpacking Gear
When you are trying to get good quality backpacking gear you need it to fulfill a couple key needs: price, weight, durability, and comfort. Typically when you look at budget gear you are going to find something that will fit 2-3 of these and one may be lacking.
This doesn't mean you can't find those diamonds in the rough that are able to be close to 3-4 of these key needs and you should always spring on one of these unicorns.
That being said as a family man I don't have large volumes of money I can freely spend to get the newest $500-$800 tent or backpack, like many of you I have to make good choices and upgrade slowly over time.
What you should do is figure out what you can live with and without as it will ensure you choose the right gear that will give you enjoyment on your trips out into nature.
Price
For everyone who runs on a budget the price is one of the keys on every decision you make on anything, whether hiking and backpacking or your other needs.
This doesn't mean that this gear will be of worse quality or that this price means that it can't perform well, many times the difference is in the material used.
Additionally, just because a piece of gear is more expensive doesn't necessarily make it high performing or that it is of higher quality, it just means they charge more and that people will pay it.
What you want to know before you begin is what your overall budget is, how much do you have to spend on your gear and do you need it by a set time?
If you need it right now then you will need to make decisions on which will get the majority of the budget, whereas if you can buy stuff every two weeks or monthly you may be able to spend a little bit more on each piece of gear.
There is some core essentials that you can't skip which are below:
Big Four ( Tent, Backpack, Sleeping Bag and Sleeping Pad)
Stove
Water Filter
Headlamp
Trekking Poles
This is about as minimal as you can go and still be safe, warm, hydrated, and overall maintain a level of comfort to your backpacking trip.
Weight
If you are looking for longer thru-hikes where you travel on a trail from one side to the other each pound you carry adds up over time. So on longer backpacking trips what you really want to do is optimize your weight carried to give you a solid chance at successful completion.
Meanwhile if you are looking at shorter hikes where it would be 1-3 days then weight may not be a huge factor in your gear decisions as it won't stay on your back continually over months.
All of the guidelines involving backpacking list out that your total weight shouldn't be over 20% of your bodyweight, I would say that this is where your line will be as to comfort.
The lighter weight gear you purchase the more your feet and body will love you later. Its the difference between being at the campground and super sore to at the campground relaxing to be prepared to start again tomorrow.
Comfort
When you are out on the trail you will need to find out how to sleep and live away from your bed and creature comforts that you have come to expect.
You need to choose the best gear for you that will fit you well and feels good when you are out moving around and getting dirty and grimy.
This will extend from your backpack and how it fits your body to your sleep system and whether you need a 4″ inflatable pad or if you could get away with a super lightweight foam close cell pad.
You want to make sure you are fully comfortable which helps you to recover from each day of working hard.
Durability
Everyone wants the stuff they buy to last, I've never met anyone who was upset with their purchases lasting too long, the same goes for your backpacking gear.
You are investing in yourself and in a promise to get outside and when you get outside that it will last you on your backpacking trip and not fail part way through.
With newer materials like Dyneema, SilNylon, and many newer fabrics you have a better chance at what you purchasing being able to last you in the long run.
Final Thoughts on Ultralight Backpacking Gear on a Budget
In the end I really want you to get the right gear to get out and enjoy the outdoors far more than you have before, we need this as a way to recenter ourselves.
Many find a sense of clarity when they get out on the trail and get away from the noise of civilization and it forces you to depend on yourself more and develop additional skills.