As an Amazon Associate I earn from qualifying purchases. Some of the links on this website may link to vendors which are "affiliate links". If you click on a link I may receive a commission.
If you are looking for a high quality ultralight sleeping pad then in most cases you are going to spend a decent amount of money. This is why I love the Outdoorsman Lab ultralight sleeping pad as this company decided to create a unique product for a gap in the market.
The company, OutdoorsmanLab, approach making goods from a standpoint of value to cost, not from how to make you pay the most possible. This is why I have 3 of these pads now that I use for family trips!
[amazon box="B01LZWW2FD" template="horizontal"]
Here's a Rundown of what we'll provide in this Outdoorsman Lab Ultralight Sleeping Pad Review:
First we'll share the features and benefits that you'll find useful
Next, we'll take a look at the drawbacks you might need to know about
Then, we'll tell you a bit about the OutdoorsMan Lab company
And finally we'll provide a sampling of actual customer and Independent reviews to give you better insight into the product.
Sound good? Let's get started!
Features and Benefits of the OutdoorsmanLab Ultralight Sleeping Pad
ULTRA-LIGHTWEIGHT SLEEPING PAD: This pad weighs only 16 ounces making it perfect for backpacking, hiking, and camping.
Generously Large – 73"x21.6"x2.2" sleeping bag pad fits all types of single bags.
Inflates/Deflates Quickly – Also rolls up easily to a compact, space saving 8"x3"x3".
PATENTED CAMPING PAD TECHNOLOGY: Our camping mat has a patented design. The individual and interconnected smooth air cells self-adjust to conform to the shape of your body providing you with optimal sleep comfort, support, and warmth (R-value 2.2) for four- season use.
BUILT TO LAST: Our durable air mattress is made of lightweight, flexible, abrasion-resistant nylon. The high-quality material used for our sleeping mat is water resistant and rip resistant ensuring you a stress-free, comfortable sleep anywhere in the great outdoors
EASY TO INFLATE & DEFLATE: Our easy-to-use air valve allows for quick inflation with just 10-15 breathes. A couple of extra breathes provides additional firmness and support. Our camping sleeping pad deflates in seconds and rolls up to a compact size to easily fit in you backpack.
OUTDOORSMAN LAB: offers lightweight, compact camping and backpacking gear such as sleeping bags and pads for adults and kids. We stand by our quality and everlasting durability. We strive to equip you with the finest camping and hiking accessories – wherever your journey takes you.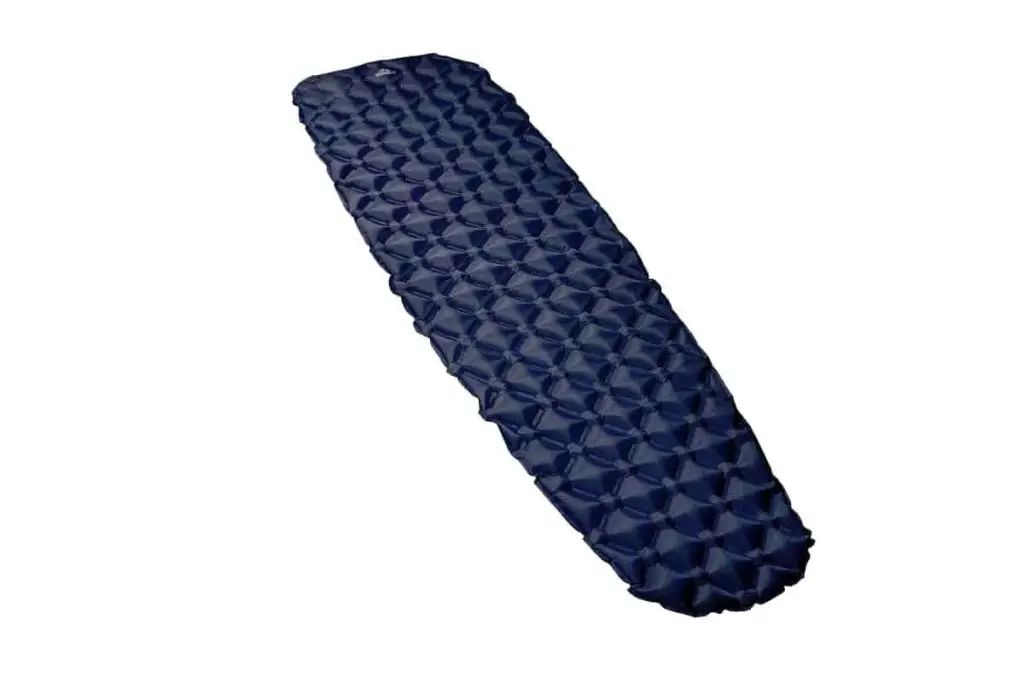 [lasso ref="outdoorsmanlab-ultralight-sleeping-pad-link" id="2108″ rel="outdoorsmanlab-ultralight-sleeping-pad-link" link_id="6169″]
Special Features (Pros) of the OutdoorsmanLab Ultralight Sleeping Pad
Price – This was brought up numerous times across all the reviews and sites I checked. It performs well against other sleeping pads which are much more expensive.
Size And Weight – In the same area of cost most pads don't provide the same small packed size and weight. These both matter on longer hikes as each pound adds up over longer distances making it a nice purchase for budget ultralight packers.
Ease of Use – Inflation port is sealed very well and not much reports of leaking. The inflation port is double sealed and the inner-flap keeps the air inside sealed after each breath you blow into it.
Drawbacks (Cons) for the OutdoorsmanLab Ultralight Sleeping Pad

Narrow Pad Width – Many people said they had some issues with the pad not being wide enough for them to fit comfortably.
Noisy – Many have spoken about the pads making noise when moving around.
Video: OutdoorsmanLab Ultralight Sleeping Pad
---
[lasso ref="outdoorsmanlab-ultralight-sleeping-pad-link" id="2108″ rel="outdoorsmanlab-ultralight-sleeping-pad-link" link_id="6169″]
About the OutdoorsmanLab Company
OutdoorsmanLab is founded with a scientific spirit and a lofty mission: to offer innovative, well-made, and high performance outdoor gear at a revolutionary price.
They work harder and smarter to craft innovative designs, select high quality materials, and engage customers directly by circumventing traditional channels so you can enjoy exceptional gear at a fraction of the going price.
OutdoorsmanLab Ultralight Sleeping Pad Reviews
Looking at the features and benefits is great, but taking a look at what real-and-actual customers have to say about a product offers a deeper dive of insight. Here we've curated reviews that reflect the OutdoorsmanLab Ultralight Sleeping Pad, providing feedback from product users and reviewers on independent review sites as well as on Amazon.
Independent Reviews and Recommendations
For the money, the OutdoorsmanLab Ultralight delivers a comfortable night's sleep without weighing you down. It feels softer and packs down smaller than the Therm-a-Rest Z-lite Sol and the Exped Hypersleep Winter, making it a great level up from a foam pad and a good option for summertime backpacking trips. 

Read More…
---
When we're looking for camping gear, we all want the best. Of course, with that being said, we don't want to completely empty our piggy banks either. But you don't have to spend a lot of money in order to have good-quality gear. The OutdoorsmanLab Ultralight Sleeping Pad is a great example affordability and quality all put together. 

Read More…
---
[lasso ref="outdoorsmanlab-ultralight-sleeping-pad-link" id="2108″ rel="outdoorsmanlab-ultralight-sleeping-pad-link" link_id="6169″]
What Amazon Customers Have to Say About Outdoorsman Lab Ultralight Sleeping Pad
I will assure anyone interested in a cheaper alternative for a sleeping pad, that I just started camping avidly a few months ago and this pad has been nothing but awesome for me and I'm a college student so with my super tight budget I opted to use this as my bed. It's better than the floor and in my opinion it's pretty damn comfy. I hope this company comes out with more affordable gear.
---
This thing is incredible! I'm 6'2 and 220 and had one of the best night's sleep on an ultralight pad I've ever had.

The valve design is epic. It has a one way large mouth valve that fills up quickly and doesn't leak at all in between breaths. Deflating it is as easy and popping your finger in there and squeezing out the air. I got it to pack right back down to the same size it came in.
---
Great bang for your buck. Inflates with about 15 breaths. Comfortable on the ground. Shields you from feeling every little leaf and twig under you. Obviously not best for very cold weather camping if you're needing this to help insulate you from cold ground. But for basic camping and down to about 45-50 degrees it works.
---
[lasso ref="outdoorsmanlab-ultralight-sleeping-pad-link" id="2108″ rel="outdoorsmanlab-ultralight-sleeping-pad-link" link_id="6169″]
Final Thoughts on the Outdoorsman Lab Ultralight Sleeping Pad
I was so interested in this product I bought it for my backyard camping with my daughter, it performed so well that I bought on for my wife and my daughter also. The Outdoorsman Lab ultralight sleeping pad was also an incredible deal in its price to performance also!
It has now become my go to travel companion as it has a very nice air valve to fill and empty it fast! I would love to say I could afford another "higher coolness" pad but for a reasonable person looking for a nice and fairly ultralight sleeping pad you can't go wrong!