As an Amazon Associate I earn from qualifying purchases. Some of the links on this website may link to vendors which are "affiliate links". If you click on a link I may receive a commission.
If you're looking for a company to work with, and want to know if Outdoor Vitals is a good company or just scamming people, this post will help. Here we look at why it's important to ask the hard questions before making any decision, and how they stack up in comparison to other companies.
Outdoor Vitals is a cottage company located in Utah, they provide a large assortment of gear for hikers and backpackers that range from jackets to quilts, tents, and clothing. They provide some high-quality gear at a quality cost and not the high premium of other cottage companies in the USA.
Many feel that any cottage gear company that doesn't hand stitch everything is somehow not a good company, this is incredibly sad. I have been using their gear for years now and have been happy with all the options I have purchased and they easily rival the competition or hands-down beat them.
Is Outdoor Vitals a Legit Company
They are definitely a legitimate outdoor gear business, they have an amazingly useful YouTube channel, they have a physical store and business front where people have visited in Utah and are definitely a real company.
They cater to those who are outdoor enthusiasts but are looking to grow into longer distance running and overall activewear, with their new Ventus hoodie being something that would work on the trail but also in day-to-day life.
Where is Outdoor Vitals Gear Made?
They are located in southern Utah, but where is their gear manufactured? One of the biggest things to look at in businesses today is how they treat their employees, and most companies keep it close to the chest.
This begs the question that if you're trying to find out about a company by asking them directly will they give you an accurate response or hide behind marketing speak? To get more information, you need to look at the business practices of the company.
Outdoor Vitals has a high-quality product and if they are not keeping their manufacturing in-house, where is it done? This would be an important question because one of the biggest problems that companies face today (and some don't even know) is supply chain transparency.
Here is what they have to say about it on their website:

Outdoor Vitals is committed to our unique Direct-To-Consumer business model. What this means is that you get the same quality gear for almost half the price!
They produce the designs for the gear in their headquarters in Southern Utah. Once they design it, they then ship it to you without going through retailers. This means that you get more honest pricing, along with no retail markup, and quality gear than if you went through a retailer.
Gear I Personally Own – Some Real Reviews
Over the last two years I have picked up some fabulous gear from them and in every case, it has made my trips much more enjoyable, the latest trip was getting torrential rain on the AT Approach trail with the family.
Even in driving rain, all my gear held incredibly strong and they all feel like premium gear at an affordable price for the non-Dyneema, financially sound, crowd.
In addition, they have down and synthetic sleeping bags and similar options in their other gear so for those with allergies to down they can be an amazing resource.
Stormloft Down Sleeping Bag – My Personal Review
I personally use a new 2021 StormLoft™ Down TopQuilt rated at 15°F for my backpacking quilt, super light, super compressible, and super comfortable.
I love the blue coloring and the only big downside I see from many is the lack of "options" to build a completely custom product, I get why you may be interested in that but the savings are made due to this.
To date, it has held up to the limited cold uses I have been able to use it in, since I live in Texas until I travel summer is definitely never going to require a 15-degree bag! They do offer other temperature ratings though from a 0, 15, and 30-degree option depending on your needs.
It is my choice though for my upcoming Lone Star Thru-Hike and then Ouachita Trail thru-hikes planned for this fall, it is incredibly warm when I have tested it and when paired with an insulated pad heat isn't going to be a concern.
Ultralight Budget Option
Outdoor Vitals StormLoft™ Down TopQuilt
Sleep Draft Free: The all-new shape of our StormLoft™ TopQuilts keeps you draft-free by being wider in key locations and curves tighter around your neck! This creates a natural wrap around your body without extra effort!
New Draft Collar: New to the TopQuilt is an added boxed draft collar! This removes drafts around your neck while being more comfortable and eliminating any cold areas on seams!
Regular Mummy Ultralight Sleeping Pad – My Personal Review
To go with my sleeping quilt I needed an insulated pad to help keep the majority of heat loss from the ground, as many don't realize this is really what leads to massive heat losses over time.
The mummy is a very light pad that at the same time is nearly half the price for the same performance as the other "big options" on the market. It makes a little noise but as all insulated pads use similar internal materials this is to be expected.
I can't state this enough, if you are cold sleeping on the ground it is more than likely an inefficient pad between you and the ground unless you are using a sleeping bag or quilt not even closely rated to the outside temperatures.
Shadowlight Ultralight Backpack – My Personal Review
This is the third pack I've purchased and my favorite by far my favorite, with other packs I had either plenty of internal space and no external or lots of external and no internal.
The Shadowlight 60L has the perfect blend for me, with a large internal space with access via a roll-top or side zipper for when in camp and needing quick access along with 4 side pockets and then the split large enclosures on the back.
There aren't any packs close to it and while people have some issues with the zipper they are more concerns that have yet to be shown and are for me, totally unfounded.
And as I mentioned above, in 4-5+ inches of rain in Georgia rushing down my pack (with no rain cover), and a zipper, everything in my pack was amazingly dry like not a drop fell from the sky. It was awesome.
Satu Adventure Shorts – My Personal Review
While I have bought far more important gear overall I think over the last year I may have changed my mind and feel these may have been my best purchase from OV.
The Satu shorts are a unique fabric and are stretchy and not at the same time, my favorite part about them though is their ability to hold up in the rain and dry pretty fast as Texas has some fast hard rainfall which can lead to being totally soaked.
The shorts are very comfortable over 10 hours a day of hiking on in and outs, when we spent 4 days hiking in Georgia they held up on day after day use while staying incredibly comfortable and much more dry than I expected with the weather and storms non-stop.
Ultralight LoftTek™ Adventure Jacket – My Personal Review
I used to have an REI basic puffy jacket but it was very loose-fitting and not exceedingly warm but passable. This led me into a search and there were a lot of good things about the Adventure Jacket and the LoftTek fill.
This led me again to the team at Outdoor Vitals and again they hit a home run with a nice fitting jacket that is incredibly warm and collapses very well to fit in my pack without any issues.
The LoftTek™ is the world's most realistic synthetic down to date. The fibers' loose-fill characterizes down's extreme weight to warmth ratios and compressibility, while its synthetic nature allows it to keep anyone warm in wet situations!
Ventus Active Hoodie – My Personal Review
This is my newest gear acquisition, I have bought this sight unseen due to the quality of the other gear I have purchased. It is a new hoodie that weighs in at 7oz in total weight giving me a near-perfect warmth layer without the bulk traditionally needed. 
For me, this is nice as it has a super sweet sleek design, and is perfectly suitable to use on the trail or in my day-to-day life giving me total freedom to wear it whenever wherever.
Additionally, I was interested in their video where they spoke about the build with perforated armpit vents so that the hoodie will breathe better and that the insulation was targeted not just added to everything which will keep it more even temp feel.
Newest Toy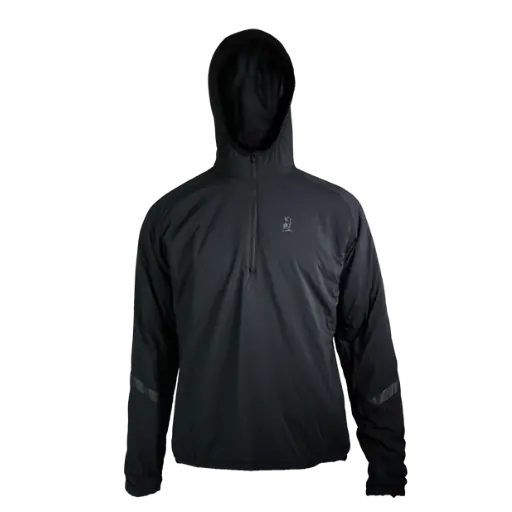 Outdoor Vitals Ventus Hoodie
World's Most Lightweight Insulated Hoodie: at just 7 oz, this hoodie is half the weight of other comparable insulated hoodies! It can do more for you while weighing less. Take the Ventus Hoodie on any trip or adventure without it taking up all your pack space or weighing you down!
Body Mapped Breathability: enabled through perforated armpit vents, targeted insulation placement, and actively breathable 3DeFX insulation. This insulation stretches with you as you move, allowing more heat to pass through when you need to vent.
Final Thoughts on Outdoor Vitals
Outdoor Vitals is a good company. They provide high-quality gear at an affordable cost and specialize in outdoor equipment for hikers and backpackers.
They have been around since xxx, so they have plenty of experience distributing their products to satisfied customers all over the world.
If you're looking for some new camping or backpacking gear, be sure to check out OutdoorVital today and find the gear that can last a long time!