As an Amazon Associate I earn from qualifying purchases. Some of the links on this website may link to vendors which are "affiliate links". If you click on a link I may receive a commission.
When is the best time to go camping? Many people love to camp during the summer months, but there are some who swear by autumn or spring. However, whichever season you choose, be sure to make preparations for extreme weather conditions.
For instance, spring and autumn require more preparation and courage. For those who are unable to brave the cold, consider spring camping as your best option.
It may be a bit chilly in the morning, but you'll have more chances of spotting wildlife.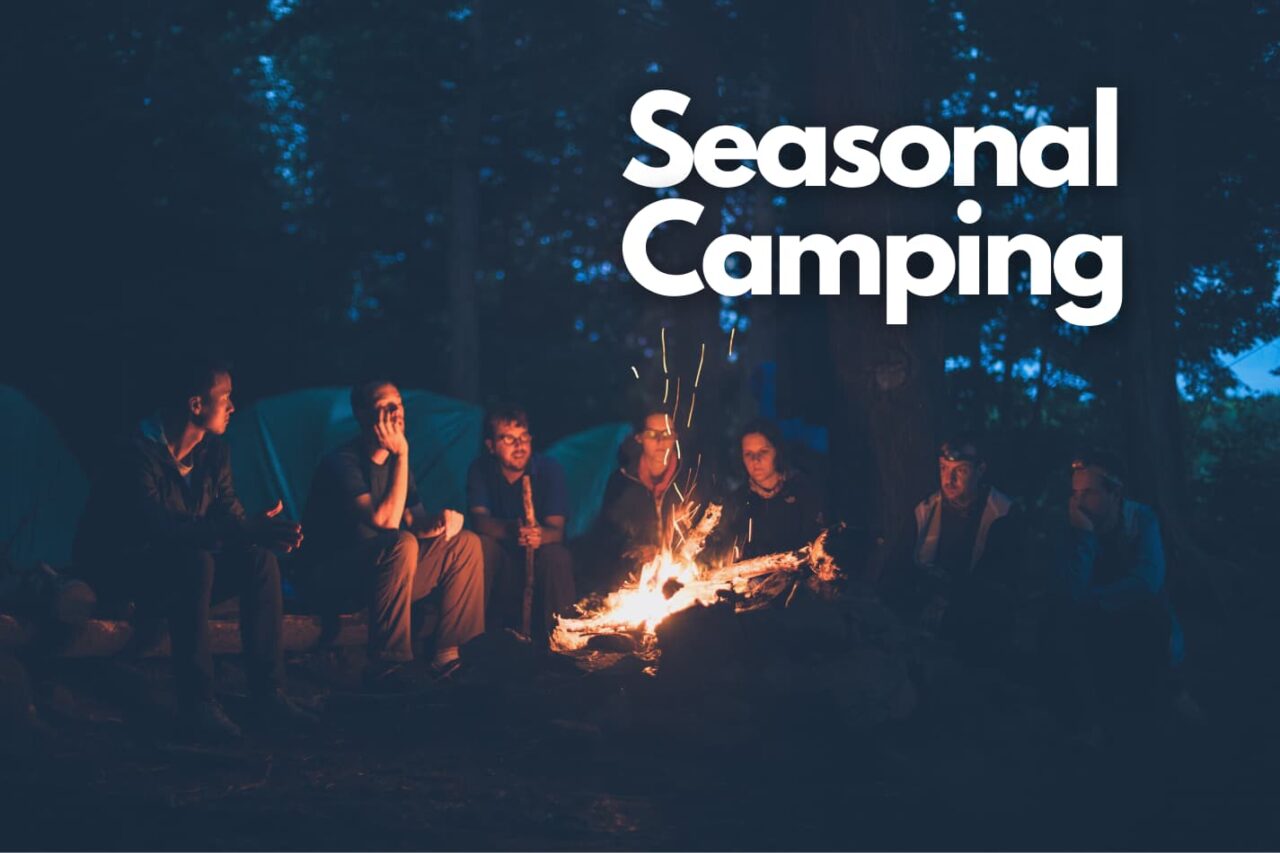 What is the best month to go camping?
While summer is arguably the best time to go camping, this is not the only consideration. If you're looking to escape city life, you may want to consider shoulder months. If you're flexible with your schedule, September is an excellent option.
However, you should be aware of the risks of stormy weather. As a result, you should plan your trip accordingly. And remember to bring extra cash for camping supplies.
If you're looking for mostly dry weather, late June to early September is the best time to go camping. The weather will be pleasant during this time, as the pre-Labor Day crowds will have dispersed.
Fall foliage is also commonly beautiful at this time. While early October may be too cold for some, it's ideal for those who love the outdoors. You'll find fewer crowds and the cost will be lower.
While camping is possible year-round, the peak season ends with the winter solstice, which occurs on December 21st in the northern hemisphere. This coincides with the drop in outdoor temperatures and the arrival of winter weather.
As a result, many campers plan one last trip and pack their camping gear for the season. But make sure you check the weather forecast before you head out! There are plenty of great places to go camping all year round!
When Do Campgrounds Typically Open?

You can set up and camp at many campgrounds year-round or only during certain seasons.
Typically, campgrounds open at the beginning of May and stay open through mid-October, although opening dates can vary by the campground.
For example, in the southern states, there is a peak camping season during the winter, but subtropical summers can make setting up camp difficult. In colder climates, campgrounds may not have all the conveniences that you need.
Alberta's province is a good example of this. Starting June 1, campgrounds across the province will only be open to Albertans. Shower facilities will remain closed, but you will find that many parks will still be open.
Since there aren't any showers in the national parks, there will be fewer cancellations, so booking ahead might be a good idea. Once your campsite is open, be sure to ask about cancellation policies.
While the opening dates of private campgrounds may vary, DEC-run campgrounds typically open a week before Memorial Day Weekend.
Last year, though, the opening dates of DEC campgrounds were staggered – 15 opened on June 15, three on June 26, and the rest on July 1. However, privately-run campgrounds may open a few days earlier or may be closed altogether.
You should plan ahead of time and make reservations well in advance.
When Does Camping Season End?
When Does camping season start? The camping season officially runs from mid-March to mid-June, when many campers are coming out of their winter hibernation.
In warm climates, the camping season is open all year round. The following is a guide to the different months for camping. You may choose the month of September if you want to take advantage of the shoulder season. But keep in mind that there is no definitive end date for camping.
The summer season generally ends in September or early May in the United States, though some areas stay open until mid-October. You can typically find warmer locations to camp during these months.
While camping in winter is still a great idea, it should only be done by those with a lot of experience. It can be hazardous in some regions, so make sure you're prepared.
Check the campground's seasonal calendar to find the best times to go.
Camping in Spring
Camping in spring can be a wonderful experience, with temperatures swinging between freezing and balmy. The trees begin to blossom, and animals start to come out of hibernation.
However, spring camping can be challenging, so it's important to prepare for all weather conditions and have realistic expectations. Here are some tips for camping in spring:
While spring weather is generally not as warm as the rest of the year, it still has plenty of potential for rain and cold temperatures. When planning your trip, be sure to bring extra clothing and bedding.
Spring is the season when all sorts of life begin to re-emerge, and this also means bugs! Try to stay away from still bodies of water, because these areas are breeding grounds for many insects.
Make sure to take these precautions to ensure you have a fun and safe camping experience in spring!
While spring is a great time to go camping, remember to be respectful of nature. Leave only footprints and do not take things like wildflowers.
There are many other benefits to camping in spring as well. So, make your spring camping trip an unforgettable experience!
Camping in Summer
If you're planning a camping trip, a few tips can make your summertime adventure a success. A sleeping bag is not a necessity in the summer, but a breathable lining will help keep you cool.
If the temperatures are exceptionally hot, you can use a silk sleeping bag liner to prevent overheating. A cot, meanwhile, allows air to circulate around you. And a fan will provide artificial cool air, so you'll sleep better.
Always check local conditions before going on a camping trip, remote camping sites can be a highlight. But with the heat comes problems and remote camping areas can be dangerous as fires sprout and move fast.
Be sure to read warnings about road closures or evacuations and stay informed.
Listed below are seven tips for keeping yourself cool when camping during the summer. Try to be flexible with your schedule. While you may want to set out a plan, remember that it's ok if unexpected events arise.
Hiking is another great way to stay cool. Hiking in the summer months can keep you cool. In some regions, higher elevations are more comfortable, while lower elevations are often hotter. If you want to see wildlife, get up early and enjoy it when it's cool.
The sun may be out, but you'll have more energy if you get outside before sunrise. And, of course, staying cool can make for a more enjoyable camping experience.
Camping in Fall
Camping in Fall is a great way to extend your outdoor activities into the cooler months. Enjoy the gorgeous fall foliage and star-filled skies by extending your outdoor adventures.
While you're at it, pack a few camping supplies so you can be prepared for any fall festival. You'll also find that many outdoor recreation activities disappear once Labor Day rolls around.
Here are a few great reasons to go camping during the fall season:
Cooler temperatures and rain make for fewer bugs.
You can much more easily go camping without a head net and bug spray, especially if you're near a lake or a meadow. Mosquito swarms have mostly passed but don't forget to bring some bug spray though in case to make your trip even more enjoyable.
As the temperatures fluctuate rapidly, it's important to pack clothing that can adjust to the changing weather. A base layer made of breathable material will keep you warm at the core, while a hooded fleece or sweater will keep you dry and comfortable.
Avoid cotton as it gets colder outside as it absorbs moisture and makes you feel cold. For your outer layers, consider investing in a lightweight, waterproof hiking boot. These two items can help keep you dry while camping in the fall.
Camping in Winter
If you're planning on camping in winter, it's a good idea to prepare yourself mentally as well as with the right equipment.
There are many hazards that you can encounter on your camping trip, and one of the worst is hypothermia, which can be fatal.
To prevent this, it's wise to test your equipment in your backyard, balcony, or provincial park before heading out. Then, when you're camping in winter, be sure to pack for survival and not to focus on the ultralight approach that will last you a few days or longer.
While camping in winter, you'll need to carry plenty of water and hydrate yourself regularly and if you need water purifying products, they don't tend to be as effective in the cold.
Lastly, you can always look to layer two sleeping pads that will keep you warmer and provide additional insulation, and you'll have more than one for emergencies or if one should fail.
Conclusion
A few factors should be taken into account when choosing a season to go camping.
One of these is the weather. While spring and summer are generally hot and dry, some campers swear by the fall.
On the other hand, those who prefer autumn and winter may want to steer clear of the summer.
The latter two have a high likelihood of snow, which can ruin your camping experience.