As an Amazon Associate I earn from qualifying purchases. Some of the links on this website may link to vendors which are "affiliate links". If you click on a link I may receive a commission.
Depending on the hiker and sometimes, unfortunately their age, a luxury item like the Helinox Chair Zero may be taken with on a thru-hike. Many chairs though are very bulky, heavy and just not something anyone would want to carry on a thru-hike or possibly even for just a section or week long hike.
I thought the same thing until I heard about the Helinox Chair Zero which is a super small and super lightweight chair which keeps my base weight down. It has started to change my mind as to bringing a chair with me, it allows me to sit anywhere I choose and not where a stump, log or rock is located.
[amazon box="B01M07GTOE" template="horizontal"]
Here's a Rundown of what we'll provide in this Helinox Chair Zero Review:
First, we'll share the features and benefits that you'll find useful
Next, we'll take a look at the drawbacks you might need to know about
Then, we'll tell you a bit about the Helinox company
And finally, we'll provide a sampling of actual customer and Independent reviews to give you better insight into the product.
Sound good? Let's get started!
Features and Benefits of the Helinox Chair Zero
Featherweight: This compact camping and backpacking chair weighs just 1.1 pounds and packs smaller than a bottle of water (measures 4 x 4 x 14 inches packed)
Durable Frame: Chair frame is constructed from advanced proprietary aluminum alloy to provide maximum strength which holds a person up to 260 pounds!
Quality Carry Bag: Seat and carry sack are constructed from durable, lightweight ripstop polyester that resists harsh weather and UV rays; material is machine washable
Fast Setup And Disassembly: Setup is incredibly fast due to a single internal bungee cord which assembles the poles. The seat sits at a height of 11 inches off the ground and leans back enough to allow for better relaxation.
Ideal For Travel: Sitting for camping, backpacking, hiking, trekking, travel, and other outdoor events is amazing in this chair allowing your butt to relax.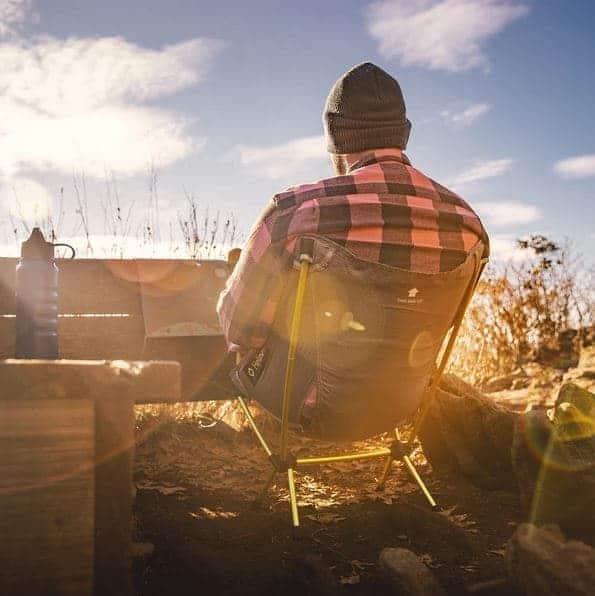 [lasso ref="helinox-chair-zero-ultralight-compact-camping-chair" id="1697″ link_id="5154″ rel="helinox-chair-zero-ultralight-compact-camping-chair"]
Special Features (Pros) of the Helinox Chair Zero
DAC TH72M ALLOY – An advanced alloy which provides maximum strength with a minimum of weight. They then prepare the alloy segments which acquire beautiful color through a 'Green Anodising' process which is better for the environment.
HIGH-STRENGTH NYLON 66 – The hubs and joining components are molded using a high-strength nylon and engineered for maximum precision which provides solid and secure sockets for the alloy sections.
QUALITY FABRICS – Premium fabrics are combined with reinforcing panels and durable stitching – producing seats, beds & carry bags that perform over many years of regular use.
Drawbacks (Cons) for the Helinox Chair Zero

Seat Height – Many people have issues getting up from the 11 inch high seat, though not too low for some with leg and knee issues they may need to test out what this height is like prior to making the purchase.
Wide Hips – Women reported that when they had wide hips it was difficult to get into the seat and out of the seat. If you find yourself to have wider hips then you may want to look around.
Video: Helinox Chair Zero
[lasso ref="helinox-chair-zero-ultralight-compact-camping-chair" id="1697″ link_id="5154″ rel="helinox-chair-zero-ultralight-compact-camping-chair"]
About the Helinox Company
Helinox is a company which specializes in lightweight aluminum poles and their construction and use. They are always looking to create the lightest, most durable and useful equipment.
When the world's best tent makers want lightweight alloy poles, there's only one place they go: the DAC company. DAC has spent many years developing innovative new techniques required to produce high-strength lightweight alloy tubing. It was from this long history of design & innovation that Helinox was born.

Helinox About Us
Helinox Awards:
Red Dot Design Awards:
LBB135 Walking Pole, winner 2016
Lite Cot, winner 2015 'Best of the Best'
Swivel Chair, winner 2015
Camp Chair, winner 2015
Table One, winner 2014
Ground Chair, winner 2014
Chair One, winner 2013
ISPO Awards:
Ground Chair, winner 2014/2015
Chair One, winner 2013
OutDoor Industry Awards:
Chair Zero, Gold Award winner 2017
Helinox Chair Zero Reviews
Looking at the features and benefits is great, but taking a look at what real-and-actual customers have to say about a product offers a deeper dive of insight. Here we've curated reviews that reflect the Helinox Chair Zero, providing feedback from product users and reviewers on independent review sites as well as on Amazon.
Independent Reviews and Recommendations
Outdoor Gear Lab
The Helinox Chair Zero stood out to our testing team before we even had it in our hands, and once we did, we barely knew we were holding it! As the lightest chair in this review, even compared to the minimalist taco-style products, the Chair Zero does have some…

Read More…
What Customers Have to Say About Helinox Chair Zero
I have taken this chair on a half dozen trips. Some friends will always argue it's not worth the weight. I have found this to be totally worth the weight for overnight or even 2 night trips where you are not even taking that much food. For longer trips I'd have to reconsider. I have had friends 6 ft tall sit in it and love it despite it's weird small size it is totally comfortable. 

Read More…
Reviews From Helinox Customers
I've had a Chair Zero for just over 2 years and it's been quite a few camping/backpacking trips. Anyway on my last outing the cross piece broke where it was attached to the plastic connection piece. I sent it in a couple of weeks ago and the replacement arrived today. It looks like they redesigned/strengthened that connection. 

Read More…
Rated consistently with good reviews on Amazon, the Helinox Chair Zero camp chair comes highly recommended.
This chair is extremely light-weight and packs very small. I already owned the Chair One, and I decided to try the Chair Zero. When packed, the Chair One feels huge compared to the Chair Zero, and that's saying something because the Chair One already packs small (I have taken the Chair One backpacking). The Chair Zero also feels much lighter than the Chair One.
I never thought I'd be hiking 13,000 feet trails with a chair in tow. That extra 19 ounces is so worth it at the end of the day. I'm 6'4″ incidentally and can sit quite comfortably for long periods. I can even slouch a bit. 
[lasso ref="helinox-chair-zero-ultralight-compact-camping-chair" id="1697″ link_id="5154″ rel="helinox-chair-zero-ultralight-compact-camping-chair"]
Final Thoughts on the Helinox Chair Zero
If you are searching for a chair to take with you on a long distance hike or any hike in general this is the choice for you. It is amazingly light and easy to carry along with having a long 5 year manufacturers warranty.
If you are having any issues with sitting on the ground at home then this needs to be a no brainer as you need to have a seat and you need to have one which won't add dramatically to your pack weight.