As an Amazon Associate I earn from qualifying purchases. Some of the links on this website may link to vendors which are "affiliate links". If you click on a link I may receive a commission.
When backpacking and spending any significant time sleeping in a campsite you will start to realize how valuable a pillow can be to comfort and better night sleep. Typically this has been difficult to do though as most pillows were very bulky and added significant weight to your pack for an item you used only while sleeping.
Well, the Exped Air Pillow manages to take care of both of these needs for you as it is a super small and super light, inflatable air pillow. It works well for side sleepers and personally I feel it is the best pillow for side sleepers. This makes it ideal for carrying as a somewhat luxury item while helping your sleep quality improve!
[lasso ref="exped-air-pillow-ul-camping-pillow" id="1645″ link_id="5103″ rel="exped-air-pillow-ul-camping-pillow"]
Here's a rundown of what we'll provide in this Exped Air Pillow Review
First we'll share the features and benefits that you'll find useful for air pillow camping
Next, we'll take a look at the drawbacks you might need to know about
Then, we'll tell you a bit about the Exped company
And finally we'll provide a sampling of actual customer and Independent reviews to give you better insight into the product.
Sound good? Let's get started!
Features and Benefits of the Exped Air Pillow
BACKCOUNTRY COMFORT – An essential component to your backcountry sleep system, the Air Pillow affords backpackers sleeping luxury without hogging up pack space; Stick in in your back pocket and you'll hardly notice it's there
CUSTOM SUPPORT – Designed for back sleepers, side sleepers, and any-way sleepers, the Air Pillow features anatomical baffling and an asymmetrical shape for head and neck support in any position
FEATHERLIGHT (L) – Weighing a miniscule 3 oz, the Air Pillow is one of the lightest-weight, quality camping pillows on the market; Large inflated size: 18.1 x 11.8 x 4.3 in
EASY INFLATION – The Air Pillow features a sturdy flat valve for swift inflation and deflation; It blows up in about two easy breaths and deflates in seconds
BELLS AND WHISTLES – Tricot surface is smooth to the touch; Small size fits neatly in the hood of your sleeping bag; All sizes feature loops for securing it to your pad; Stuffsack included All materials are Oeko-Tex 100 Certified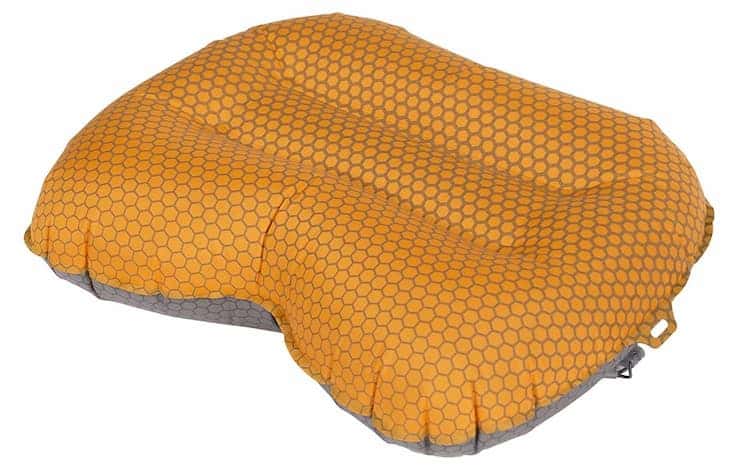 Special Features (Pros) of the Exped Air Pillow
Amazingly Lightweight – This is BY FAR the lightest and most comfortable pillow you will find for backpacking while using an air pillow for sleeping.
Packable – It packs down to just about nothing but once inflated it is a good size. Making it simple to fit in your backpack.
Drawbacks (Cons) for the Exped Air Pillow
Single Valve Build – This pillow versus the older version has only a single valve to manage inflation and deflation.
Comfort – Many people voiced issues with the air inflated pillow that they would slide off or sit at an irregular angle.
Video: Exped Air Pillow

Video Credit: Exped – Click Here to watch directly on YouTube
About the Exped Company
Since 1997, Exped's high-performance, award-winning outdoor gear has been empowering users in pursuit of unrestricted outdoor experiences – whether in nearby forests, tropical jungles, remote mountain peaks, or challenging waters.
With the philosophy of "less is more," every feature in their gear is one-hundred percent in tune with its function in the outdoors.
Exped Air Pillow Reviews
Looking at the features and benefits is great, but taking a look at what real-and-actual customers have to say about a product offers a deeper dive of insight. Here we've curated reviews that reflect the Exped Air Pillow, providing feedback from product users and reviewers on independent review sites as well as on Amazon.
Independent Reviews and Recommendations
OutdoorGearLab
On paper, the Exped Air inspires awe. Tiny and lightweight, we couldn't wait to give it a go. Compared to the other pillows in this review, it is the most lightweight and packs to the smallest volume.

Read More…
SectionHiker.Com
It's really improved my sleep while helping to keep my snoring volume level down because it keeps me on my side all night long.  Weighing just 2.6 ounces, it's a little luxury that makes a big difference in my comfort and has quickly gained a permanent place on my gear list

Read More…
What Amazon Customers Have to Say About Exped Air Pillow
Rated year-after-year consistently with good reviews on Amazon, this camp pillow comes highly recommended.
I love this pillow. My old one had over 100 days camping on it until I accidentally through it in the dryer. The heat caused the layers to start to separate. It slowly stopped holding air over time. But the damn thing lasted the last 15 days of my trip.
Nothing came close to this one in terms of value, comfort, weight, and packing size. So here I am buying a second one of these.
This is the second pillow I've purchased. I have one for me that I have had for over seven years. It's comfy, insulated, and can be easily adjusted for comfort (firm or soft). If you're an avid camper/hiker, this is for you!
Final Thoughts on the Exped Air Pillow
For the longest time, I thought I could just use a stuff sack with extra clothes as a pillow, and while it is passable I frequently would wake with soreness in my neck from sitting in odd positions. I had heard from so many people on YouTube who said they were the same until they purchased a pillow and would never go back, boy they were right!
A pillow is now something that will be in my pack no matter the weight as with quality sleep I function so much better than my exhausted poor slept self. Giving up a few ounces for better sleep quality is something many people should try at least on a week-long trip to prove the benefits to how you feel 5 days in versus without, I bet you'll agree and make it a permanent part of your backpack.
Other Bestselling Hiking Pillows on Amazon
[amazon bestseller="ul backpacking pillow" items="3″ template="table"]