As an Amazon Associate I earn from qualifying purchases. Some of the links on this website may link to vendors which are "affiliate links". If you click on a link I may receive a commission.
Those who take short trips frequently need portable cookware to prepare their small meals while traveling. For this, the cooking gear they choose has to fit right in, based on their priorities when they are on the go. Hence, backpackers need to decide what kind of cooking gear to purchase that covers their basic food needs.
Aluminum and Titanium made cookware are the two among the preferred cookware. While Aluminum cooking gear is cheaper and is known to cook evenly, Titanium cookware is lightweight yet strong and durable. The differences are thin, and if you are a traveler, it is better you choose from among the two, as both have advantages of their own. 
If you need to decide which cooking gear to buy for an upcoming hiking trip, I suggest you give this article a read. It contains the basics you need to know regarding backpacking titanium vs aluminum cookware.
It will help you differentiate between the two and decide which is the most convenient for you to take with you on a hike.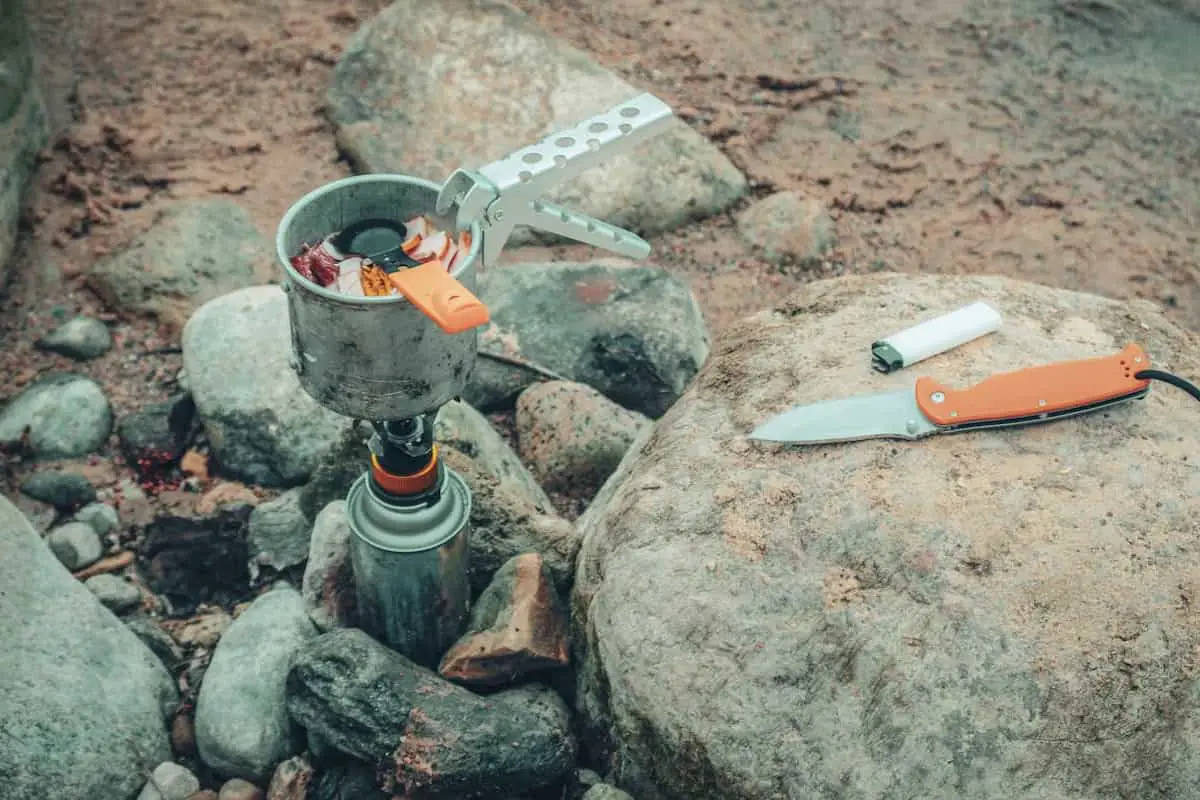 Aluminum Cooking Gear: Advantages and Disadvantages
Aluminum cooking pots are a great preference because of their lightweight and affordability. With the ability to heat evenly, Aluminum cooking pots give the perfect meal even if it is not just for an individual but for a group.
You can use the cookware to boil water, as well as prepare small meals during your trips. Aluminum cookware holds on to the heat for longer to give you a warm meal.
The best kinds are the ones that have a non-stick finish. That ensures the even distribution of heat when you are cooking. The even distribution is a good feature to keep in mind as during trips you do not want to spend more time cooking and worrying about your food not being cooked enough.
In aluminum cookware, you can cook meals made with fresh food components. And even foods that are a little sensitive regarding the temperature like- pancakes, French toast, or even eggs.
One more thing to know is how evenly distributed cooking gear helps you save fuel. You do not have to keep the heat up for longer to heat everything in the pot.

While packing for your hikes you can pack limited fuel.  That way, you are saving up space and keeping it light during hiking. As hiking requires a lot of walking, heavy cookware might tire you down faster.
If the aluminum cookware you are buying has a hard-anodized burnish, then know that the pot is very durable. Backpackers prefer Aluminum cookware with hard-anodized coating as they are long-lasting- which is a great feature to have as trips might be harsh.
Less durable cookware will give you the hassle of extra safe packaging. 
However, even with a non-sticky finish, and while evenly distributing heat, the aluminum non-sticky pot will also wear out faster if used roughly.
Traveling demands rough use, but non-sticky pots are less likely to be able to endure that. A proper smooth wash is necessary, and during traveling, it may be hard to wash the pots carefully, eventually resulting in faster deterioration.
Another problem is, aluminum cooking pots take time to cool down. It is a big problem if you are in a rush and just need to take a short break for a quick meal. If the pot does not cool faster, you will have to wait to pack it back.
To sum it all up for your convenience, here are the advantages and disadvantages of buying aluminum cookware-
| | |
| --- | --- |
| Advantages | Disadvantages |
| Light to carry | Takes time to cool down, slowing down the trip rush |
| Affordable | Comparatively heavier than titanium |
| Available in non-sticky coating | Possibility to break down if exhibited to acidic foods |
| Gives an even heat distribution even for sensitive foods | Possibility of getting scratches and dents |
| Can be used to cook for a group | |
| More durable if has a hard-anodized coating | |
| Good for stewing foods | |
| It will save you fuel | |
Titanium Cooking Gear: Advantages and Disadvantages
When thinking about saving weight for backpacking, titanium cookware is the best preference. This cookware is known to be resistant to corrosion as well. That means titanium cooking gears are durable!
Titanium pots heat evenly. They will allow you to heat all the food in your pot well without worrying about extra time cooking. If you are in a freezing environment where you might get dehydrated constantly, having a titanium pot will help you boil water faster. You can also reheat your frozen food efficiently. 
In titanium cookware, you can make soup with tons of ingredients that will thoroughly get cooked and will not stay raw. That means you do not have to balance out and worry about the cookware not being able to endure. It is like the proper cookware when you are on the go for a cooking meal like you do back at home.
Even with thin-walled pots, titanium cookware is durable. While efficiently giving you the experience of healthy, delicious meals during traveling, it will save you fuel due to fast even heating.
They also cool down quickly, which means your plans during trips will not get disrupted due to hot cookware taking time to cool down.
For light walking and low weight-carrying, titanium cookware will not result in you having trouble when packed in your bag.
However, titanium cook pots are known to be mostly best for boil-only foods. Titanium heats pretty quickly even without effort thus is not good for slow-cooked meals or tender frying. The heat surrounds well easily, thus it needs attention to avoid burning of your meals.
Besides the great features, one of the biggest issues is their price. Titanium cookware is costly compared to other cookware. Might not be budget-friendly for you if you have other cost concerns and do not want to spend unnecessarily behind a cooking pot.
To sum it all up for your convenience, here are the advantages and disadvantages of buying titanium cookware-
| | |
| --- | --- |
| Advantages | Disadvantages |
| Lightweight | Costly |
| Extremely durable even with a thin coat | Might not be ideal for complex meals |
| Heats up food very fast | Titanium cookware adjusts best for foods that can be made by boiling |
| Heats evenly | Needs constant supervision when cooking to avoid burning food as it heats very fast |
| Cools down quicker | |
| It will save you fuel due to the less time it needs for heating food | |
Which Should You Choose- Aluminum or Titanium?
When choosing between backpacking cookware titanium vs aluminum, both are somewhat similar. Aluminum however has more advantages compared to titanium. It is affordable, and can cook sensitive meals.
Titanium on the other hand cools faster compared to aluminum and cannot help you cook heat sensitive meals. But, titanium cookware allows you a lightweight traveling experience.
Titanium might not be a good option if you want to fry an egg, but will be great to boil one. Aluminum allows you to cook slow cooking meals better but might take more time when making meals with many ingredients, unlike titanium cookware.
In terms of durability, titanium cooking pots are long-lasting. But aluminum is not as costly as titanium cookware and in that case, has acceptable durability.
So, the choice is yours when choosing which to get. They both have some advantages and disadvantages. Which is best for you only depends on your priorities and the sort of food you plan to have on your trip.
Conclusion
For safe and free movement during your hiking trips, you have to decide what essentials you need in your bag. Packing cookware that cooks your meals well and fits best for hiking is as important as choosing a spot for hiking.
This article gives you the chance to assess and make that decision between backpacking titanium vs aluminum cookware. Best of luck on your backpacking trip. Hope you have a wonderful time traversing the outdoors.