As an Amazon Associate I earn from qualifying purchases. Some of the links on this website may link to vendors which are "affiliate links". If you click on a link I may receive a commission.
Anyone who is looking to accomplish long-distance hikes, like the triple crown big three, needs to have a nice and roomy tent. Preferably one which doesn't also break the bank and cost a large sum as it will be roughed up and abused over the months.
This is when I came across the 3F UL Gear Lanshan 2 tent, this tent is also known as a Flames Creed and Meir UL 2 Person Tent. It is very similar to or almost a clone of the Zpacks Duplex but made from a sil-nylon instead of from Dyneema.
This change in fabric brings the price down from nearly $600 for a ZPacks Duplex to under $200 for the 3F UL Gear Lanshan 2 tent. This makes it far more cost-effective for people like me who need to build out a good pack but at a decent budget price.
3F UL Gear Lanshan 2
Budget Ultralight Trekking Pole Tent
If you're looking for a good value, well-made, lightweight (1.15 kg / 2.5 lb) tent in the <$200 price range, you would be hard-pressed to find a better value.
Product Benefits:
Here's a rundown of what we aim to provide in our 3F UL Gear Lanshan 2 tent review:
First, we will share the features and benefits that you'll find useful
Next, we will take a look at any drawbacks you might need to know about
Then, we'll tell you a bit about the 3F UL Gear company
And will finish up by providing a sampling of actual customer and Independent reviews to give you better insight into the product
Sound good? Let's get started!
Features and Benefits of the 3F UL Gear Lanshan 2 Tent
Ultralight & Portable Tent – The tent package weight comes in at only 2.8lbs while packed small into a 16.9*5.5 inch package, so you can carry it easily on backpacking or camping trips.
Waterproof Tent – The tent fly is made of 15D silicon-coated nylon which is waterproof and lightweight along with being water-repellent with a seam-taped rainfly and bathtub floor.
Easy to Set Up – You must have trekking poles (I prefer these cork poles) to use with the tent. Easy add in/take out inner tent for versatile use
2 Doors with Vestibules – Easy to get into the tent and plenty of space to keep your pack/shoes under the doors; YKK zippers; 2-person tent with 2 lamp hangers and 2 pockets inside
Versatile Hiking Tent – Can be set up as a tarp-tent without bathtub and mesh walls, and also be set up as a bug mesh stargazer without rainfly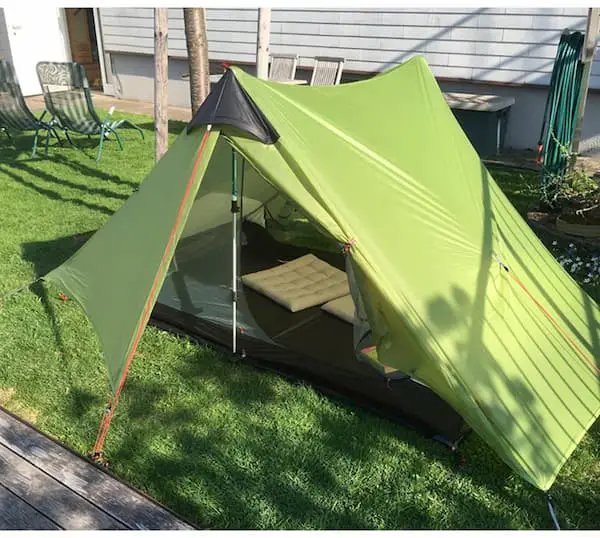 Special Features (Pros) of the 3F UL Gear Lanshan 2 Tent

Versatile, Ultralight Shelter – Finding a tent that is built for longer hikes is a difficult thing, finding one which also has a good price point is nearly impossible! The tent inner can be setup alone without the fly for when only good weather is expected to drastically drop the weight.
Works For Taller People – This may not pertain to many of you but I have friends who at 6′ can't fund many options for tents, they were able to fit in this one without hitting the head and foot walls. 
Setup Order For Rainy Days – This tent can be setup rainfly first so you can keep your tent itself dry as much as possible. Then you can setup the inner from within the dry space inside.
High Bathtub Floor – The bathtub reaches up pretty decently on this 3 season version of the tent, approximately 5″ from my setups.
Already Seam Sealed and Reinforced – The tent has reinforced patches at the floor corners, tie down points & trekking pole insertion point in roof along with seam sealer down to the thread areas.
Drawbacks (Cons) for the 3F UL Gear Lanshan 2 Tent
Trekking Pole Tent – This tent requires 2 trekking poles if you break a pole it will impact your tent setup (Zpacks Duplex poles have been reported as viable trekking pole replacements)
Groundsheet Investment – 20D floor while strong would probably be best suited with a groundsheet to better protect it from breaking down.
Tent Width Requires Good Camping Space – The relatively large size of the 3F UL Gear Lanshan 2 tent restricts where it can be pitched and requires good proper setup.
Video: 3F UL Gear Lanshan 2 Tent
---
---
About the 3F UL Gear Company
Their workshop is located in Xiamen, which is a beautiful port city on the east coast of China. It's an ideal tourist destination with abundant tourist attractions such as islands, mountains, temples, and parks.
They love this city is not only because this is a beautiful place, but the main reason is also that they have family here and a bunch of guys gathered together who shared enthusiasm about outdoor gear.
They have advanced modern textile equipment, use computer modeling, laser techniques, and hot-fit enforcement to made tents and backpacks. Their craftsmen have worked in sewing for over 20 years.
3F UL Gear Lanshan 2 Tent Reviews
Looking at the features and benefits is great, but taking a look at what real-and-actual customers have to say about a product offers a deeper dive of insight.
Here we've curated reviews that reflect the 3F UL Gear Lanshan 2 Tent, providing feedback from product users and reviewers on independent review sites as well as on Amazon.
Independent Reviews and Recommendations for the 3F UL Gear Lanshan 2 Tent
The Lanshan has built up a good reputation in the last few years, and it's easy to see why. It's generous with space and storage, and solid enough to breeze through typical 3-season conditions. It's adaptable, and while the weight is nothing special, modders can undoubtedly push the limits on this. 

Read More
---
I love it. It might be a knock-off design but they've done a great job, especially considering the price. Unless you are over 6 feet tall, if you are considering it, stop faffing and just buy this tent. You'll have to spend a hell of a lot more to get anything better.

Read More
---
I spent hours on YouTube looking at review after review before finally clicking "buy now".  I had no idea how long it would take to get, but my little package finally arrived nearly 3 weeks after I hit the buy button, but it was worth the wait (or weight!).

Read More
What Amazon Customers Have to Say About the 3F UL Gear Lanshan 2 Tent
Many customers reported how this tent exceeded all their expectations and that they only wish it came with a footprint included.
---
Others were very happy with the fact that this is one of the few options available for a person over 6′ to purchase as most tents will not allow them to lay out straight and require curling up.
---
Many more were happy with the pre-setup with all lines run and a nice YouTube video with a 9 minute run through to set up their tent efficiently and with speed.
---
Final Thoughts on Our 3F UL Gear Lanshan 2 Tent
When you are wanting to take hiking seriously but have an actual budget there are very few quality options available for most people, like me and you, to purchase.
Watching YouTubers buy a new $600 tent every couple of months was a tad bit irritating as I didn't have that kind of disposable income, fortunately, I read up on 3F UL Lanshan 2 reviews.