As an Amazon Associate I earn from qualifying purchases. Some of the links on this website may link to vendors which are "affiliate links". If you click on a link I may receive a commission.
Did you know that Doc Martens, the footwear of choice among fashionable groups as diverse as 1960s skinheads to 1980s scooter riders and goths to new wave musicians and members of the grunge scene, actually began their life as modest work boots and even gardening shoes?
They've come a long way since twenty-five-old soldier Dr. Klaus Maertens used a salvaged needle to design an air-cushioned shoe while recovering from his own broken foot way back in the 1940s.
How far? By 2015, Dr Martens' AirWair boot (notice the spelling change?) were included on a list of Britain's biggest design icons — right alongside the likes of Routemaster's Double Decker Bus, the Union Flag, Rolls Royce, London Taxis, and even the Double Helix DNA structure.
Can you hike in Doc Martens? In a pinch, if it's really your only decent option, and even then only in limited circumstances. Docs are awesome, but they're neither designed nor built for hiking. You really shouldn't hike in Doc Martens, especially when there are so many better hiking shoe and boot options out there.
So it comes down to this. With Doc Martens, you can work, garden, and compete with the likes of Rolls Royce and the very design of DNA.
Doc Martens are Designed for "Gigs and Street Fashion" and Not Hiking
Here's how Doc Martens describes their own appeal: "Dr. Martens' appeal to people who have their own individual style but share a united spirit – authentic characters who stand for something."
Who are those people attracted to Doc Martens? Proud and different people with an individual and distinctive style and looking for a badge to display and affirm their attitude. The manufacturer itself says Doc Martens are "ideal for the unforgiving world of gigs and street fashion."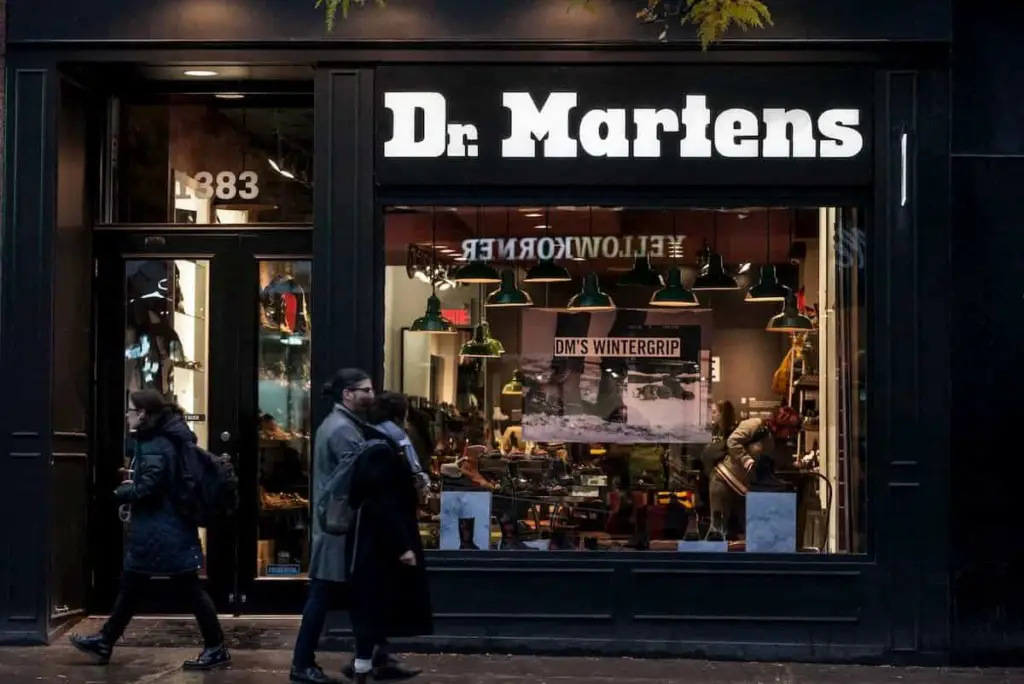 Doc Martens' come in a lot more formats than you might realize. Today you can buy Doc Martens — for men, women and children — lace up boots, oxford shoes, platform boots, heeled boots, Chelsea boots (platform and not), Mary Jane shoes, casual shoes and boots, sandals — yes, sandals! — slip resistant work boots and shoes, and even vegan options. That's right. Vegan Doc Martens.
You see what's missing there? Any hiking boots. Doc Martens does not build or market boots for hiking. That's not to say that Doc Martens' trails haven't crossed hikers' trails in some small way — sort of. Two models of Docs — the Averil Women's Leather Heeled Ankle Boots and Averil Arcadia Leather Heeled Ankle Boots — were "inspired by heavy duty hiking boots."

Another pair of hiking-related Docs was the nature-named Santo Grizzly. They too were inspired by "a  pair of hiking boots," but the manufacturer goes on to say that "…this boot is made for urban terrain." (Sadly, the Santo Grizzly Docs are no longer available.)
So there you are. Hiking boots have inspired Doc Martens along the way, but aren't designed, built, or intended for hiking themselves.
Is there any exception?
There are a couple of models of Docs that are named and built for hiking. The 939 Ben Boot Crazy Horse Leather Hiker Boots and 939 Ben Boot Leather Hiker Boots feature a padded collar, air-cushioned soles, worn-in-looking leather, and a worn-in aesthetic.
If you're going to wear Docs to hike, these are your hiking Docs. But we stand by our answer. Can you hike in Docs? If you must (and more on that later), and if you're equipped with the 939s you'll be in your best possible shape — even if in name only.
But really, not even these are designed, intended and well-suited to hiking except in the circumstances described a bit later.
Be careful choosing hiking boots just based on the use of the word "hiking" in their name. Not every "hiking boot" would be useful, safe, or appropriate for hiking. Here's an example of what we mean — 3.25" heels and 1.25" platforms and all.
But what if it comes down to hiking in Doc Martens or not hiking at all?
Could a scenario arise when you've got a chance to go hiking — a chance you should really grab with both hands — but the only footwear you have at hand is a pair of Doc Martens?
Sure, we can imagine that happening. And who are we to say you should pass up that chance. After all, there are people who do hike in their Docs, and have done so happily.
Some of Docs' most distinctive features — their springy soles, their leather support, and their sturdy form and construction — make them a passable option in the right circumstances.
In such a tight spot, by all means take a hike in your Docs. But here are five tips you should follow before heading out:
Limit your hike to a walk in the woods, not an overnight or long backpack-laden trek on rugged terrain
Wear your most broken in pair of Doc Martens, and leave your stiffest and newest pair behind. The best Doc Martens for you are Docs you've been wearing from some time to permit them to break precisely into the form of your feet. If you break in Doc Martens well enough, those Docs will get you from one end of a modest trail to another safely and in enviable style
Wear an unusually long — high — pair of socks under your Docs, socks that extend above the top of the boot to avoid too much rubbing against your lower legs.
While you're at it, thinking about putting on a second pair of socks to prevent the development of blisters
Respect your Docs by waterproofing them ahead of time
Some tips about how to break in Doc Martens
Whether it's to put you in the best possible shape for those occasional gotta-hike-and-all-you've-got-is-Docs scenarios, or just to get most comfortable and fashionable and attitude-laden use of your Docs, here are seven steps for getting them best broken in:
Doc Martens sizing is critical
You can usually trust sizing on Docs, but should really try them on before buying them. That's harder when shopping online of course, but don't settle for ill fitting Docs. The right fit is a tight fit, but not uncomfortably so. If your feet fall on a ½ size, round down rather than up. Docs only come in whole sizes.
Wear Thicker Socks
Wear thick socks to reduce friction and pain from the lining while breaking in your Docs. Removing the insole will help during the breaking in process, too. They can be abrasive and promote blisters.
Cycle Your Wearing
Start off wearing your Docs for 10 minutes or so at home, and take them off as soon as they start to hurt. Don't persevere through pain, but take them off. The soles are gonna be stiff and the leather's gonna feel tight for a while. Give it time.
Protect Blistering Areas
Many people have issues with them initially where they develop blisters. Wherever your feet hurt or become blistered — commonly in the heel — protect your skin with moleskin or bandages
After shielding your blisters, stretch yourself by wearing your Docs for an hour or two at a time at home. Again, take them off when they start to hurt. Who are you trying to impress?
Treat Them Well
Continue this process of occasional hour-or-two-at-a-time breaking in sessions for several weeks. Every once in a while use Doc Martens' own products to clean, protect, and soften the leather.
But, really, any product containing lanolin, coconut oil, and beeswax will work — and boost the waterproofing factor, too.
If you're looking for a way to accelerate this process, here are three:
Wrap your Docs in a clean towel and hammer at the heel and sole of the shoe for up to 15 minutes with a hammer or mallet
Remove the laces and stuff the Docs absolutely full to bursting with newspaper to try stretching the leather a bit
Try heating the tightest areas of you Docs with a hair dryer — on a low setting — after applying the lanolin product referred to above. Once they're warmed up, put them on and wear them until they cool.
Final Thoughts on Can You Hike in Doc Martens
Choosing to wear Docs would be a personal thing as they aren't the preferred shoe or boot to use when hiking as they are heavy and not very breathable which matter a lot on the trail.
The large issue with not being well breathing is that you will build up sweat as you are typically going to be hiking 8+ hours a day with real labor on your feet, this will build up and could cause blisters fast.
For myself I prefer a good light trail runner like the Altra Trail Runners here on Amazon, this is because that weight on my feet just kills my legs like a hiking boot would, these dry ultra fast and are super lightweight!