Looking to hike in 2020 with your best friend? Well, we have you covered with how you can prepare to take your pup with you and how you can make sure they can help you carry their load. We recently posted on whether you should bring your dog on thru-hikes and it was a hit!
When you look for anything pet-related for hiking or backpacking, choosing a good quality dog hiking backpack requires a focus on the balance between good fit, lifespan or durability, and your aesthetic tastes. The typical cost for dog backpacks can range from under $20 to $250 or more!
Beneficially, within this price range there exist several good high-quality choices that will last years when used and treated properly. For those who are looking split the load and have their dog pull their own weight while out on the trail, below are the best dog hiking backpacks available right now.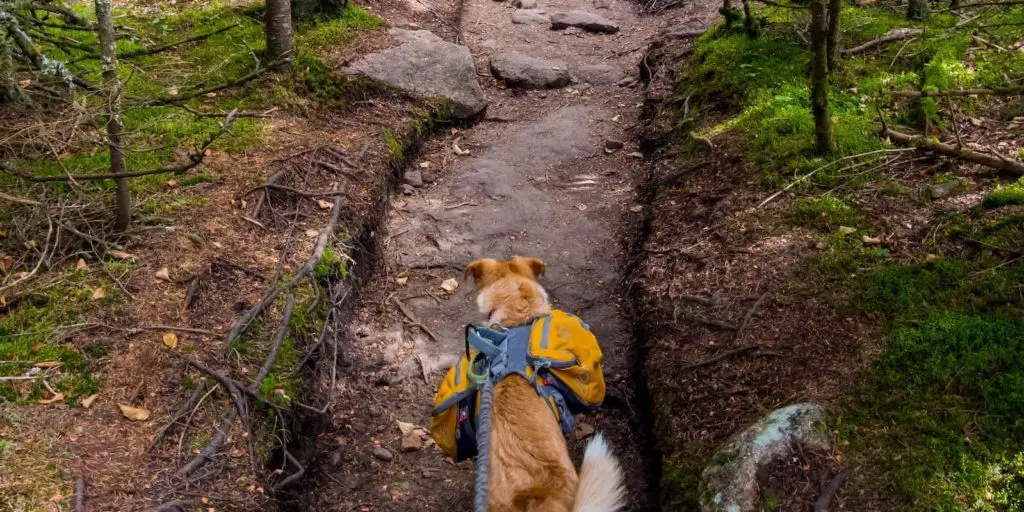 What Factors Should I Consider When Choosing a Backpack?
Size and Comfort
You want to ensure the backpack isn't too small or large as they need to sit well and comfortably on their backs. It can be very helpful to know the chest circumference to get the best fit as this will feature on most products to help you purchase the right fit.
Additionally, like with your own pack if the trips will be of a longer duration make sure the straps are padded to help give your dog the most comfort you can as it isn't very natural to them and you want to make sure they don't chafe or get wear injuries. an additional check for the fit is to see whether you can put a finger or two under the straps easily.
Fabric Type
When looking for a backpack for your dog you need to know what environment you will be, you typically will want to look at breathable and waterproof fabrics for most hiking. You want to ensure the pack won't cause excess heat generation and sweat as this can be dangerous for your dog.
Age of Your Dog
You want to make sure you properly gauge your dogs age and whether they can even support carrying a backpack, if young and senior this can be a big deal breaker.
Weight
Don't weigh down the pack with everything your dog needs, it should be no more than 10% of their weight and should be easily balanced on both sides of the backpack. Make sure to include in the weight more than food, as you have water/food dish, poop bags and anything additional.
Also make sure you don't add too much overall weight to their bag, as this excess weight can cause all kinds of physical injuries to their joints, spine, muscles, breathing, and balance.
The Best Dog Backpacks for Hiking and Camping
We looked through the reviews and information available to help you isolate and find the best options for your dogs to carry gear while hiking. These will be excellent to allow you to explore while taking your puppy along to enjoy the trip.
Outward Hound Crest Stone Explore Dog Backpack
Explore new ground with durable high-quality gear that gets your pup ready for every walk, hike, or trip to the park. This compression saddle bag works great for dogs and their humans that love to hike!
A mesh top keeps dogs cool and a high visibility green color allows them to be easily spotted on the trail. Large pockets on the dog pack help hold all of the essentials while compression webbing helps to balance the load. Dual D-Rings also assist with leading or following while keeping a secure handle on your pup while exploring new trails.
Outward Hound Kyjen Dog BackPack
The backpack is designed with an adjustable harness and removable pack. Large storage pockets hold food, water, and other gear. Made with extra-strong nylon for durability. Quick Release BackPacks feature the "quick release" leash holder for use when approaching other hikers, dogs, or wildlife
Mountainsmith K-9
Mountainsmith consulted a local Golden, CO sled dog veterinarian to assist with the designs to ensure a proper fit that will maintain comfort all day long. Combining that insight with 30 years of dog pack building experience brings us to the most efficient dog backpack in the industry.
OneTigris Dog Pack Hound Travel
This backpack for dog is designed with the dog's ultimate comfort in mind, that's why we choose premium canvas material. Taking this on you two's travel, you never worry about cumbersome stuff carrying, and your dog will be joyful to have a job to do.
Imagine that your dog put this bag on, wow, what an adorable messenger dog! You must feel like giving him a big hug.
OneTigris Tactical Dog Backpack
Taking this multifunctional dog harness vest with accessory bags for the trip with your dog, you are no longer need to carry the first aid kit or dog bags and water. Your fluffy friend can carry their own stuffs, leaves more room in your bag for you when you guys go walking together.
Outward Hound Daypak
The DayPak is a day-tripping dog lovers delight that allows your pup to comfortably carry extra gear and essentials! A light-capacity pack featuring saddlebag-style design, it's ideal for both quick getaways and everyday errands with your dog. Enjoy the convenience and storage space of 4 expandable pockets.
Kurgo Dog Saddlebag
Great for everyday use or backpacking adventures with your dog. Built strong to withstand rugged outdoor conditions, it has 8 different adjustment points to get the proper fit for any dog.
The pack includes a rear-mounted leash hook that works like a harness for pups that need to be on their lead. The ergonomic padded spine support contours to the dog's back for a comfortable fit and provides weight distribution.
Are Backpacks Good For Dogs?
One of the key benefits to having your dog carry a backpack is that it helps give them a feeling of purpose on your hike, wearing a pack helps them feel like they are part of the team. This will help them behave much better and respond happier overall when they feel like a part of the pack.
If your pooch is more on the senior side or very young then you may want to help them by giving them a pack, but not loading it with gear. This will help them feel like they are providing assistance to the hike and that they are part of the team.
Additionally if you have a dog which is prone to anxiety or is very nervous in behavior a backpack can help make the calmer and more confident due to the enclosed feeling. If they have a lot of energy it will also help them burn more energy which means that when you reach your campsite they should be less energetic and ready to relax just as you will be.
What Are Dog Backpacks For?
The reason for a dog backpack is that they have needs similar to your own while hiking, they need food, water, and containers to hold them. They have some comforts also like a blanket or area to lay on with you as most won't fit within your blanket or sleeping bag.
The dog backpacks help by allowing your puppy to help carry their load with you which helps you manage the overall weight better. They also typically will provide a place to leash them as this is very important for control on the trail.
Do Dogs Like Carrying Backpacks?
They enjoy being a part of their pack and if you have a backpack on they will typically want the same thing to match up. Even if you plan on not having them carry gear it can be mentally beneficial to at least having them hike with an empty pack.
How Much Weight Should I Put in my dog Backpack?
According to the overall posts from knowledgeable sources this appears to be at 10% of the dogs weight. This would be, for example, 5 lbs for a 50 lbs dog, depending on the food weight this can be a large amount of food your dog can self carry.
This is definitely a good topic to bring up with your dogs vet. They can help you know whether by age or need if they could carry more or less then the recommendation above. This will help you have peace of mind that you aren't hurting your dog which is important to me with my pups, I think you'll get the same peace of mind by speaking with the vet.
What Age Can a Dog Wear a Backpack?
Typically you can start teaching them to wear a backpack around 4 months of age but without weight and more to get comfortable with having the backpack on and being a normal part of hiking outside. To make it bulky you can add crumpled up newspaper or plastic bags so the shape fits the bag.
This will help him to learn the space that is taken up by wearing a full backpack and prepare them for later when it will have heft to know their space. Talk with your vet but typically after the first year you can start adding a little weight to the pack but keep it light and easy.
Typically after 2 is when you can give them a decent load, most online say for hiking to not exceed 10% of the body weight so take care and listen to your dog and their vet.
Final Thoughts on the Best Dog Backpacks For Hiking
I would just caution you to always speak with your dogs vet as they have a larger understanding of your dogs strengths and weaknesses. They can also tell you the best way to tell you what weight is the max for your dog and their safety is paramount for myself.
Taking them with you is highly rewarding and can be an outstanding experience but only when done right with the proper care and planning being done.
I hope that you find the right pack and have amazing trips out and I would love to hear about them in the comments below! If I missed something vital to pet safety while hiking with a backpack please comment or contact me ASAP!