As an Amazon Associate I earn from qualifying purchases. Some of the links on this website may link to vendors which are "affiliate links". If you click on a link I may receive a commission.
Choosing the best camp stove for a thru-hike is a core decision where you are making a choice in warm food daily, or possibly cold-soaking instead. The options are vast between alcohol stoves, small burners which screw into a fuel canister, JetBoils which provide speed and efficiency, and even the option to use open fires.
What is the best camp stove for Appalachian Trail thru-hikes? The best camp stove for an Appalachian Trail thru-hike is the MSR PocketRocket 2, this stove is a perfect blend of size, weight, and ease to get additional fuel as needed while on the trail. MSR is an industry leader in making stoves and offers other choices based on needs.
What data and information did we use to make this decision? Well, we went through the criteria below to help build out a set of information based on needs and requirements for thru-hiking which then was applied against the main camp stoves to give a winner.
Please note this is something which is highly variable depending on the hiker and you may disagree, add the comment below and I would love to talk about it! Each hiker's stove use will depend on the skill of the hiker along with the are and foods chosen to eat.
Best Camp Stove: MSR PocketRocket 2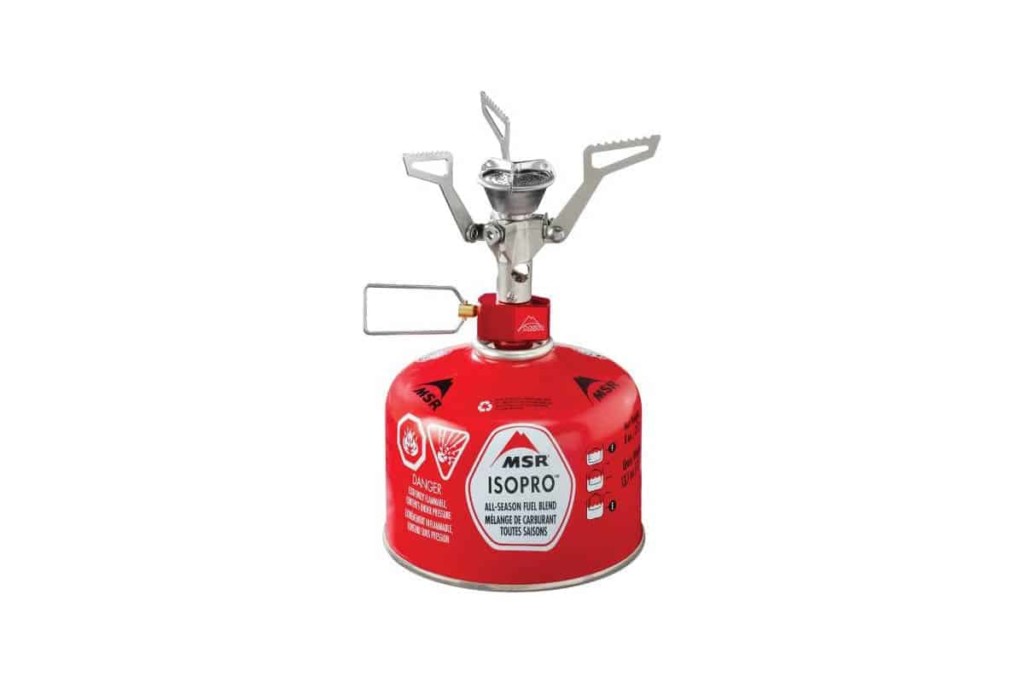 I am a large proponent of the less weight the better, especially as I get older. I continue to cut weight where it makes sense and that is why this is the winner to me as it is small, compact, and efficient. It can fit inside your cooking cup like a Toaks so it takes up very little space.
Features Of The MSR PocketRocket 2
Provides excellent ease of use and fast-boiling performance
Ideal for first-time stove buyers, long-distance hikers seeking a backup stove and fast-and-light fanatics requiring a high-quality piece of tiny equipment
Simple-to-operate design needs no priming, preheating or pressurizing; simply turn it on, light and start cooking
Fully adjustable flame lets you cook gourmet meals from a rolling boil to a slow simmer; control valve turns easily, even when you're wearing gloves
Serrated pot-supports prevent the pot from shifting; folds up compact for travel
Compatible with most self-sealing canister fuel, making it a great choice for global travel; fuel canister not included
Includes ultralight hard-shell carry case to protect cookware and contents of your pack
Pros Of The MSR PocketRocket 2
Amazingly Ultralight and Compact – Weighs in at 2.6oz and from most comparable stoves are incredibly light while folding up super small for easy carrying.
Fast to Simmer and Boil – This has the ability to boil one liter of water in just 3 and a half minutes while giving easy controls to simmer.
Cons Of The MSR PocketRocket 2
Lack Of Igniter – Many people have been upset with the lack of the igniter, personally I carry a BIC so igniter doesn't matter to me.
Small Diameter Burner – The burner is pretty small which means it can heat the mid more than the outside if not making sure to stir frequently.
---
Best Stove System: Jetboil MicroMo
This is a runner up because if you don't mind the little additional weight from an all in one then this is my choice. This is an all in one cooking system which makes it a simple grab and go for hiking.
Features Of The Jetboil MicroMo
Cold-weather reliability and a wind-blocking shroud are integrated into the most lightweight and low-profile design yet from Jetboil
Proprietary regulator technology and enhanced regulator diaphragm ensure consistent performance down to 20°F
Jetboil engineered valve for unmatched simmer control
Includes a lightweight 0.8-liter Fluxring cooking cup with a lightweight insulating cozy
Drink-through lid with pour spout and strainer
Push-button ignitor
Bottom cover doubles as a measuring cup and bowl
Compatible with all Jetboil accessories, including the Coffee Press, Hanging Kit, and Pot Support (all not included)
Fuel can stabilizer included
Able to store your own 100g Jetpower Fuel Canister inside the pot
Pros Of The Jetboil MicroMo
Super Efficient Boil – In less than two minutes you can bring your water to a boil and also use about half as much fuel as other stoves.
Push Button Igniter – No need to have a lighter to ignite this stove as it comes with a built in igniter.
Cons Of The Jetboil MicroMo
Metal Expands Can't Separate From Burner – There are plenty of reviews that say when this gets too hot the metal expands making it hard to separate the burner from the pot.
Tight Fit – Container can be scratched and damaged by sliding the contents into the pot for storage and transport.
---
What Criteria Was Used To Reach This Stove?
Now that you have seen my top two choices I just wanted to give you some information as to what I used to determine my choices in case you were interested in how I chose the best camp stove for Appalachian Trail thru-hikes.
If you feel I should add more criteria I would love to hear it in the comments below, in addition I would love to hear if you have either of these or another brand and your experiences as it helps everyone choose better!
Price
We chose to choose our best not by the lowest price but the price in comparison to reviews from users, then we took the quality of the build into the price and that allowed us to make a solid decision.
Aiming to keep to a decent budget for a high quality item is difficult, the BRS stove is frequently listed as a good investment for a budget but comments left me more questioning reliability.
Weight & Size
When looking at the weight you always are looking for something which contains everything required to work while in the woods without burdening you too much. When at all possible the systems with the lowest weight were matched against user reviews.
Size is also a key element with weight, the bigger the size the more pack space it takes even if it weighs less overall.
Space is at a premium when you live out of a backpack, this means you have to choose based on fitting everything within a specific pack size.
An oversized item may cause you to need a larger pack or that you would drop another item, both things to avoid.
Compactability
Very similar to size this is about how small and carry-able is the stove? I wanted to keep these to the smallest packable size so as to fit in any pack without noticeably causing issues.
Fuel Source
This is a qualifier only for availability for the choice, while most are pretty common this was one where I chose more based on the popularity of fuel being available on the trail at towns. I just wanted to avoid special fuel setups where you couldn't just acquire it in a store with ease.
---
Final Thoughts on the Best Camp Stove For Appalachian Trail Thru-Hikes
There is an almost infinite number of choices for you for finding a camping stove that fits the needs of you and your hike. While I chose these two I don't hike in the snow or at great altitude much and I would expect you to make a different decision based on needs like this.
Currently, I have moved to a cold soaking and non-cooking travels while hiking, it is nice to be free of additional weight and if I feel like warm food towns always have a surplus of options which are available to fill that need.
I have some of my choice of cold soaking recipes over here, check them out if you like to go stove-less.
Additional High-Quality Camp Stoves on Amazon
[amazon table="2132″]